This page is part of © FOTW Flags Of The World website
Indaial, Santa Catarina (Brazil)
Last modified: 2021-12-11 by ian macdonald
Keywords: santa catarina | indaial |
Links: FOTW homepage | search | disclaimer and copyright | write us | mirrors

---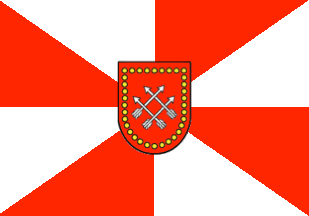 image by Dirk Schönberger, 20 June 2012
Source: http://www.indaial.sc.gov.br/prefeitura/cidade.php?menu=bandeira_municipal and http://pt.wikipedia.org/wiki/Indaial
---
See also:
---
Municipality
The municipality of Indaial (69,425 inhabitants in 2019; 43,053 ha) is located 160 km north-west of Florianópolis.

Indaial was settled during the Paraguayan War by Brazilian colonists coming from Armação, Itajaí, Camboriú and Porto Belo, who cleared the rainforest and established the first crops on the left bank of river Itajaí-Açu. Hermann Blumenau planned to transform Carijós into an organized town that would be the capital of the Blumenau colony. Carijós, however, because of its complex topography, was soon superseded by Indaiai, a settlement established in a more suitable environment. The district of Indaial was established by Provincial Law No. 1,416 promulgated on 4 September 1886. Established by State Law No. 92 promulgated on 4 October 1893, the municipality of Indaial was soon downgraded to a district by State Decree No. 189 issued on 29 May 1894.
The municipality of Indaial was re-established by State Decree No. 526 issued on 28 February 1934 and inaugurated on 21 March 1934.
Ivan Sache, 3 November 2021
---
Description of the Flag
A square flag, gyronny red and white, with the municipal arms in the centre. The shield on the flag may or may not have a red border (an example without the border is at http://www.explorevale.com.br/valeeuropeu/indaial/historia.htm). The "full" coat of arms, which I have not found on the flag, has above an mural crown and below a red scroll with the word "INDAIAL" in white.
Official website at http://www.indaial.sc.gov.br
Dirk Schönberger, 20 June 2012
The flag of Indaial is prescribed by Municipal Law No. 670 promulgated on 21 February 1972.

Article 1.
The municipal flag shall have the following heraldic description: Gyronny gules and white, charged in the center with the coat of arms of the municipality outlined in yellow.

Article 2.
The municipal flag, in compliance with the best Luso-Brazilian tradition, is based on the following rationale:
I - Gyronny, that is, the flag's quadrilateral field is divided in eight equal parts shaped like right-angled triangles, each of them called a gyron, by four rectilinear lines crossing each other in the center, two of them starting from the quadrilateral's angles and the two other vertical and horizontal, equidistant from the borders.
II - Gules and white, considering that the colors of an heraldic flag shall be derived from the arms it features and that the basic colors of the municipal arms are gules (red, here in a light red shade), gold and silver, the latter metal being generally substituted on flags by white, which matches it on the heraldic chromatic scale. The upper gyron, next to the hoist, shall be gules, the second white and so on.
III - Charged in the center, concealing the intersection of the lines that form the gyronny
IV - The coat of arms of the municipality, that is, the municipal arms, prescribed by Law No. 664 promulgated on 2 February 1972, placed in the flag's center, without any of its outer ornaments, therefore reduced to the shield proper, described in heraldic terms as follows: "Portuguese shield. Gules four arrows argent in saltire orled by 34 bezants". In the coat of arms, argent shall be substituted by white and gold by yellow.
V - Outlined in yellow [...]

Article 3.
The features of the flag shall obey the following rules:
I - The flag's width shall be 20 units.
II - The flag's length shall be 38 units.
III - The distance of the coat of arms, outline excluded, from the flag's upper edge shall be 6 units.
IV - The field of the shield, in compliance with the usual shape known as Portuguese or Iberian, shall be constituted of a quadrilateral of 7 units in width and 5 units in length, completed in base by a semi-circle of 3.5 units in radius.
V - The four arrows shall be inscribed in an imaginary lozenge of 4.5 units in side. The distance of the lozenge's center to the shield's upper border shall be 4 units and 3.5 units to the flanks.
VI - Each arrow shall be inscribed in an imaginary rectangle of 0.8 unit in height and 4.5 units in length. The width of an arrow shall be 0.2 unit. The arrowhead shall be inscribed in an imaginary square of 0.8 unit in side. The flights shall be of 0.5 unit in width and 0.2 unit in length.
VII - The distance between each pair of arrows shall be 1.5 unit.
VIII - The bezants shall be of 0.5 unit in diameter and their centers shall be distant of 0.75 unit from the shield's border. The 34 bezants shall be arranged as follows: nine on the upper border, 11 forming a semi-circle in base, and seven on each flank.
IX - The shield's outline, in yellow, shall have a width of 0.1 unit.
X - The two sides of the flag shall be exactly identical.

https://leismunicipais.com.br/a/sc/i/indaial/lei-ordinaria/1972/67/670/lei-ordinaria-n-670-1972-institue-a-bandeira-municipal
Leis Municipais database

The coat of arms of Indaial is prescribed by Municipal Law No. 664 promulgated on 2 February 1972.

Article 1.
The arms of the municipality, compliant with the appended model and description, shall be blazoned as follows: "Portuguese shield; gules four arrows argent in saltire orled by 34 bezants or. The shield surmounted by a mural crown filled gules with four towers port and windows gules. Motto: 'Indaial' argent on a scroll gules".

The Appendix to the Law includes a detailed description of the heraldic origin of arrows and bezants, orles and outer ornaments, quoting several European examples, then a detailed account of the history of the town (see above), and finally, the explanation of the arms, as follows.
The arrows recall the first population nucleus, Carijós, named for a native world. This was the name assigned to the native inhabitants of the southern coastal area of Brazil, which was subsequently assigned, by analogy, to the Caboclo and Luso-Brazilian colonists of the region. The arrows also recall that the town was originally designed according to a fully delimited urban plan.
The golden bezants, used here in a new and specific manner, represent the small fruits of the indaiá / andaiá palm tree (Attalea exigua Drude), the town's namesake due to its relative abundance in the area. Placed on the shield's border, they also delimit the municipal territory. The number of bezants, 34, recalls that the municipality of Indaial was established in 1934.

https://leismunicipais.com.br/a/sc/i/indaial/lei-ordinaria/1972/66/664/lei-ordinaria-n-664-1972-institui-as-armas-do-municipio-de-indaial
Leis Municipais database

Photos
https://www.facebook.com/PrefeituraDeIndaial/photos/4514574871920882
https://www.facebook.com/PrefeituraDeIndaial/photos/4457473934297643
https://www.facebook.com/PrefeituraDeIndaial/photos/2791691887542531
https://www.facebook.com/PrefeituraDeIndaial/photos/2791691887542531
Ivan Sache, 3 November 2021