This page is part of © FOTW Flags Of The World website
Gravatal, Santa Catarina (Brazil)
Last modified: 2021-12-11 by ian macdonald
Keywords: santa catarina | gravatal |
Links: FOTW homepage | search | disclaimer and copyright | write us | mirrors

---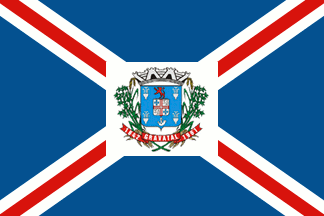 image by Dirk Schönberger, 12 June 2012
---
See also:
---
Municipality
The municipality of Gravatal (10,636 inhabitants in 2010; 16,847 ha) is located 150 km south of Florianópolis.

Gravatal was established, as Gravatá, in 1842 by João Martins de Souza (1820-1891), a descendant of Portuguese immigrants established in Lagoa de Conceição. At the time, the place, named for bromeliads growing profusely there, was a canoe port established on river Capivary. Souza built a house close to the river and two mills used to process sugarcane and cassava. After his death, he was succeeded by his widow, Thomázia (1823-1904) and some of their twelve children.

The municipality of Gravatal was established by State Law No. 802 promulgated on 20 December 1961, separating from Tubarão. The place's name was changed from Gravatá to Gravatal for the sake of differentiation from Gravatá, Pernambuco.

https://www.gravatal.sc.gov.br/
Municipal website
Ivan Sache, 3 November 2021
---
Description of the Flag
A red saltire, bordered white, on a blue field, with the municipal arms in a white rectangle in the centre.
Official website at http://www.gravatal.sc.gov.br.
Dirk Schönberger, 12 June 2012
The flag and arms of Gravatal are prescribed by Municipal Law No. 713 promulgated on 6 November 1997.

Article 6.
The municipal flag of Gravatal, designed by the heraldist Arcinoé Antonio Peixoto de Faria, shall be quartered by a saltire, with blue quarters formed by four white stripes of 2 units in width superimposed with red stripes of 1 unit, arranged two by two in bend and bend sinister, starting from the angles of a central, white rectangle of 6 units in width on 8 units in length charged with the municipal coat of arms.

§1. In compliance with the tradition of Portuguese heraldry, and their inherited canons and rules, municipal flags have to be divided in eight, six, four or three parts, featuring the same colors as the field of the coat of arms and in the center or at hoist a geometrical figure inscribing the municipal coat of arms.
§2. The municipal flag of Gravatal obeys this general rule, being quartered in saltire. The coat of arms applied on the flag represents the municipal government while the white rectangle inscribing it represents the town proper as the municipal seat. White is a symbol of peace, friendship, work, prosperity, purity and religiosity. The white stripes charged with red stripes represent the spread of municipal power all over the territory. Red is a symbol of dedication, patriotic love, audacity, intrepidity, courage and valiance. The blue quarters represent the rural estates scattered over the municipal territory. Blue is a symbol of justice, nobleness, perseverance, zeal and loyalty. Red is a symbol of dedication, patriotic love, audacity, intrepidity, courage and valiance.

Article 7.
In compliance with heraldic rules, the municipal flag shall have the official dimensions prescribed for the national flag, 14 units in width on 20 units in length.

Article 19.
The coat of arms of Gravatal, designed by the heraldist Arcinoé Antonio Peixoto de Faria,is described as follows:
A Samnite shield surmounted by a six-towered mural crown argent. On a field azure inescutcheon argent a cross patty gules filled argent quarterly 1. and 4. Portuguese "quinas" azure with bezants argent in saltire, 2. and 3. Lions rampant gules in chief two lions argent in cantons fountains argent pouring water argent in base a hunting horn argent. The shield supported dexter and sinister by cassava and rice plants proper superimposed by a scroll gules containing in letters argent the toponym "GRAVATAL" and the dates "1842" and "1961".

The coat of arms has the following symbolic interpretation:
a) The Samnite shield, used to represent the arms of Gravatal, was the first style of shield introduced to Portugal by French influence, inherited by the Brazilian heraldry to evoke the colonizing race and main builder of the nation;
b) The mural crown surmounting the shield is the universal symbol of domain's coats of arms; argent (silver) with six towers, four visible in perspective view, it classifies the town as of third rank or municipal seat.
c) Azure (blue) is a symbol of justice, nobleness, perseverance, zeal and loyalty.
d) The escutcheon reproduces the arms of the Souza family.
e) The fountains argent (silver) pouring water of the same recalls the town as an hydro-mineral resort due to its thermal sources that constitute a tourism attraction.
f) Argent (silver) is a symbol of peace, friendship, work, prosperity, purity and religious spirit.
g) The hunting horn argent (silver) recalls cattle-breeding, one of the municipality's main sources of income.
h) The outer ornaments, rice and cassava, represent the main products of the generous and fertile soil.
i) On a scroll gules (red), a symbol of dedication, patriotic love, audacity, intrepidity, courage and valiance, in letters argent (silver) the identifying toponym "GRAVATAL" surrounded by years "1842", for its foundation, and "1961", for its political emancipation.

https://leismunicipais.com.br/a/sc/g/gravatal/lei-ordinaria/1997/72/713/lei-ordinaria-n-713-1997-dispoe-sobre-a-forma-e-a-apresentacao-dos-simbolos-do-municipio-de-gravatal-e-da-outras-providencias
Leis Municipais database

Photos
https://www.camaragravatal.sc.gov.br/camara/conteudo/publicacoes/Noticias/1/2017/9
https://www.facebook.com/legislativogravatalense/photos/p.645597585930847/645597585930847/?type=1&theater
https://www.facebook.com/legislativogravatalense/photos/a.254031505087459/651679145322691/?type=3&theater
https://www.facebook.com/legislativogravatalense/photos/a.256767408147202/256760201481256/?type=3&theater

The mineral water that gushes forth in Gravatal's spa is mesothermal (temperature, 36°C), radioactive (24.8 UM) and oligomineral. Its physico-chemical features are acquired during percolation through cracks of granitic rocks. Rich in lithium and fluorine, the water is of optimal drinkable quality. Its temperature and radio-activity makes it also suitable for crenatherapy and balneotherapy.

http://inseguro.fecam.org.br/cms/link/link-cabecalho-inseguro/codSite/641/codMapaItem/16404
Ivan Sache, 3 November 2021