This page is part of © FOTW Flags Of The World website
Campo Alegre, Santa Catarina (Brazil)
Last modified: 2021-12-11 by ian macdonald
Keywords: santa catarina | campo alegre |
Links: FOTW homepage | search | disclaimer and copyright | write us | mirrors

---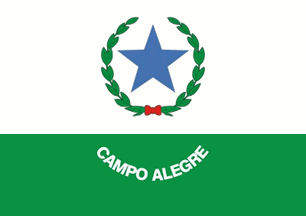 image by Dirk Schönberger, 29 May 2012
Source: https://www.campoalegre.sc.gov.br
---
See also:
---
The municipality of Campo Alegre (11,982 inhabitants in 2014; 49,615 ha) is located on the border with Paraná, 250 km north of Florianópolis.

Campo Alegre emerged during the colonization of the territory offered by Emperor Peter II to his daughter Francisca, as her dowry when she married the Prince of Joinville. Upon request of Cia. Colonizadora, the imperial government allowed the building of a road connecting Joinville to Curitiba via São Miguel and Tijucas do Sul. This would be Brazil's second road, very important for the development of commerce.
When reaching the top of the hills, the German builders of the road said "Fröhliches Feld" (Happy Field - Portuguese, Campo Alegre), referring to the beauty of the landscape, then mostly composed of Brazilin pine forests.
Campo Alegre was elevated in 1888 to a district of São Bento do Sul and on 18 March 1897 to a municipality.

https://www.campoalegre.sc.gov.br/
Municipal website
Ivan Sache, 2 November 2021
---
Description of the Flag
Horizontally divided 2:1 white over green, with a large blue star centred on the white stripe, and encircled by a green wreath tied with a red bow, and in the green field the words CAMPO ALEGRE in white in an arc.
Official website at http://www.campoalegre.sc.gov.br
Dirk Schönberger, 29 May 2012
The flag of Campo Alegre is prescribed by Municipal Law No. 2,212 promulgated on 25 February 1997.

Article 1.
The flag of the municipality of Campo Alegre shall be rectangular, in proportions 14 units in width on 20 units in length. The flag's rectangular field is divided into two horizontal stripes. The upper, wider, stripe is white, charged in the center with a blue five-pointed star surrounded by two laurel wreaths proper arranged in a circular pattern dexter and sinister and tied in base by a red scroll. The lower, narrower stripe, is green. The green stripe covers 40% of the flag's width and is inscribed with the name of the municipality of Campo Alegre, in white letters placed between two vertical imaginary lines tangent to the wreath in the white stripe. The letters shall be arranged in a semi-circular pattern.

https://leismunicipais.com.br/a/sc/c/campo-alegre/lei-ordinaria/1997/221/2212/lei-ordinaria-n-2212-1997-altera-redacao-da-lei-n-498
Leis Municipais database

This superseded Article 4 of Law No. 498 promulgated on 23 February 1979, which originally prescribed the municipal flag and arms [not featured on the flag], adding the municipality's name to the green stripe. The unmodified Articles are still valid.

Article 4.
The flag of the municipality of Campo Alegre shall be rectangular, in proportions 14 units in width on 20 units in length. The flag's rectangular field is divided into two horizontal stripes. The upper, wider, stripe is white, charged in the center with a blue five-pointed star surrounded by two laurel wreaths proper arranged in a circular pattern dexter and sinister and tied in base by a red scroll. The lower, narrower stripe, is green.

§1. The proportions of the flag of the municipality of Campo Alegre shall be identical to those of the national flag.

§2. The color shades are snow white for the wider, upper stripe, spring green for the narrower, lower stripe and the laurel wreaths, cobalt blue for the five-pointed star, and bright red for the scroll's tie.

§3. The flag of the municipality of Campo Alegre, in compliance with the rules of vexillology, shall be two-sided. The designs represented on the obverse and reverse shall be identical.

§4. In compliance with vexillological and heraldic good style, the flag of the municipality of Campo Alegre shall be very simple so that everyone of school age can reproduce it.

Article 5.
The only two colors used on the flag of the municipality of Campo Alegre are snow white and emerald green. White (substituted to argent on flags) is an heraldic symbol of peace, friendship, loyalty, frankness, integrity, truth..., which are the dominant virtues in everyone's heart in Campo Alegre. Green is a symbol of hope, civilization, courtesy, field, abundance, power. "Hope is green, alluding the greening fields in spring that promise profuse harvests" (Crollalanza). The cobalt blue, five-pointed star represents the municipality of Campo Alegre. The star is an heraldic symbol of self-determination, "a safe guide, aspiration to higher things and sublime actions" (Guelfi, 521). Azure was selected as the star's color since it is a symbol of justice, perseverance, perfection, zeal, dignity, firmness, incorruptibility... (Guelfi, 64; Asencio, 63; Ronchette, 126). Evergreen laurel (Laurus nobilis) is the noblest plant used in heraldry and vexillology, as symbol of triumph and glory. The scroll is red, as a symbol of valor, rule, valiance, intrepidity, victory, honor, greatness, charity ... (Guelfi, 459; Asencio, 62).

https://leismunicipais.com.br/a/sc/c/campo-alegre/lei-ordinaria/1979/49/498/lei-ordinaria-n-498-1979-dispoe-sobre-a-forma-e-a-apresentacao-dos-simbolos-do-municipio-de-campo-alegre
Leis Municipais database

The sources of the stereotypic meaning of colors, repeated in the description of several Brazilian municipal symbols, are rarely quoted.

Giovan Batista di Crollalanza (1819-1892) was an Italian historian, genealogist and heraldist, founder and first president of the Accademia Araldico-genealogica Italiana (1875). His masterwork, "Dizionario storico-blasonico delle famiglie nobili e notabili italiane estinte e fiorenti" (3 volumes, 1886-1890), served as the base of the establishment of the Heraldic Council (Consulta Araldica) by the new Italian monarchy.
Count Guelfo Guelfi Camajani (1837-1911) was another Italian historian, genealogist and heraldist, founder of the "Istituto italiano genealogico" (1877). He published "Vocabolario araldico ad uso degli Italiani" (1877) and "Dizionario araldico" (1921). His son, Count Piero Guelfi Camajani, updated "Dizionario araldico" in 1940.
Asencio must refer to the Spanish herladist José de Asensio y Torres, author of "Manual de heráldica y blasón" (1866)/
Ronchette must refer to Giuseppe Ronchetti, author of "Dizionario Illustrato dei Simboli. Simboli, Emblemi, Attributi, Allegorie, Immagini degli Dei, ecc., con 91 Tavole" (1922).

Photos
https://www.facebook.com/camaramunicipal.decampoalegre.1/photos/a.185546398250559/584486995023162/?type=3&theater
https://www.facebook.com/camaramunicipal.decampoalegre.1/photos/a.185546398250559/578914695580392/?type=3&theater
https://www.facebook.com/camaramunicipal.decampoalegre.1/photos/a.185546398250559/560296007442261/?type=3&theater
Ivan Sache, 2 November 2021