This page is part of © FOTW Flags Of The World website
Balneário Camboriú, Santa Catarina (Brazil)
Last modified: 2021-12-04 by ian macdonald
Keywords: santa catarina | camboriu | balneário camboriú | sun: 16 rays (yellow) | gyronny (8) |
Links: FOTW homepage | search | disclaimer and copyright | write us | mirrors

---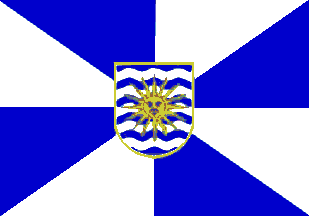 image by Joseph McMillan, 10 February 2002
---
See also:
---
The municipality of Balneário Camboriú (138,732 inhabitants in 2018; 4,624 ha, therefore the most densely populated municipality in the state) is located is 80 km north of Florianópolis.
One of the most popular sea resorts in South America, Balneário Camboriú might have its population increase up to one million in summertime.
Ivan Sache, 1 November 2021
---
Description of the Flag
Municipal law No. 137/70 describes the coat of arms as a Portuguese shield, azure [blue], five bars wavy argent, overall a sun or. The annex to the law says the Portuguese (or Iberian) shield, typical of medieval Portugal, symbolizes the epoch of the discovery and colonization of Brazil. In Brazilian heraldry, it evokes the origin of origin of "our race," to the formation of which the Portuguese provide the primordial ethnic element. Blue represents the sky, because this color, being that of heaven, symbolizes all the ideas that are considered elevated: constancy, love of country, devotion to nobility, fidelity, and sublime and high ideals. The silver of the five wavy bars symbolizes amity, equity, and purity of feeling, attributes consistent with the spirit of the people of the Municipality of Balneário Camboriú. The gold of the sun symbolizes wealth, generosity, happiness, and prosperity. The arms of the municipality, including the description and interpretation, are by the Santa Catarina heraldist Edison Mueller.
Municipal law No. 140/70 of 25 August 1970 created the flag of the Municipality of Balneário Camboriú, with "the following heraldic description: gyronny blue and white, with the coat of arms of the municipality, edged in yellow, on the point of honor [center]."
Source: Municipal website (no longer available)
Summarized and translated by Joseph McMillan, 10 February 2002
The flag of Balneário Camboriú is prescribed by Municipal Law No. 140 promulgated on 24 August 1970.

Article 2.
The municipal flag shall have the following heraldic description: Gyronny azure and argent, charged in the center with the coat of arms of the municipality outlined in yellow.

Article 3.
The municipal flag's detailed description, as well as its norms of use, shall be regulated by a Decree of the Executive, in compliance with Federal Law No. 5,543 promulgated on 28 May 1968.

https://leismunicipais.com.br/a/sc/b/balneario-camboriu/lei-ordinaria/1970/14/140/lei-ordinaria-n-140-1970-cria-a-bandeira-do-municipio-de-balneario-camboriu-e-da-outras-providencias
Leis Municipais database

Article 1.
The municipal flag shall have the following heraldic description: Gironny blue and white, charged in the center with the coat of arms of the municipality fimbriated sable.

Article 2.
The municipal flag, prescribed by Law No. 140 promulgated on 25 August 1970, in compliance with the best Luso-Brazilian heraldic tradition, has the following rationale.
I - Gyronny, the flag's quadrilateral field is divided into eight equal parts shaped like right-angled triangles, each named gyron, by four rectilinear lines crossing each other in the center, two ot them connecting the quadrilateral's angles, the two other vertical and horizontal, both equidistant from the flag's edges.
II - Azure and white, considering that the colors of an armored flag shall be the basic colors of the featured municipal arms, in the blazon's natural order, azure (blue, with a shade intermediate between Prussian blue and ultramarine blue), argent and or. Argent, on the flags, is usually substituted by white, which matches it on the heraldic chromatic scale. Accordingly, the upper gyron, at hoist, shall be blue, followed by a white gyron, and so on.
III - Charged with the coat of arms of the municipality, which conceals the intersection of the lines forming the gyronny.
IV - The coat of arms of the municipality, prescribed by Law No. 137 promulgated on 17 July 1970, shall be placed in the flag's center, its outer ornaments omitted, therefore restricted to the shield proper, described in heraldic language as "A Portuguese shield, azure five fesses wavy argent superimposed by a sun or". On the shield, argent shall also be substituted by white and or by yellow.
V - Bordered yellow, meaning that the shield's field shall be outlined by a yellow line.

Article 3.
The features of the municipal flag shall obey the following rules.
I - The flag's width shall be 20 units.
II - The flag's length shall be 28 units.
III - The distance of the shield to the flag's upper border, outline excluded, shall be 6 units.
IV - The shield, in compliance with the usual shield's format known as Portuguese or Iberian, shall be composed of a quadrilateral of 7 units in length on 5 units in width, in base a semi-circle of 3.5 units in radius.
V - Each of the five fesses shall be of 0.8 unit in width, and separated from each other by the same distance. The fesses have their borders composed of alternate concave and convex curves, three and five, respectively.
VI - The sun featured on the shield shall be inscribed in an imaginary circumference of 3.5 units in radius.
VII - The sun disc shall be 1 unit in radius. The 16 points (or sun rays), of 2 units in length, shall be in turn rectilinear and curvilinear. The upper vertical point shall be rectilinear.
VIII - The distance of the sun's center to the shield's upper border shall be 4 units, and 3.5 units to the lateral borders.
IX - The shield's outline, yellow, shall be 0.1 unit in width.
X - The circumference of the sun's central disc and the sun's human attributes shall be bordered in black.

https://leismunicipais.com.br/a/sc/b/balneario-camboriu/decreto/1970/14/141/decreto-n-141-1970-regulamenta-a-lei-n-140-de-25-de-agosto-de-1970-que-criou-a-bandeira-do-municipio
Leis Municipais database

The coat of arms of Balneário Camboriú is prescribed by Municipal Law No. 137 promulgated on 17 July 1970.

Article 1.
The symbol of the municipality shall be a coat of arms with the following heraldic characteristics: A Portuguese shield azure charged with five fesses wavy argent superimposed by a sun or. A mural crown or filled gules, with four towers, each with three crenels and an open gate gules. The writing "BALNEÁRIO CAMBORIÚ" in black on a scroll azure.

Article 2.
The description of the coat of arms is given in the Appendix, which is part of this Law.

Appendix.
Meaning of the coat of arms.
[Redundant explanation skipped]

Portuguese shield.
Also called Iberian among other names, because it is characteristically peninsular and has been widely used since the Middle Ages in Portugal, especially at the time of discovery and colonization of Brazil according to our heraldists, and therefore the best representation for our towns. In Brazilian heraldry, it evokes the origin of the nation, to which the Portuguese contributed as a fundamental component.

Azure.
Azure, the color of the sky, symbolizes all elevated ideals: constancy, patriotic love, noble devotion, loyalty and high and sublime proposals.

Five fesses wavy.
(...]

Argent.
Argent is a symbol of friendship, equity and pure feelings, which are attributes of the spirit of Balneário Camboriú's people.

The combination of charges and colors, purely heraldic, suggests the privileged geographic location of the municipality, characterizing the mildness of the climate and the munificence of the beach, synthesized in two worlds, sun and sea.

Outer ornaments of the shield.

1 - Mural crown or.
The private and consecrated emblem of municipalities and their administrative autonomy. In compliance with heraldic use, the wall and the towers are masoned in black.
2 - Filled gules.
The inner part of the mural crown has a different color, here gules (red).
[...]

Observation.
The project of coat of arms of the municipality of Balneário Camboriú, its descriptive and interpretative parts included, was completed by the Santa Catarina heraldist Edison Müller.

https://leismunicipais.com.br/a/sc/b/balneario-camboriu/lei-ordinaria/1970/14/137/lei-ordinaria-n-137-1970-adota-escudo-simbolo-brasao-do-municipio-revoga-a-lei-n-99-69-de-10-de-junho-de-1969-e-da-outras-providencias
Leis Municipais database

This Law abrogated Municipal Law No. 99 promulgated on 10 June 1969, which prescribed the first coat of arms of the municipality. The coat of arms is not described in the text.

https://leismunicipais.com.br/a/sc/b/balneario-camboriu/lei-ordinaria/1969/9/99/lei-ordinaria-n-99-1969-institui-o-brasao-do-municipio-e-da-outras-providencias
Leis Municipais database

Photos
https://www.facebook.com/prefeituradebc/photos/a.195334767169666/1894436313926161/?type=3&theater
https://www.facebook.com/prefeituradebc/photos/a.195334767169666/1866883286681464/?type=3&theater
https://www.facebook.com/prefeituradebc/photos/a.195334767169666/1832815206754939/?type=3&theater
https://www.facebook.com/prefeituradebc/photos/a.195334767169666/1768384903197970/?type=3&theater
Ivan Sache, 1 November 2021