This page is part of © FOTW Flags Of The World website
Imbé, Rio Grande do Sul (Brazil)
Last modified: 2020-07-25 by ian macdonald
Keywords: rio grande do sul | imbé |
Links: FOTW homepage | search | disclaimer and copyright | write us | mirrors

---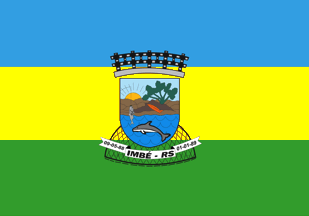 image by Ivan Sache, 19 July 2020
---
See also:
---
The municipality of Imbé (17,667 inhabitants in 2010; 39 sq. km) is located in the coastal Porto Alegre Metropolitan Area, 130 km of Porto Alegre.
The municipality of Imbé was established by State Law No. 8,600 of 9 May 1988, following a plebiscite organized on 10 April 1988, and inaugurated on 1 January 1989. Imbé is named for the imbé, a local species of philodendron. According to recent taxonomical studies, the Latin binomial Philodendron imbe Schott ex Kunth. has been used for at least three different species of Philodendron; P. imbe is a rare and possibly extinct species from the Atlantic Forest of Rio de Janeiro State which has not been correctly identified in any collections made since 1860 (Mayo SJ, Sakuragui M. 2011. Typification and interpretation of Philodendron imbe Schott ex Kunth (Araceae). Taxon 60, 1764-1767).
Ivan Sache, 25 March 2012
---
Symbols
A blue-yellow-green horizontal tricolour with the municipal arms in the centre.
Official website at http://www.imbe.rs.gov.br/home/index.asp
Dirk Schönberger, 19 February 2012
The flag and arms of Imbé are prescribed by Municipal Law No. 59 promulgated on 30 January 1990.

Article 2.
The coat of arms of the municipality shall obey the following description.
A Portuguese shield divided in the center by a dark brown stripe, between sinuous parallel lines representing the irregular stones located close to the mouth of river Tramandaí; on the stones stand, left, five plants of imbé, the municipality's namesake, vert; in diagonal in the center, a surf board, representing the leisure sport practiced by the youth on the ocean; sinister, with a part on the stony background and another part on a background azure (blue) and or (yellow), a gray fish caught by a fishing rod; sinister or (yellow), a rising sun on a background azure (blue), symbolizing the municipality's dawn and the blue sky. Beneath the stones a narrow stripe or (yellow) ending in five wavy tails with concave shapes interlaced in base, and, on a background azure (blue) wavy lines with humped shape. In the center, a gray dolphin, a water mammalian species found in the ocean, especially near the mouth of the Tramandaí. Beneath the shield, a white scroll with the writing "09 - 05 - 88 IMBÉ - RS 01 - 01 - 89", the dates of the Law that created the municipality and the date of its inauguration. The scroll's background represents a fisher's net, which starts from the beginning of the curvature of the shield's base and reach its ends. The shield surmounted by a back and gray mural crown, shaped like a bridge, representing union and harmony with the other municipalities.
The shield shall be of 7.5 units in width on 5.5 units in length; the scroll of 9 units; the fishing net, on the borders, of 8 units, distant from the shield's border of 1.8 module, apart of 1/3 of unit from the shield's point. Over the fishing net, a scroll of 2/3 of unit in width."

Article 4.
The flag of the municipality of Imbé has for official colors celestial blue, golden yellow and flag green, in three horizontal stripes of equal width, representing:
I. Celestial blue: The sky and water of the rivers and lagoons.
II. Golden yellow: The income and the beach areas.
III. Flag green: Vegetation, the town's namesake and ocean water.

Article 5.
The flag's features shall obey the following rules.
I. The flag's width shall be of 12 units.
II. The flag's length shall be of 18 units.
III. The three horizontal stripes of different colors shall have a width of 6 units, with the colors arrranged as follows: Celestial blue in the upper stripe, golden yellow in the median stripe, and flag green in the lower stripe.
IV. In the flag's center shall be placed the coat of arms in the proportions prescribed in Article 2.

The Appendix to the Law includes what appears to be the submission of flag and arms proposals by Sérgio Luiz dos Santos.

https://leismunicipais.com.br/a/rs/i/imbe/lei-ordinaria/1990/6/59/lei-ordinaria-n-59-1990-institui-o-brasao-e-a-bandeira-como-simbolos-do-municipio-e-da-outras-providencias
Leis Municipais database

Photos
https://www.facebook.com/prefeituraimbe
https://www.facebook.com/prefeituraimbe
https://www.facebook.com/prefeituraimbe
https://www.facebook.com/prefeituraimbe

Image from the municipal website
http://www.imbe.rs.gov.br/?template=abreAnexos&arquivo=14331&nomeArquivo=Bandeira%20de%20Imb%E9%20(JPG)&categoriaDownload=
Ivan Sache, 19 July 2020