This page is part of © FOTW Flags Of The World website
Bom Retiro do Sul, Rio Grande do Sul (Brazil)
Last modified: 2020-07-13 by ian macdonald
Keywords: rio grande do sul | bom retiro do sul |
Links: FOTW homepage | search | disclaimer and copyright | write us | mirrors

---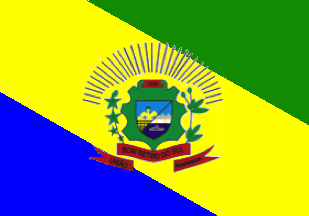 image by Ivan Sache, 12 July 2020
---
See also:
---
The municipality of Bom Retiro do Sul (12,158 inhabitants in 2016; 10,233 ha) is located 100 km of north-west of Porto Alegre.

Bom Retiro do Sul was allegedly named for a hill that constitutes a convenient retreat ("retiro") to gather cattle and supply them with salt. Other say that the name of the municipality was coined as a tribute to Luiz Pereira de Couto Ferraz, Viscount of Bom Retiro, Minister of the Brazilian Empire (d. 1886). On 1 January 1945, in compliance with the law that prohibited the use of the same name for different entities, the municipality was renamed to Ilhandava, for a native word meaning "running water". The Municipal Councillor Álvaro Haubert pushed the restoration of the original name, with the addition of "do Sul" for the sake of differentiation, which was obtained by Municipal Law No. 59 promulgated on 28 April 1949.

Bom Retiro was established on 15 March 1887 when Jacob Arndt acquired a domain from Adolfo Ribeiro. Antônio Israel Ribeiro, Henrique and Jacob Arnt, and Jorge Fett subsequently acquired more plots from the same landowner.
Bom Retiro do Sul was elevated to the 2nd district of Taquari by Act No. 11 issued on 5 December 1895.

Bom Retiro do Sul boomed due to commercial navigation on river Taquari. The first commercial building created in the town was a warehouse used to store products from Upper Taquari that were subsequently shipped to Porto Alegre via the river. The Arndt Navigation Company, established in the beginning of he 20th century, operated in 1914 the first passenger steamer on river Taquari. In the 1920-1940s, the company operated five steamers, nine gasoline-powered ships, ten barges and another 3O smaller boats. The luxury steamers "Itália", "Osvaldo Aranha" and "Porto Alegre" served a scheduled line between Taquari and Porto Alegre. There were two other navigation companies in Bom Retiro do Sul, Faller, which operated two powerful gasoline-powered ships, the 'Teutônia" and the "Serteia", and Liberdade, owned by Pedro Isírio. Additionally, minor companies and private boats, such as the gasoline-powered "Fandango", owned by the Jasper family, contributed to river traffic. The last company in operation was Nitzk & Görgen, owner of the passenger gasoline-powered "Taquari" and of a floating warehouse.
Navigation resumed decades later after the inauguration of the barrage of Bom Retiro do Sul in 1977. This made Taquari navigable on 432 km from the port of Rio Grande.

https://bomretirodosul.rs.gov.br/
Municipal website
Ivan Sache, 12 July 2020

---
Symbols
Divided per bend, green-yellow-blue, with the municipal arms centred on a white oval disk.
Official website is at http://www.bomretirodosul.rs.gov.br.
Dirk Schönberger, 6 January 2012
The flag and arms of Bom Retiro do Sul are prescribed by Municipal Law No. 549 promulgated on 17 May 1979.

Article 1.
The coat of arms of Retiro do Sul has the following characteristics:
a) on one side, cassava, on the other, soybean, as the main crops;
b) a factory - representing ever growing industry;
c) a boat - representing the Bom Retiro do Sul barrage and uttermost important river Taquari;
d) 1959 - the year of political emancipation;
e) sun rays - as a symbol of progress;
f) the writing "Bom Retiro do Sul - União e Prosperidade", emphasizing union that should exist in the community.

Article 2.
The flag is composed of three parts.
Green, yellow and blue, green and blue forming two right-angled triangles and yellow a quadrilateral ascending between the triangles, the right angle of the green triangle in the flag's upper right and the right angle of the blue triangle in the flag's lower left. Charged in the center with the coat of arms described above. The colors of the flag have the following meaning: blue recalls the sky and river Taquari, green represents the fields and agriculture, and yellow represents the wealth Bom Progresso will obtain by continuing its development.

https://leismunicipais.com.br/a/rs/b/bom-retiro-do-sul/lei-ordinaria/1979/55/549/lei-ordinaria-n-549-1979-adota-oficialmente-o-brasao-e-a-bandeira-do-municipio?q=bandeira
Leis Municipais database

The flag is used, at least, in three versions

- with the arms directly applied to the field (shown above)

Photos
https://www.facebook.com/municipiodebomretirodosul/
https://www.facebook.com/municipiodebomretirodosul/
https://www.facebook.com/municipiodebomretirodosul/
https://www.facebook.com/municipiodebomretirodosul/
- with the arms, with yellow rays, inscribed in a white disc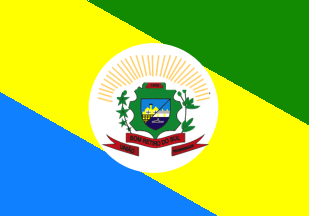 image by Ivan Sache, 12 July 2020
Photos
https://www.facebook.com/municipiodebomretirodosul/
https://www.facebook.com/municipiodebomretirodosul/
https://www.facebook.com/municipiodebomretirodosul/
https://www.facebook.com/municipiodebomretirodosul/

- with the arms, with black rays, inscribed in a white disc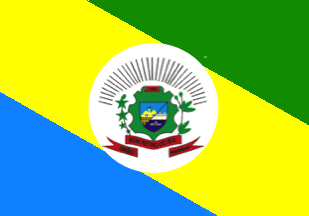 image by Ivan Sache, 12 July 2020

Photos
https://www.facebook.com/municipiodebomretirodosul/
http://www.jornalng.com.br/news/desfile-civico-da-patria-acontece-dia-7-de-setembro-em-bom-retiro-do-sul
Ivan Sache, 12 July 2020