This page is part of © FOTW Flags Of The World website
Silly (Municipality, Province of Hainaut, Belgium)
Opzullik
Last modified: 2019-07-30 by ivan sache
Keywords: silly | opzullik | lion (umbrate) | trazegnies |
Links: FOTW homepage | search | disclaimer and copyright | write us | mirrors

---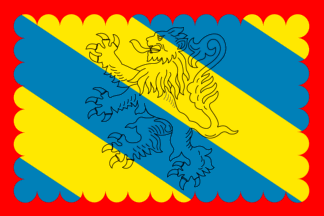 Municipal flag of Silly - Image by Arnaud Leroy, 14 January 2006
---
See also:
---
Presentation of Silly
The municipality of Silly (in Dutch, Opzullik [Upper Silly]; 6,813 inhabitants in 1994; 6,771 ha) is located in northern Hainaut, at mid-distance of Ath and Enghien. The municipality of Silly is made since 1976 of the former municipalities of Bassily, Fouleng, Gondregnies, Graty, Hellebecq, Hoves, Silly and Thoricourt.
Silly, most probably meaning a settlement near the river Sylle, was successively known as Sillia (1095), Siligio (1095), Silli, Silly and Haltsigli (that is Haut Silly, Upper Silly, as opposed to Bassily, that is Bas Silly, Lower Silly, 1169).
According to Aimée Ingeveld, Silly belonged to Malgaire, husband of the later Abbess St. Waudru of Mons. Malgaire founded the abbey of Soignies in 670 and is better known as St. Vincent. Malgaire ceded Silly to the abbey of Hautremont; the domain was reincoporated to the County of Hainaut before 1000. Guéric le Sor, lord of Avesnes (today Avesnes-sur-Helpe, in northern France), was also lord of Silly before the reincoporation to Hainaut, but there are no written sources on the lords of Silly before 1095. However, those sources are not clear and often mix up lateral branches of the Silly and Trazegnies (the former municipality of Trazegnies is now part of the municipality of Courcelles) families. The oldest charts, dated 1095, mention the three lords of Silli (or Siligio) Walter (or Wautier), Fastré (or Fastrede) and Siger. Later known lords of Silly are Roger (or Raignier, 1114 or 1115), Walter (1117). Othon I, probably a son of Siger, is known as the lord of Silly, Blicquy and Trazegnies. His son Gilles I was the first lord of Trazegnies; he was mostly a rascal, so that the neighbouring lords besieged his castle and killed him. His brother Anselme founded the abbey of Cambron in 1148. Gilles I had three sons, including Othon II (b. around 1150), killed during the siege of Akkro. His son Gilles II was the father of Gilles le Brun (or le Noir), Constable of King Saint-Louis in 1250. Gilles II's brother Othon III (d. 1251) was the root of the next lords of Trazegnies and Pairs of Silly. His son Gilles III, Baron of Trazegnies and Silly, organized in 1251 the famous tournament during which Count of Flanders Guillaume de Dampierre was killed. Agnès, Gilles III's daughter, married Eustache V du Rœulx in 1255 (or 1256) and their son Othon V du Rœulx founded the second house of Trazegnies.
In 1414, Marie-Anne de Trazegnies married Arnould de Hamal and the domains of Trazegnies and Silly were transfered in the Hamal family. Their second son Anselme (or Anseau II) took the name of his mother. One of their descendants, Charles I, was made Marquis of Trazegnies in 1614. The last Pair of Silly was Marquis Ferdinand-Octave de Trazegnies (1740). The domain was then transfered to the family of Ligne; its last lord was Feld-Marshal Charles de Ligne, Grand Baillif of Hainaut.
Source: Heraldus website
The Brewery of Silly (Brasserie de Silly) was founded in 1850 and has remained in the same family since then. In 1975, the brewery purchased the Tennstedt Decroes brewery in Enghien. Its last creation is the Pink Killer, a white beer aromatized with pink grapefuit.
Ivan Sache, 15 January 2006
---
Municipal flag of Silly
The municipal flag of Silly is diagonally divided in six yellow-blue descending stripes, with a red engrailed border and an umbrate lion outlined in black.
The flag is described in Armoiries communales en Belgique. Communes wallonnes, bruxelloises et germanophones as Six laizes diagonales descendantes, trois jaunes et trois bleues, avec le tracé d'un lion noir et une bordure engrêlée rouge.
The flag is a banner of the municipal arms.

According to the Hainaut Armorial, the arms of Silly were granted by Royal Decree on 31 December 1926, as Band&ecute; d'or et d'azur, l'ombre du lion brochant sur le tout, brisé d'une bordure engrêlée de gueules. The same arms were used by the municipalities of Chapelle-lez-Herlaimont (Royal Decree, 20 December 1904), Irchonwelz (Royal Decree, 21 June 1923) and Trazegnies (Royal Decree, 21 July 1923).

The Gelre Armorial shows:
- "Bendy or and azure a border gules" for Oste de Trazegnies, lord of Wedergraete (Ost v. Wedergraete, #980, folio 82r);
- "Bendy or and azure a lion umbry a border engrailed gules" for Otton VII, lord of Trazegnies (Die He. v. Trasegnies, #1054, folio 84v).
The Lalaing Armorial shows the latter coat of arms for Trazegnies (Trasegnies, #7, folio 71v).
The EarlyBlazon website shows the arms of Otton II de Trazegnies (c. 1150-1192, d. during the Third Crusade), Gilles II de Trazegnies (c. 1176-1204, d. during the Fourth Crusade) and Otton III de Trazegnies (1200-1242) as above.

The Heraldus website claims that Otton III bore "Bendy or and gules a border engrailed gules" and that the lion umbry was added by Otton VII de Trazegnies in the late XIVth century.

"Shadows" or "ghosts" are not unknown in heraldry, British or Continental. A further term (adjective) is "umbrate". The greater arms of Trazegnies can be seen on the Château de Trazegnies website.

Arnaud Leroy, Pascal Vagnat & Ivan Sache, 3 November 2007