This page is part of © FOTW Flags Of The World website
Jurbise (Municipality, Province of Hainaut, Belgium)
Jurbeke
Last modified: 2019-07-30 by ivan sache
Keywords: jurbise | jurbeke | lions: 3 (white) | letter: j (white) | lens |
Links: FOTW homepage | search | disclaimer and copyright | write us | mirrors

---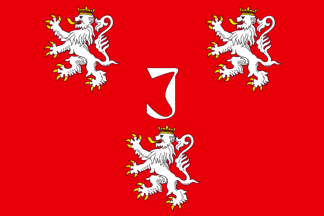 Municipal flag of Jurbise - Image by Arnaud Leroy, 4 August 2007
---
See also:
---
Presentation of Jurbise
The municipality of Jurbise (in Dutch, Jurbeke; 9,695 inhabitants on 1 January 2007; 5,786 ha) is located 10 km north of Mons. The municipality of Jurbise is made since 1976 of the former municipalities of Jurbise, Erbaut, Erbisœul, Herchies, Masnuy-Saint-Jean and Masnuy-Saint-Pierre.
Jurbise was mentioned for the first time in 1057, as Yorbisa, on a chart by which the bishop of Cambrai and Arras transferred the church of Jurbise to the chapter of Cambrai. In 1541, the village had c. 285 inhabitants, a number that climbed to 750 in 1826 and 1,558 in 1973. The village developed after the building of the Mons-Ath road in 1736 and of railway lines in the XIXth century. The Lens-Baudour line, via Herchies, worked from 1901 to the 1950s. The Brussels-Mons-Quiévrain "dorsal" line allowed the villagers of Jurbise to go to Tubize in 1831 and to Tournai in 1848. The Saint-Ghislain-Erbisœul line was inaugurated in 1876; its increase to Jurbise allowed the set up of several factories, such as a glass factory, a sugar mill, grain warehouses and the Walref (refractory products) factories in Masnuy-Saint-Pierre, the Gantois brewery, distillery and maltery and the Ceresia brewery in Erbisœul. In 1876, the Utzschneider-Jaunel company built in Jurbise a famous tile factory.
Source: Jacqueline Galant, Mayor of Jurbise,'s personal website
Herchies was mentioned for the first time, as Helchies, on a Bull dated 1162, by which Bishop of Cambrai Nicolas I transferred the church of Herchies to the abbey of Gislenghien. Later documents (1246 and 1267) mention Hercia and Hercies, respectively, while the modern written form appears in 1270. Chotin believes that Herchies means "the warriors' domain", from her, the short form of the Germanic herman, ariman, "a warrior", and -chies, a suffix meaning "a domain", from Lower Latin caia, chio, "an enclosed domain". Carnoy claims that Herchies was Hilliciacum, that is Hilico's estate. Anyway, Herchies has been a local political and military center all over the Celtic and Frankish periods. Finally, Jacques de Guyse, a not-to-be-believed "historian" of the Middle Ages, claims that Herchies was founded by a lord named Hericinus, in Latin, "hedgehog".
In 1901, Canon Puissant found Prehistoric artifacts on the site of the former fortress, which was therefore, most probably, settled by Celtic tribes before the Roman occupation. In the Middle Ages, Herchies was located on the border of Brabant and Hainaut; in 1015, Count of Hainaut Régnier V eventually incorporated the Decanate of Chièvres, including Herchies, to Hainaut.
Source: Herchies website
Ivan Sache, 5 August 2007
---
Municipal flag of Jurbise
The municipal flag of Jurbise is red with three white lions with yellow tongue, claws and crowns, surrounding a stylized, white "J" letter.
According to Armoiries communales en Belgique. Communes wallonnes, bruxelloises et germanophones, the flag was adopted by the Municipal Council on 28 January 1999 and confirmed by the Executive of the French Community on 30 April 1999, as Rouge à trois lions blancs, armés, lampassés et couronnés de jaune, accompagnés au centre de la lettre capitale J blanche.
The flag is a banner of the municipal arms.
According to the Hainaut Armorial, available on the Heraldus website, the non-official arms of Jurbise are De gueules à trois lions rampants d'argent armés lampassés et couronnés d'or, brisés d'une initiale J en argent posée en abyme.
Herchies used very similar arms, granted by Royal Decree on 30 January 1913, with a "H" instead of a "J", De gueules à trois lions rampants d'argent armés lampassés et couronnés d'or, accompagnés en abyme de la lettre H également d'argent.
Masnuy-Saint-Jean used very similar arms, granted by Royal Decree on 24 April 1912, with no letter at all, De gueules à trois lions rampants d'argent armés lampassés et couronnés d'or.
The municipality of Lens uses a banner of its arms as its municipal flag, De gueules à trois lions rampants d'argent armés lampassés et couronnés d'or. According to the Herchies website, Herchies was part of the Peerage of Lens, one of the 12 peerages of Hainaut created by Countess Richilde of Egisheim around 1076. The oldest known lord of Lens is Gauthier / Wautier, lord of Lens and Herchies, listed on a chart of the King of France in 1065 and said to have joined the Crusade with Godefroid de Bouillon in 1099. He bore arms with the three lions.
The Heraldus website gives the arms with the three lions for Jean of Lens, lord of Lens and Herchies in 1294.
Arnaud Leroy, Pascal Vagnat & Ivan Sache, 5 August 2007