This page is part of © FOTW Flags Of The World website
Austria-Hungary - "1894 Muster"
Last modified: 2014-04-12 by rob raeside
Keywords: austro-hungarian empire | habsburg |
Links: FOTW homepage | search | disclaimer and copyright | write us | mirrors

---
This report concerns ensigns on Austrian (Hapsburg) ships. This report is heavily based on my paper prepared for the XXI ICV in Buenos Aires, 2005 [Heimer, 2005]. It is to be noted that these flags were not regulated with any precision of the design that we may think of for flags today, so mostly only the general pattern was followed (even when they were regulated more precisely). Also, the ensign was the responsibility of the ship's captain and he was ordering it from a flag maker - both the captain and maker took great liberty in interpreting the design.
Željko Heimer, 24 September 2007
---
See also:
---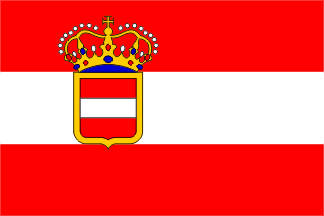 image by Željko Heimer, 29 September 2007
Since 1786, the red-white-red triband remained in use - however, the exact, precise design was apparently never made in a way we may like to see it these days, so there are considerable variations regarding the artistic depiction of the coat of arms and the crown in the preserved examples (and depictions of the flag in the secondary sources).

The first modernization since 18th century was made in the end of 1894. The new set of flags of the Imperial and Royal Navy was established by Emperor Franz Joseph I on 23 December 1894, and this is referred in literature as "1894 Muster" [L1].

Although the Empire was dualised in 1867, the Navy retained the Austrian symbols, while the new merchant flag introduced in 1869 already showed the Hungarian colours as well. The change of the Josephinian ensign of 1786 was cosmetic only, simplifying and standardising the drawing of the crown. The number of white pearls in the crown was now fixed to eighteen, to represent the number of crown-lands of the Dual Empire. The ratio is now for the first time clearly established to 2:3 for the ships.
Željko Heimer, 29 September 2007
---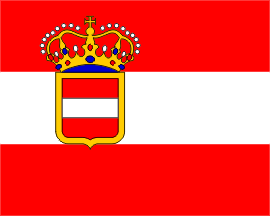 image by Željko Heimer, 29 September 2007
For the ensign for boats and for the jack the same flag design was prescribed in lesser dimensions and in ratio 4:5.
Željko Heimer, 29 September 2007
---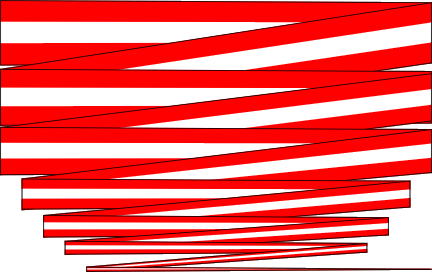 image by Željko Heimer, 29 September 2007
The masthead pennant was prescribed to ratio 1:100.
Željko Heimer, 29 September 2007
---
Sources:
- Baumgartner, Lothar, 1977: Die Entwicklung der Österreichischen Marineflagge, Militaria Austriaca, Gesellschaft für Österreichische Heereskunde, Wien, p. 29
- Heimer, Željko, 2005: The Naval Flags on the Eastern Adriatic, XXI ICV Buenos Aires Vexillobaires 2005 (proceedings in print)
- Khuepach, Arthur von, 1941: "Interessantes aus der Österreichisch-ungarischen Kriegsmarine", Marine-Rundschau, nr. 46,
Münch, Bonn, p. 301
- Lehnert, Josef von, 1886: "Beiträge zur Geschichte der k. k. Flagge. Vortrag, gehalten im militär-wissenschaftlichen Verein zu Wien am 13. März 1885", Organ der militär-wissenschaftlichen Vereine, nr. 31, Mayer, Wien, pp. 3-4
- Novak, Grga, 2004b: "Jadransko more u sukobima i borbama kroz stolječa II. Od 1409. godine do Drugog svjetskog rata", Marjan tisak, Split
- [L1] Normal-Verordnung vom 11. Jänner 1895, P.K./M. S. Nr. 2978 ex 1894. Neue Standarten, Commando-Flaggen und Dienst-Flaggen. in: Normal-Verordnungsblatt für die k. und k. Kriegs-Marine 1895: pp. 25-27 (+ plates)
- Baumgartner, Lothar, 1979: "Zur Problematik der ungarischen Nationalflagge nach dem Ausgleich (1867-1915)", Militaria Austriaca, VIII. Internationaler Kongress für Vexillologie Sonderdruck, Gesellschaft für Österreichische Heereskunde, Wien, pp. 5-12.