This page is part of © FOTW Flags Of The World website
Austro-Hungarian Empire: Flag of Leopold Wilhelm 1642
Last modified: 2014-04-12 by rob raeside
Keywords: austro-hungarian empire | leopold wilhelm |
Links: FOTW homepage | search | disclaimer and copyright | write us | mirrors

---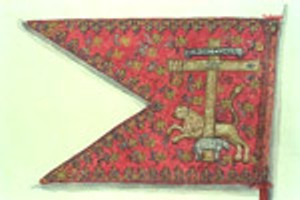 image located by Peter Hans van den Muijzenberg, 8 May 2010
Source: http://www.sfhm.se/upload/Arme/Utst%C3%A4llningar/copy25.jpg
---
See also:
---
Looking in the Wise's "Military Flags of the World 1618-1900" (Arco, 1977) there is a flag depicted of the Imperial commander-in-chief Archduke Leopold Wilhelm of Austria, which was captured in the Battle of Leipzig in 1642. I presume it was captured by the Swedes and that this flag may be in the Swedish Army Museum. If I am not mistaken, most of the flags captured by Swedes are in that Museum, and this would be one of their most prominent trophies.

Wise pictures the obverse, being a red split flag (he names it a guidon) depicting radiating Madonna with Child, holding the simple coat of arms of Austria. Unfortunately, he did not describe the obverse in the text (presumably because he pictured it but I am unable to read the inscription there), but he described the reverse, picturing Christ on the cross with a lion and a
lamb in the base with inscription TIMORE DOMINI (which I interpret as "Fear the Lord").
Željko Heimer, 8 May 2010
It is in Petrelli & Liljedhal's catalogue of cavalry flags, as no.500. They do not make any mention of any Archduke, but just refer to it as 'Imperial'. To be fair, they rarely attempt any attribution to a specific commander or regiment.

The obverse is described thus (my Swedish is nearly non-existant, but I think there some differences - in the colour of the clothing of the BVM for example, which is described as yellow, not white - to Rosignoli's illustration):
Madonnan, med öppen, gyllene krona på hufvudet och klädd i en gul, med guldprickar öfversållad klädning samt blå med silfverprickar öfverströdd mantel. Hon är omgifven la"ngs hela figuren af en uddig, gyllene sol och står på en silfvernymåne. På högra armen ba"r hon Jesusbarnet, hvilket åter i sin högra armen hand hå österrikes vapenskjöld, prydd med en furstehatt. Vid hennes högra sida möjligen ett F. I den vänstra handen har Madonnan en gyllene spira och liksom Jesusbarnet en gyllene gloria kring hufvudet. Upptill längs dragonfanans öfverkant la"ses inskriften: CASTRORUM ACIES ORDINATA. Begynnelsebokstäfverna C, A och O i guld, de andra i silfver. Allt i broderi.

The reverse is the picture that Peter Hans found. Again to quote Petrelli/Liljedahl:
Ett broderadt, gyllene kors, försedt där armarna förenas, med två små, gröna qvistar samt med ett öga på vänstra korsarmen. Vid korsets fot i broderi ett litet silfverlam, vändt åt vänster. Bakom korset ett gyllene lejon, springande åt höger. På korsets öfversta del ett hvitt språkband med inskrift i svart färg: TIMORE DOMINI.

Söllner shows a similar flag (Plate 48, number 7a-b), but as a square standard, rather than a splitflag. He describes it as belonging to the Leibkompanie of Archduke Leopold Wilhelm's Regiment, captured as Breitenfeld in 1642. I think Wise may have put two and two together to make five, and attributed the flag in Petrelli/Lilijedahl to Archduke Leopold on the basis of the Söllner illustration.

Sources:
- Petrelli, T.J. & Liljedahl, E.S., 'Standar och dragonfanor fraå valplatser i Tyskland och kejserliga arfländerna under
sextonhundratalet hemförda af svenska trupper', in: Antiqvarisk Tidskrift för Sverige 14 (3) 1911, pp1-144
- Söllner, G. 'Fahnen und Standarten aus der Zeit des Dreissigjĺhrigen Krieges' published as a series of supplements to the magazine Die Zinnfigur (undated, but 1960s)
Ian Sumner, 10 May 2010
The page on the "Trofésamlingen" (Trophy Collection) includes the captured flags. There is little doubt that the photo of the flag there is the same flag Wise had in mind.
Rosignoli's illustrations in the 1977 book often contain inaccuracies, especially in colouring. Some of them are corrected in Wise's textual descriptions, others are silently skipped. Considering the technology of the date, I presume Rosignoli made the drawings prior to completing the text - of which Wise noticed some and attempted to correct where he considered it important (and where the amount of text assigned allowed for the explanations). I suppose that at the period correcting the drawings would be too expensive, for the kind of publication this book is.
I try translating the description:
"Our Lady with open golden crown on her head, clad in yellow dress with golden dots and a blue cloak with silver dots. She is entirely surrounded by a radiating golden sun and she stands on a silver crescent. In her right arm she holds Baby Jesus, who holds in his right hand the Austrian Coat of arms topped with the princely bonnet. To her right is possibly an F. In her left hand she holds a golden sceptre, and as is Jesus, she is haloed golden. Along the dragoon flag [i.e. a split cavalry standard] top is inscribed CASTRORUM ACIES ORDINATA. Initials C, A and O golden, other letters silver. All embroidered."

The inscription refers to the Our Lady who is victorious over the heresy. It is a part of the quote from the Song of Solomon (6:3) in Latin "terribilis ut castrorum acies ordinata" - as terrible as an army set in battle array. The phrase was at the time referring not only to the Lady but to the (Roman Catholic) Church as "ordered as it should be" in feud with the Protestants who wanted to "reorder" it.
Wise mentions "by the way" in his description of this flag that "Balkan irregulars carried large triangular flags." I believe that with this obscure remark, he has in mind flags of Croatian light cavalry regiments captured in the Thirty years war which are also preserved in the collection of the Swedish Army Museum. They are, apparently, the oldest preserved flags of Croatians anywhere, therefore have a special place in the Croatian vexillology. The "irregulars" are at least two regiments, each having some 10 companies of light cavalry named in the sources "Crabatten" (= Croats) [this type of cavalry units, similarly equipped, were subsequently called Crabatten even when they were not raised in Croatia, the main task of those was small and swift provocation actions, reconnaissance and small skirmishes.]
The two flags are shown in Borošak Marijanović 1996 Flags catalogue, with consent by the Swedish Army Museum, a flag of the Colonel Petar Keglević regiment and a flag of the Colonel Nikola Dragić regiment. These flags are unusual large for light cavalry of the time (cavalry used smaller sized guidons, usually about half the size of the infantry standards) and they may be called "triangular" in the first approximation, however, they are of rather peculiar shape - it seems that they are like large swallow-tailed flags in which the lower tail is obliquely cut off - thus forming the fly end being "at 2 o'clock and at 7 o'clock". I suppose that such unusual fly end was indeed made so that the lower fly of the flag would not reach the ground when it was carried on a staff by a cavalryman.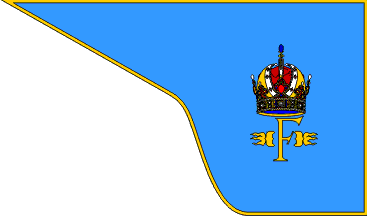 image by Željko Heimer, 9 May 2010
Based on the B/W photo of the flag and the description in Borošak-Marijanović, pp. 36-38, here is my reconstruction of one of the two: the flag of the light cavalry regiment of Petar Keglević. She describes the flag as originally produced of blue silk (which is presumably faded out now) semee with golden flammulets (which are not visible on the photo, presumably too faded away), inscribed in the centre of it with imperial cyphre F (Francisucs II) between two enflammed fire irons (emblems of the Order of the golden fleece) and ensigned with the imperial crown (my drawing probably too elaborate).

The photo shows the reverse, so do I (although since nothing it said about the obverse, it may easily be the same).

The other flag, that of Nikola Dragić regiment is of the same shape and presumably size, but of red silk, with golden flammulets, showing a circular painting of a ship (inscribed SPES MEA IN DEO EST) and with the Dragić coat of arms in the fly tail.

Borošak Marijanović explains the main colours of the flags to be taken from the family arms of each Colonel. While Keglević is well renowned family (uses and indeed a basically azure coat or arms) including this Petar who has a prominent place in the Croatian history. However, Nikola Dragić (Draghy?, a B-M questions) is not mentioned in the standard Croatian armorials, however, his coat of arms is shown on the flag, indeed being gules.
Željko Heimer, 9 May 2010
There are four similar standards at Nos.473-476, so the regiment must have lost several standards. 473-74 are as you show; 475 has the gold replaced by yellow, and a yellow border to the sheet; 476 is similar to 475, but has the cipher surrounded by a yellow wreath, itself surrounded by white ribbons and gold roses (according to Google Translate) - which the authors identify as the regiment's leibstandarte.

I have found a picture in [mLf62] of both the Archduke's and Keglevic's flags, which look as if they are taken from the Swedish Trophy Collection records. I'll post it on the files section of the group website. Mell adds in the caption that Keglevic's standard was captured at Lausitz 1634, and states that the other was a standard of the Archduke's Leibgarde, captured at Breitenfeld.
Ian Sumner, 10 May 2010