This page is part of © FOTW Flags Of The World website
Salt Lake City, Utah (U.S.)
Salt Lake County
Last modified: 2021-05-15 by rick wyatt
Keywords: salt lake city | utah | salt lake county | olympics |
Links: FOTW homepage | search | disclaimer and copyright | write us | mirrors

---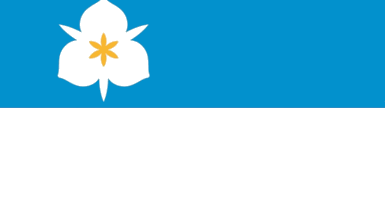 image located by Dave Fowler, 25 September 2020
---
---
See also:
---
Current flag (2020)
The finalist flags for Salt Lake City contest are posted at https://nava.org/welcome-bienvenue/latest-news/ (image)
Pete Loeser, 17 August 2020
Two finalists plus a last minute design from the SLC mayor:
https://kutv.com/news/local/after-vote-narrows-new-slc-flag-design-to-2-teen-finalists-mayor-submits-her-own-design

After vote narrows new SLC flag design to 2 teen finalists, mayor submits her own design | KUTV
Salt Lake City Mayor Erin Mendenhall is formally asking the Salt Lake City Council to consider [a]see note design for a new Salt Lake City flag. This is despite a public call to artists this Spring to submit their own designs. A Salt Lake City flag committee then narrowed down hundreds of submissions to eight finalists.
A news release from the mayor's office says:
The Committee convened once again to evaluate survey data, then narrowed the field of eight down to two top designs: one, a stylized black honeybee overlaying a golden honeycomb centered on horizontal bands of sky blue and white; and the other, a white and golden-yellow sego lily centered on an isosceles triangle of deep blue, under sky blue triangles." The public was then asked to vote on those finalists.
The design takes key elements from the flags submitted by the two finalists, 18-year-old Arianna Meinking and 17-year-old Ella Kennedy-Yoon. "Ultimately it was decided that the blue and white backdrop - which could symbolize snow, the sky, the Great Salt Lake, and salt - would pair best with the Sego Lily, a flower indigenous to the area, and which symbolizes resilience," the mayor's office says. Mendenhall says: We're in a once-in-a-generation moment of change and there's no more perfect time for our City to unite under a new symbol that personifies and unites us all. I believe this is the design that can take us forward, together."
A Salt Lake City native who recently graduated from West High School, Meinking, who designed the Sego Lily flag, says To me, this experience highlights what it means to live here. If I do my best to try to change the world around me, even in little ways, I can make a difference, and grow into that role."
Kennedy-Yoon, who designed the honeybee flag, was also born and raised in Salt Lake City and is currently a senior at West High School. She says: I am honored to have my design chosen to be part of what represents Salt Lake City. This opportunity is encouraging me to make a difference. I hope this flag will grow to become a symbol of the kindness and community that Salt Lake City embodies."
The council will hear from Mayor Mendenhall on Tues. Sept 29, and the council will vote on adopting Mendenhall's design as the city's new flag.
kutv.com
Dave Fowler, 25 September 2020
*Note: For clarification: the new flag was created in discussion by the committee by combining two finalist designs. It was not the mayor's idea, as implied in the original report. The misreporting appears to have occurred because the mayor then formally proposed the design to the city council, and the design was misattributed to her.
Ted Kaye, 14 May 2021
On Tuesday 6 October the city council of Salt Lake City, Utah adopted the new flag design:
"Salt Lake City adopts new flag " October 7, 2020
https://kutv.com/news/local/salt-lake-city-adopts-new-flag

"The Council adopted a resolution approving the redesign of the City Flag. Two Salt Lake residents, both under twenty, contributed to the final design."
https://www.slc.gov/blog/2020/10/06/council-october-6-council-meeting-recap/

Council Formal Meeting Oct 06, 2020 07:00 PM
https://slc.primegov.com/Portal/Meeting?compiledMeetingDocumentFileId=9110
Ben Cahoon, 10 October 2020
---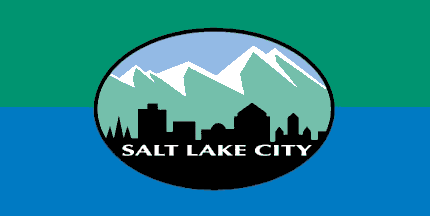 image located by Valentin Poposki, 24 August 2007
Salt Lake City's mayor wanted a new flag for the city and he wanted help designing it. The previous flag had flown above the city for more than 40 years. Mayor Rocky Anderson said it was time for a change, so the city held a design contest for a new flag. The top three proposals for the new flag of the City of Salt Lake were posted at deseretnews.com/dn/view/0,1249,600109738,00.html, but none were chosen. On 11 July 2006, a staff report the Council Committee re: new flag design reported "Following discussions regarding adopting a new City flag, the Council nominated a subcommittee to work with the Administration on this project. Council Members Christensen, Turner and Love have met with representatives of the Mayor's Office and have agreed upon a design to present to the full Council for consideration."
Kristian Söderberg and Valentin Poposki
The new flag was described first by Deseret News reported on 7 October. Further details were given in Brigham Young University Newsnet, 16 October 2006:
"The new flag is blue and green and shows a simplified city skyline with a stylized illustration of the Wasatch Mountains as a backdrop. The words "Salt Lake City" are stitched below the skyline. Sam Guevara, chief of staff in the office of Mayor Rocky Anderson, said in an e-mail, "The final design was a combined effort of the mayor's office and the city council."

The old flag featured an illustration of pioneers, seagulls and an ox-drawn wagon, all centered on a largely white backdrop. Some officials were concerned that the previous design looked too plain when there was no wind, said Gary Mumford, deputy director of the Executive Council and senior legislative auditor. He said it often looked like a "white flag of surrender." The International Society of the Daughters of the Utah Pioneers, a group devoted to preserving and remembering Utah's pioneer heritage, voted to support the new design. Mary Johnson, the society's president, said the old flag "was too busy and the [new] one would show our purpose without all the busyness in it."

Johnson said the Daughters of the Utah Pioneers could tolerate the removal of historical elements from the city flag as long as the state flag remained intact and continued to reflect the state's unique history.[...]The Salt Lake City Council voted 4-2 to adopt the new city flag, which was designed by a committee of council members. The city council rejected the winning design from a 2004 contest. According to a city council staff report, 77 percent of respondents to an Internet survey last August favored the new city flag design.
Ivan Sache, 18 October 2006
---
First flag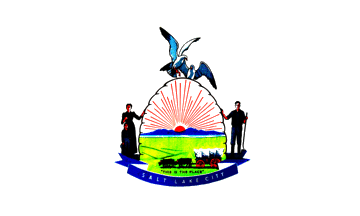 2:3 image(s) by permission of David B. Martucci
image(s) from American City Flags, Raven 9-10 (2002-2003), courtesy of the North American Vexillological Association, which retains copyright.

Text and image(s) from American City Flags, Raven 9-10 (2002-2003), courtesy of the North American Vexillological Association, which retains copyright. Image(s) from American City Flags by permission of David B. Martucci.

Salt Lake City's flag places the arms of the city in the center of a white field. They measure approximately 2.5 by 2.25 units on a field of 3 by 5 units. An outline of a beehive in dark brown takes the place of the traditional shield. The field within shows a green plain in the lower half, the bottom of which is partially obscured by a heraldic ribbon. At the fly side of the scene is a covered wagon, white with orange wheels, pulled by a team of four dark brown oxen headed toward the hoist. The lead oxen are approximately three-fourths of the distance from the fly. Immediately below them is "THIS IS THE PLACE" in black.

The midpoint of the scene forms a horizon with low dark blue mountains across the plain. Between the mountains and the plain is a narrow white line shaded in blue. An orange setting sun with 32 rays of varying lengths fills the white sky. The hoist supporter is a pioneer woman, dressed in a long-sleeved dress; a boy stands in front of her. The fly supporter is a pioneer man, holding a long handled shovel. The figures are in natural colors. The heraldic ribbon below is dark blue, backed in white, with SALT LAKE CITY curved across the central part in an Arial-type font in white. Above the beehive alight two seagulls, in natural coloring. Both have wings outstretched, and while the gull toward the fly (which faces front) has landed and its feet are not visible, the gull toward the hoist and facing the fly has yet to touch down.
John M. Purcell, American City Flags, Raven 9-10, 2002-2003

The beehive refers to Utah's nickname, "The Beehive State". The scene suggests the arrival of the Mormon pioneers at the Great Salt Lake in 1847, when their leader, Brigham Young, said, "This is the place", indicating where they would settle and found the city. The seagulls, the state bird, recall the seemingly miraculous arrival of a flock of seagulls early in the state's history to devour a plague of crickets (Mormon grasshoppers) that had threatened the new settlers' crops.
John M. Purcell, American City Flags, Raven 9-10, 2002-2003

In 1963, The Deseret News, a Salt Lake City newspaper, and the junior chamber of commerce sponsored a contest for a new city flag, with a prize to the winner of $100.
Flag adopted: 23 September 1969 (official).
John M. Purcell, American City Flags, Raven 9-10, 2002-2003

J. Rulon Hales was the winner.
John M. Purcell, American City Flags, Raven 9-10, 2002-2003

The flag was not made until 1969, owing to the cost of manufacturing a flag with such a detailed design and with so many colors. Sue Larson and Cherie Horricks of the Highland High School Art Class, under the direction of Jack Vigos of the Art Department, created the first flag.
John M. Purcell, American City Flags, Raven 9-10, 2002-2003
---
The seal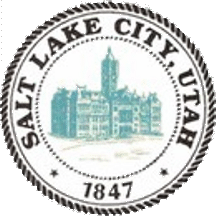 image located by Paul Bassinson, 22 January 2020
Source: https://www.pngkey.com/...seal-salt-lake-city.png
Paul Bassinson, 22 January 2020
---

image located by Paul Bassinson, 17 March 2021
Image obtained from https://www.facebook.com/SLCfire/photos/2869977963013080 shows the flag to be blue with a typical Fire Department seal in a yellow-edge black shield.
Paul Bassinson, 17 March 2021
---
2002 Salt Lake City Olympic Winter Games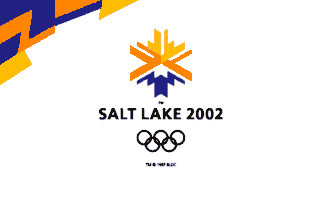 image by Zachary Harden, 21 March 2001