This page is part of © FOTW Flags Of The World website
Norman, Oklahoma (U.S.)
Cleveland County
Last modified: 2020-07-04 by rick wyatt
Keywords: norman | oklahoma | cleveland county |
Links: FOTW homepage | search | disclaimer and copyright | write us | mirrors

---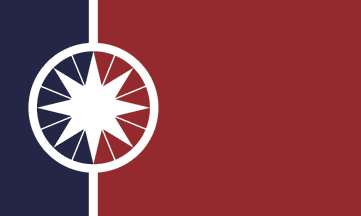 image located by Dave Fowler, 11 June 2020
---
---
See also:
---
Description of the flag
From Enid News & Eagle:
A citizen-led flag committee revealed the winner of its new city flag competition during a Norman City Council meeting Tuesday night. The flag was unanimously approved and will be formally adopted on Sunday, which is Flag Day.

Norman flag committee founder and co-chair Dr. Gabriel Bird, DDS, said the committee received about 115 designs from 58 residents, then the committee selected the top five. From there, 2,389 residents ranked each flag from lowest, 1, to highest, 10, during April.

Bird said the winning flag received an average score of 6.03. The other flags each ranked within two points of the winning design: first runner-up — 5.88, second runner-up — 5.48, third runner-up — 5.27, and fourth runner-up — 4.13.

The designer of the winning flag, who received a $500 prize sponsored by the Norman Board of Realtors, wishes to remain anonymous, Bird said.

Norman Realtor and flag committee co-chair Grady Carter said he enjoyed being "part of a common goal for progress in our community, especially during such a difficult time for so many."

He said his favorite symbolism on the winning flag is a surveyor's compass, "depicting our community's drive toward intentional living." ...

"I am excited that the old flag will continue to serve as the city seal and remain part of our landscape. I have long appreciated the work of the original flag project in 1995 and admire those involved. I hope to carry on their legacy of citizen-driven civic involvement," Bird said.

Bird emphasized that the new flag is copyright free and can be used by anyone. Durable 3-foot-by-5-foot flags are available for purchase at Sublime Signs inc., 912 N. Flood Ave. in Norman.
Dave Fowler, 11 June 2020
---
The following finalists were posted at https://www.normantranscript.com: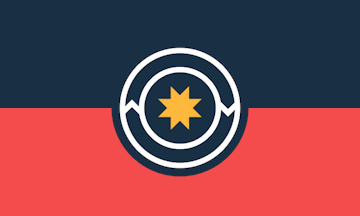 image resized by Randy Young, 7 April 2020
The center yellow star has 8 points, representing the 8 wards that comprise Norman. The white outer shape symbolizes optimism and progress. Norman is constantly moving forward and is one of the most progressive cities in the state. The color palette and red/blue horizontal line is a reference to the current flag design.
Randy Young, 7 April 2020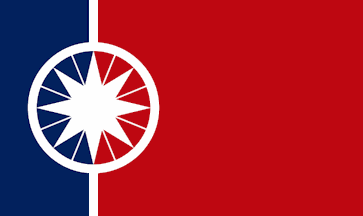 image resized by Randy Young, 7 April 2020
Since Norman is named for the person who first surveyed its land for development, and since, via the National Weather Center, the city provides weather data for the nation, this concept features a version of a compass rose. The emblem is taken from the central element of a circumferentor, or surveyor's compass, and the compass rose itself has its origins in ancient meteorology. The eight points, or "winds," of the compass rose represent Norman's eight wards, contained within a unifying circle (which can also be viewed as an O for Oklahoma). In keeping with the city's current visual identity, the central emblem is placed toward the hoist and rendered in white. A blue pale at the hoist represents Lake Thunderbird, while a red field represents the passion—for education, culture, and community—that defines the residents of Norman.
Randy Young, 7 April 2020
image resized by Randy Young, 7 April 2020
The blue line on the left side of the flag represents the Canadian River, which acts as the western edge of Norman. The larger blue rectangle on the right side of the flag represents Lake Thunderbird on the east edge of Norman. The white field color represents the city. The vertical crimson line represents I-35, which acts as a major north-south corridor in the US and the primary connection to Norman. The crimson star represents the city and the University of Oklahoma, while also paying homage to the Native American history in the state and city. The location of the star on the vertical crimson line represents Norman's location within Oklahoma and the US, directly in the center and slightly south. The crimson color of the star and vertical line pay homage to the University. While we do not want an OU flag, the university is a vital part of our city and history and should be represented accordingly on our flag. The style and shape of the star is a traditional Native American style, paying homage to our Native American history and culture. Overall the colors are similar to the current logo.
Randy Young, 7 April 2020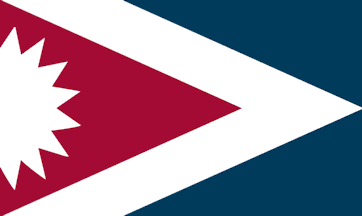 image resized by Randy Young, 7 April 2020
The star/sunburst is inspired by the current flag. The left to right arrow symbolizes progress and forward motion. The red is the same crimson red as OU, Since it certainly means a lot for the town. The blue shade was taken from the colors of MNTC. I chose that shade because that establishment has done a lot for me personally in getting me to where I am today in my career and life in general. The white is just pure white, inspired by the OU cream color, which wasn't too bad, but the white made for a more crisp design. This flag is an adaptation of our current flag, when I designed it I kept the proportions and drew the chevron shape from the same line that the red and blue fields meet on the original flag, to the center point on the right. I then offset that shape to the left to create the final width of the chevron.
Randy Young, 7 April 2020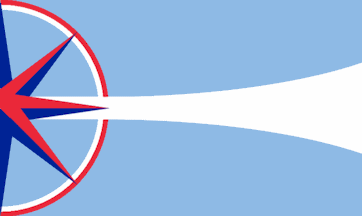 image resized by Randy Young, 7 April 2020
My inspiration came from the individual the city of Norman is named after, Abner Norman. He was the area's initial land surveyor. In his honor I have chosen the survey wheel to use in my flag design. My design includes a symbolic survey wheel placed against a sky blue background with a flared white line. The white line is curved to depict the contours of Norman's landscape. The wheel and white line work in unison to create a sense of motion. One of my goals is to create a design that stands on its own without the viewers knowledge of my rationale or inspiration. If I can provoke thought of mood, color or movement I have crossed a bridge and connected with the viewer.
Randy Young, 7 April 2020
---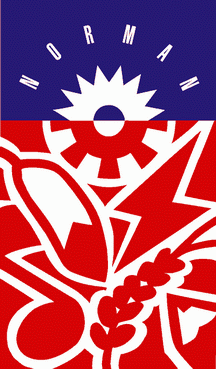 image located by Valentin Poposki, 5 August 2006
Source: www.ci.norman.ok.us/government/OurCityFlag.htm
It seems that the City of Norman used a vertical flag, which is presented at www.ci.norman.ok.us/government/OurCityFlag.htm.

Explanation of the symbols:
"Norman is a city that is forward thinking, so the flag was purposely designed to embody this notion. The bold contrasts and vibrant colors denote a feeling of strength and optimism. The white starburst within the blue field is a sunrise; a blazing star on the horizon. From here we progress into the red and white color field that the star is emerging from. The second half of the star's circle is composed of a mechanical gear. This symbolizes Norman's business and industry. The remainder of the red and white color field becomes a series of icons that represent those areas of Norman's community that are high importance. The feather represents this region's Native American heritage. The bold of energy symbolizes not only the energy of Norman's people but also the state's leadership in oil, natural gas, and solar research and production. The agricultural heritage of this area is denoted by the stalk of wheat, and Norman's interest in the fine arts and entertainment is represented by the musical note. Finally the pencil tip in the corner symbolizes the aspect of education in Norman, from its excellent public schools to the University of Oklahoma."
Valentin Poposki, 5 August 2006