This page is part of © FOTW Flags Of The World website
Military Units (Portugal)
Last modified: 2015-01-11 by klaus-michael schneider
Keywords: portuguese army | lisbon recruitment office | army apprentices military institute | engineers(3rd) | engineers(6th) | infantry(13th) | acquisition directorate | material &transport directorate |
Links: FOTW homepage | search | disclaimer and copyright | write us | mirrors

---
See also:
---
Lisbon Recruitment Office
Centro de Classificação e Selecção de Lisboa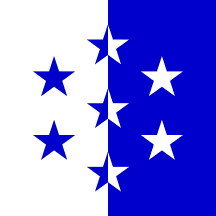 image by Jorge Candeias, 19 Dec 2003

Description: Shield partitioned silver and blue. Seven five-rayed stars, placed in three pales of counterchanged colours.
Symbology:
The distribution of the shield by the tinctures silver and blue alludes to the flag that D. Afonso Henriques would have used in the conquest of Lisbon in 1147 and that later on would have gave birth to the quinas, glorious symbol of Portugal.
The partition of the shield is a reference to the double function of the centre: to classify and to select.
The pentagonal stars, pythagorical symbol of Man, represent the youth that are subject to the operations of classification and selection.
They are ordered in three pales according to the three classifications that can be attributed: apt, inapt and waiting classification.
The three counterchanged stars of the central pale give allusion to the Three Branches of the Armed Forces, served by the Classification and Selection Center of Lisbon, distinct and complementary instruments in the defense of the Nation.
Jorge Candeias, 19 Dec 2003,
translating from the Portuguese Army site
Coat of arms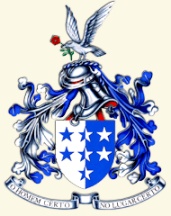 image located by Jorge Candeias, 19 Dec 2003, from the Portuguese Army site
---
Army Apprentices' Military Institute
Instituto Militar dos Pupilos do Exército
New Guidon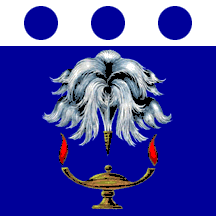 image by
António Martins-Tuválkin, 19 July 2007

The institute is a boy school operated by the Portuguese Army, providing all levels of primary and secondary education (6-17 y.o.) to prospective personnel. It was founded in 1911, originally to cater for the (male) children of sergeants and servicemen of the Navy and Army (no Air Force back then); officers' children attended the separate, pre-existing Colégio Militar.
Like every other unit of the Portuguese Army, this school has a coat of arms and the correct guidon is its Banner of Arms. It is Azure above a two-flame lamp Or flaming Gules a representation of the feathered cap crest of the school's parade uniform and on a chief Argent three hurts (kind of roundels) Azure. Helmet; wreath and mantling Azure and Argent and for crest a lion holding a book and a sword; scroll with motto "Querer é Poder" ("Will is Might", ; and collar of the Order of St. James. (editorial note:or to wish is to master)
The Banner of Arms is square with the shield charges on it. The arms were devised Col. Guerreiro Vicente, one of the best Portuguese Heraldists (though for me this is not one of his best arms) and as in current use drawn and coloured by Mag. José Colaço, heraldic illustrator extraordinaire.
The lamp stands for education, for it is a school, the feathers are the best known token of this institutions, and the chief comes from the Castro family CoA (Argent six roundels Azure in two pales), for the school's patron is D. João de Castro.
Though this schooll had previously a very different guidon, the Bannr of Arms is now in regular use (probably much later after the adoption of the CoA).
António Martins-Tuválkin and Jan Mertens, 19 July 2007
Old Guidon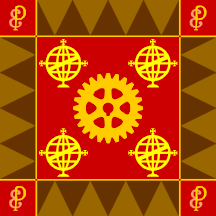 image by
António Martins-Tuválkin, 21 July 2007

Made from a table top flag about 10 cm to the side I could observe in detail; photographic evidence seems to validate the details of this design and furthermore hints at continued use till the 1980ies or even the 1990ies.
It is a dark red guidon with a golden cogwheel between four yellow (yes, golden and yellow in the same design) armillary spheres. Cornerless bordure separated from the main panel by a yellow line filled with four light and three plus to half dark brown triangles on each side and corners also dark red filled with the monogram "PE" in interwinned script capitals -- yellow "P" and rosy "E".
António Martins-Tuválkin, 21 July 2007
Alumnus' Parents' and Benefactors' Association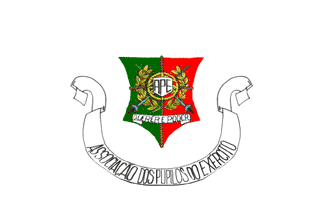 image by
António Martins-Tuválkin, 22 July 2007

Finally, there's the flag of the Alumnus' Parents' and Benefactors' Association, Associação dos Pupilos do Exército. Unlike the current and previous flags of the school itself, this one is a plain white cloth with a logo on it; not surprisingly, the said logo is tacky and uninspiring: It is the umptieth variation of the national arms on a pentagonal shield with concave sides full with a motto scroll (the same "querer é poder" as the school) the shiled of the national arms filled with "APE" in black capitals on a white background, two crossed swords behind the armillary sphere and a wreath of golden laurels around and below it all. Under the logo a scroll reading "Associação dos Pupilos do Exército". I've seen two slightly different variants of this flag, one a table top rigid guidon like flag, the other a 90 cm hoist "real" flag. These differences lie in the depicting details of the flag elements.
António Martins-Tuválkin, 21 July 2007
---
13th Infantry Regiment
Regimento de Infantaria no. 13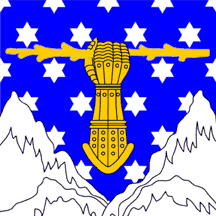 image by
António Martins-Tuválkin, 4 Oct 2007

This is the flag of 13th Infantry Regiment of the Portuguese army, garrisoned in Vila Real, a banner of arms of the corresponding coat of arms, which was created by the heraldic cabinat of the army. It is blue semy of silver (i.e. white) 6-point stars between two snow covered mountains in base. Over all is a forearm in golden armour holding a baton raguly of the same.
Not on the flag but in the arms is the war cry "Aleo"", referring to Dom Pedro de Meneses, first governor of Ceuta and first Count of Vila Real. Its the same with the V-shaped cutting and the baton. The design was made by José Estevéns Colaço. (translated by Klaus-Michael Schneider)
António Martins-Tuválkin, 4 Oct 2007
---
3rd Engineers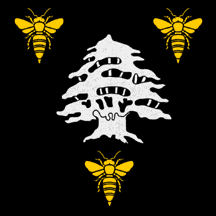 image by
António Martins-Tuválkin, 18 Oct 2007

The Portuguese Army will send soon to Lebanon its newly created Engeneers Unit nº3 (UnEng3/FND/UNIFIL), as a part of the UNIFIL peacekeeping mission. Its arms (and Banner of Arms) were created by the Army Heraldry Office (memo n.º 905, proc. 254.09, of 2007.09.27), designed by Lt.Col. Pedroso da Silva and drawn by Master José Estevéns Colaço. The unit colour is, as usual, a full banner of the arms, which are Sable a Lebanon cedar Argent between three bees Or ordered 2:1.
António Martins-Tuválkin, 18 Oct 2007
---
6th Engineers


image by
António Martins-Tuválkin, 5 Mar 2010

On 23 January 2009, the Portuguese Army Chief of Staff approved the arms (and, implicitly, the guidon) of the newly created Portuguese Army Engeneering Unit no.6 (Unidade de Engenharia N.º 6: UnEng6/FND/UNIFIL), raised to serve in the Portuguese contingent in UNIFIL (United Nations Interim Force in Lebanon), from July to December 2009.
The guidon is per regulation a square banner of the arms, which are Sable a honeycomb of six cells Or voided Sable set three and two and one each containing a cedar Or. (The rest of the CoA, motto and crest is also interesting, although unaltered to flags.) This design was authored, as usual, by Lt.-Col. Pedroso da Silva, of the army's Heraldry Bureau. Its symbolics refer to the labour skills of bees and to the host territory.
António Martins-Tuválkin, 5 Mar 2010
---
Acquisition Directorate
Direção de Aquisiçãs


image by
António Martins-Tuválkin, 18 Feb 2010

Argent a chief and a pale Azure. Argent/silver stands for balance between the needs of the Army and the interests of the national treasury; the "T" refers to the duality of book keeping in- and out-put columns.
The new coat of arms was adopted by the Portuguese Army Chief of staff on 17 June 2009, authored by Lt.-Col. Pedroso da Silvaand illustrated by Master painter José Estevéns Colaço, of the Portuguese Army Heraldry Cabinet.
Source: "Despacho de S. Ex. o General Chefe do Estado-Maior do Exército, de 17 de Junho de 2009".
António Martins-Tuválkin, 18 Feb 2010
---
Material and Transport Directorate
Direção de Material e Transportes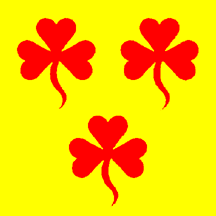 image by
António Martins-Tuválkin, 18 Feb 2010

Or three trefoils Gules ordered 2:1. Or/gold symbolizes the cyclic renewal of cereal fields, akin to the unit#s work; trefoils stand fo good luck, and being red here they stress the toil needed for the three main attributions of the unit: maintenance, resupply, and transport.
The new coat of arms was adopted by the Portuguese Army Chief of staff on 17 June 2009, authored by Lt.-Col. Pedroso da Silvaand illustrated by Master painter José Estevéns Colaço, of the Portuguese Army Heraldry Cabinet.
Source: "Despacho de S. Ex. o General Chefe do Estado-Maior do Exército, de 17 de Junho de 2009".
António Martins-Tuválkin, 18 Feb 2010
---
Military Museum Elvas
Museu Militar de Elvas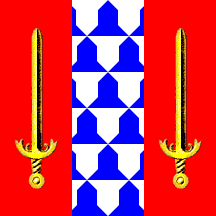 image by
António Martins-Tuválkin, 20 Jan 2008

The Military Museum of Elvas is a unite of the Portuguese Army, and as such recently adopted a CoA. This was issued by the Heraldry Office of the Portuguese Army (Gabinete de Heráldica do Exército), devised by Pedroso da Silva (Lt.Col.) and painted by José Colaço (MA).
The shield blazon is: Gules a pale Vair between two swords Or set in pale and pointing upwards.
his design is usable* as the units flag, but I have no positive information of this use. Since the museum has no personnel which could form on a parade and hence no colour/Banner of Arms was issued. The remaining blazon does not show on the flag design, as usual, but Heraldry enthusiasts may find it of interest.
António Martins-Tuválkin, 21 Jan 2008
---
back to Portugal Military Flags click here