This page is part of © FOTW Flags Of The World website
New Zealand - House flags of shipping companies (A-B)
Last modified: 2013-06-29 by ian macdonald
Keywords: houseflag |
Links: FOTW homepage | search | disclaimer and copyright | write us | mirrors

---
See also:
---
Anchor Line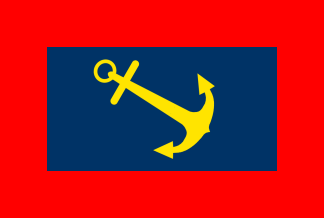 image by Eugene Ipavec, 22 June 2009
The New Zealand Ship and Marine Society presents the Anchor Line, serving local shipping for more than a century. The houseflag has a blue field bearing a diagonally placed yellow anchor (flukes facing lower fly), all within a broad red border.
We learn – heavily indebted to A.A. Kirk and John Brown - that 'Nathaniel Edwards and Company' was founded in 1862 at Nelson (in the north of South Island, opposite Wellington) as a coastal shipping company, starting out with one paddle steamer.
When partner John Symons became sole owner the company name was changed to 'Anchor Line of Steam Packets' (1870). Ten years later the 'Anchor Steam Shipping Co.' was formed consisting of the Anchor Line proper, a foundry, and a shipyard. The firm grew despite adverse circumstances and was renewed, again, as 'Anchor Shipping & Foundry Co.' in 1901.
From 1921 on there was friendly cooperation with the famous Union Steam Ship Co.which had quietly taken over half of the shares (1908). In 1930 the fleet counted sixteen ships. A number of routes were developed, among which was the Nelson-Wellington run.
After WWII the trade declined partly caused by competition from ferries and the lessening use of coal. Union Co. took over the shipping business in 1972, effectively closing it down when the last ship was sold in 1974.
Additional source: New Zealand Coastal Shipping
Direct link to old b/w photo of the main office at Nelson, flying the house flag (centre – you can just make out a diagonally placed anchor) at NZ Ship and Marine Society. The flag on the left is that of the New Zealand Shipping Co. I believe, the other surely that of New Zealand (the "civil ensign?).
Jan Mertens, 21 June 2009
---

image by Neale Rosanoski, 3 November 2010
Auckland Harbour Board. Established in 1871 it became the Ports of Auckland Ltd. in 1988. Their flag was the Coat of Arms in proportions of 2x1 comprising vertical halves of white-black and a red chief of 4/13 bearing a yellow representation of Rangitoto Island with a white lighthouse at the hoist end, and on the white half 3 light blue narrow wavy lines [representing waves], and on the black half 4 white stars arranged per diamond like the NZ Ensign.
Neale Rosanoski, 3 November 2010

image by Neale Rosanoski, 3 November 2010
There was also a blue ensign with a canton of the National Flag fimbriated white from the field and in fly a shield of the Arms. Both are shown by Flagmaster 056 1987 with the former also reported by Sea Breezes 6/1979 and The Log 11/1986.
Neale Rosanoski, 3 November 2010
---

image by Neale Rosanoski, 3 November 2010
Auckland Launch & Towboat Co. Ltd. Apparently not the first company of this name with an earlier version mentioned in the 1920s, this company was registered in 1979 and deregistered 1990 after its final owners, Fullers Group Ltd., went into liquidation in 1988. Colourful but I am not sure of the best way to describe the flag of white, red, yellow and blue design which is shown by The Log of 5/1988.
Neale Rosanoski, 3 November 2010
---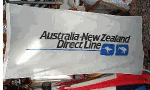 images by Neale Rosanoski, 3 November 2010
Australia-New Zealand Direct. Line. This was a service rather than a company formed in 1987 by the Shipping Corporation of New Zealand Ltd. and the Danish company Rederiaktiebolaget Transatlantic and subsequently had French, New Caledonian and Australian interests involved before being taken over by CP Ships in 1998 and operated as a brand name by them until 2005. The flag seen flying in 1991 was a 2x1 white field with the black legend "Australia-New Zealand" over "Direct Line" over a red horizontal line ending with 2 red panels on which were respectively a white kangaroo and kiwi facing each other, the lettering and panel sides being slanted. Later I was given a photo of an actual flag where the red had become blue. The reasons behind the change are not known, possibly for effect or maybe in line with the different membership but by 2003 with another sighting it had become blue with "ANZDL" in white joined lettering.
Neale Rosanoski, 3 November 2010
---

image by Neale Rosanoski, 3 November 2010
Black Diamond Line. Operated in the coal; trade by 1874 selling out in 1885 with a yellow flag bearing a black diamond from The Log 8/1986.
Neale Rosanoski, 3 November 2010
---

image by Neale Rosanoski, 3 November 2010
Blackball Coal Co. Ltd. Dating from 1886 they were forced into liquidation in 1941. The yellow flag with a small black circle is from The Log 5/1987 and 11/1987 and Sea Breezes 6/1979.
Neale Rosanoski, 3 November 2010
---
Series continues: New Zealand shipping lines (C-F)