This page is part of © FOTW Flags Of The World website
Houseflags of Norwegian maritime companies (U-V)
Last modified: 2020-07-28 by christopher oehler
Keywords: house flag | shipping: norway |
Links: FOTW homepage | search | disclaimer and copyright | write us | mirrors

---
See also:
---
Ugland Bulk Carriers A/S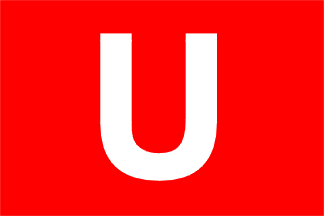 image by Jarig Bakker, 23 January 2006
Source: Brown's Flags and Funnels of Shipping Companies of the World [4]
Grimstad - red flag, white "U"
Jarig Bakker, 23 January 2006
Ugland International Holdings, I suggest that a link to Houseflags of Norwegian maritime companies (U-V) where the same flag is shown under Ugland Bulk Carriers A/S would be appropriate if you wish to continue the thought that that the Cayman Islands entry is justified [the link is to Andreas Ugland & Sons Ltd. who ceased shipping in 2005). Ugland is Norwegian and the forming of a Cayman Islands company has obvious tax benefits but the family has remained based in Grimstad where today it is represented by J.B. Ugland Holding A/S and is still with a couple of vessels under its control although most of their shipping interests have now been disposed of. The JBU logo still shows the plain flag with a "U" on their [green] logo but whether it is still used is not known.
Neale Rosanoski, 06 September 2010
---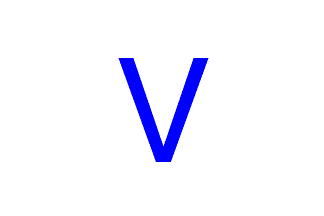 image by Ivan Sache, 16 December 2013
Josef Nuesse's "Ships and Flags" website shows the house flag of A/S Vang Ship Shipmanagement, a Greåker-based company, as white with a blue "V" in the middle.
Source: http://www.flagpole.de/reedereiflaggen/europa/nordeuropa/
Ivan Sache, 16 December 2013
A/S Vang Shipmanagement had their offices in Greåker, but their ships were registered in Måløy, where the company's founder hailed from. The company went broke in 2004, apparently because said founder has a well-functioning imagination, which allows him to imagine contracts where he can accept goods and services without actually paying for them.
Peter Hans van den Muijzenberg, 17 January 2014
---
Vesteraalens Dampskibsselskap
flag at Hamburg Exhibition about Hurtigruten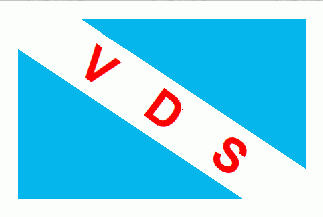 image by Klaus-Michael Schneider, 27 January 2009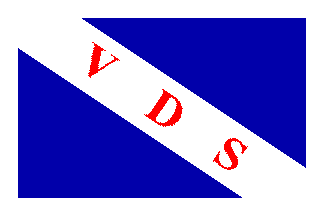 image by James Dignan
Source: The dumpy book of ships and the sea [16]
This was a Norwegian shipping company. As a result of a merger with Ofotens Dampskibsselskap, the company is now a part of OVDS - Ofotens og Vesteraalens Dampskibsselskab. These companies are mainly known for their involvement in Hurtigruten, the Costal Express route along the Norwegian coast between Bergen and Kirkenes.
Jan Oskar Engene, 16 October, 2003
Vesteraalens Dampskibsselskab. The main difference in the portrayals by various sources relate to the shade of blue and whether the flag has a white border though there are minor differences as to the width of the white band and whether it is based on the corners or only hoist and fly, border [where shown] size, and size of letters, type and colour, and dots.
As Klaus-Michael depicts an actual flag there is at least something to go for what applied at the end with a sky blue shade. The http://www.skipet.no website shows 5 flags for the company but no dates are given. Whilst they show the band on the funnel as being a light, presumably sky blue, shade, they indicate that 3 of the flags were a darker shade. Whether this is fact or whether they are depending on other sources is the problem as those may not have been aware of the exact shade e.g. the 2nd image by James from Sampson and the versions by Talbot-Booth in 1942-1944 merely show blue although both sources do note "light blue" for liveries when they are aware of it.


(1)

(2)

(3)

(4)

(5)
images by Neale Rosanoski, 15 April 2011
The 5 flags shown by skipet are (1) a darker blue swallowtail with the white letters "VDS", (2) a square darker blue flag with a white border and white diagonal band from upper hoist bearing the red "VDS" , (3) darker blue with a white diagonal band bearing the red "VDS", (4) sky blue with a white border and a white diagonal band bearing sky blue "VDS" with the letters separated by sky blue dots and (5) sky blue with a white border and a white diagonal band bearing the red "VDS".



(1)

(2)
images by Neale Rosanoski, 15 April 2011
The last mentioned is supported by the flag shown in "Norske Rederiflagg" 1952 in the link given on the index page though it has a wider white band.
Other versions include the use of dots after the letters by Talbot-Booth in his "Merchant Ships" 1942 and 1944 (1) and a blue version, no border but a wider white band by Brown 1951 and 1982 and Stewart 1963 (2). Brown 1958 on the other hand shows the same version as Sampson as depicted by James.
Neale Rosanoski, 15 April 2011
---
Viking Supply Ships A/S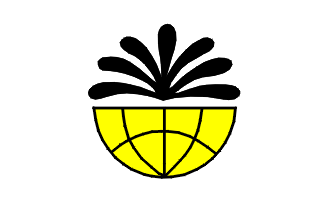 image by Jarig Bakker, 20 January 2006
Source: Brown's Flags and Funnels of Shipping Companies of the World [4]
Kristiansand - white flag; in center black fountain over a half yellow globe.
Jarig Bakker, 20 January 2006
---
From the company website:
Viking Supply Ships AS (Viking) can trace its history back to 15 August 1946 when "Skipsaksjeselskapet Excelsior" (a limited shipping company) was established in Kristiansand. The company, known under the name of Bendt Rasmussens Rederi, with Bendt Rasmussen senior as general manager and had a fleet consisting mainly of tankers. At the end of 1973 Excelsior left the tanker market to join the fast- growing offshore market for supply vessels. Viking Supply Ships was established in 1974 as a marketing organisation, with Excelsior as managing owner. Excelsior was also the main partner in 10 limited partnerships, which owned a total of 16 supply vessels. In November 1985 it was decided to acquire all assets and liabilities in these general partnerships, in return for settlement in Excelsior shares. The supply fleet was thereby assembled in Excelsior, but from a market point of view continued under the name Viking Supply Ships.

In the spring of 1989 Christen Sveaas, together with other investors, acquired all the shares in Excelsior. Later that same year Excelsior changed name to Viking Supply Ships AS with its head office in Kristiansand. Viking's fleet of supply vessels grew throughout the nineties both through the addition of new vessels and acquired "second hand" tonnage. For a period Viking was also a rig- owning company (Jack-ups). The rig company was sold in 1995, and the entire fleet of supply vessels was sold in 1997.
Phil Nelson, 20 January 2006
---
Vilhelm Torkildsen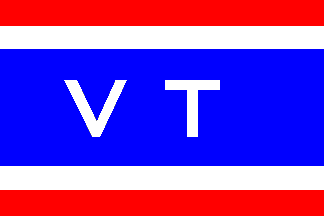 image by Jarig Bakker
Source: Brown's Flags and Funnels of British and Foreign Steamship Companies, 1926 [9]
Bergen - five horizontal stripes of red, white, blue, white, blue, proportioned c. 1:1:6:1:1; in center "VT".
Jarig Bakker, 22 February 2005
---
---