This page is part of © FOTW Flags Of The World website
Batavian Republic (1795-1806) (the Netherlands)
Bataafsche Republiek / Bataafsch Gemeenebest
Last modified: 2018-12-15 by rob raeside
Keywords: batavian republic | virgin | lion | naval ensign | jack |
Links: FOTW homepage | search | disclaimer and copyright | write us | mirrors

---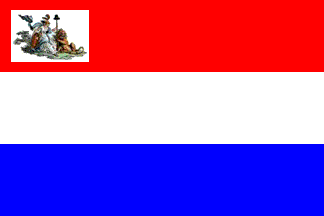 image by Mark Sensen, 19 January 1999
For a certain time the Batavian Republic was officially called Bataafsch Gemeenebest (Batavian Commonwealth), but I don't know when exactly.
Mark Sensen, 19 January 1999
See also:
---
Naval ensign
I have seen an illustration of the flag of the Batavian Republic (the former United Provinces of the Netherlands) which was the Dutch tricolour with a small white canton (to the depth of the red stripe only) bearing a charge of Liberty (represented by an identical classically-draped female figure) being defended by a lion.
Roy Stilling, 26 January 1996

Technically it was not a national flag, but a flag of the navy. When Louis Bonaparte (Napoleons youngest brother) was king of the Kingdom of the Netherlands (1806-1810) he tried to add the arms (quartered; I and IV Dutch lion, II and III French eagle) in the plain Dutch flag, but withdrew his proposal when it was clear to him that it wouldn't be accepted by the navy.
Mark Sensen, 27 January 1996

In [wiL86] Wilson 1986, p. 60:
... the Netherlands passed under French domination after the French Revolution, and the so-called 'Batavian Republic' was formed. On 14 February 1796 it was ordered that the naval (but not the merchant) flags be altered by the insertion of a panel containing 'a representation of a female figure in a graceful attitude seated in a patch of greenery, and holding a spear on which is the Cap of Liberty ... At her feet a lion in a sitting or rather reclining position with its head turned sideways and with a fierce and grim expression on its face...' A full range of naval flags and pennants featuring this device were used by the navy of the Republic in the years that followed... The Batavian device was abandoned after the Republic gave way to a monarchy in 1806.
He cites H.A. Treu "De Koninklijke Hollandse Vlag van 1806-1810", Marineblad 1 (1970), pp. 483-496.
Jarig Bakker, 21 May 1999

---
Jack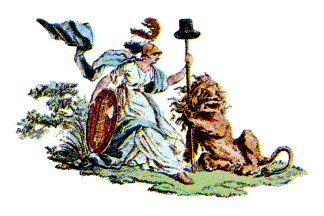 by Mark Sensen, 8 Sep 2001
...an image of a Virgin in an elegant pose
sitting on some lover or green
holding a spear
on which the Hat of Freedom is carried, while at her feet a Lion
sitting or perhaps a bit lying down is drawn with the Head turns sideways
with a norse and grim face...
Jarig Bakker, 19 January 1999

---
Standard

by Mark Sensen, 20 May 1999

---
Command flag Vice Admiral De Winter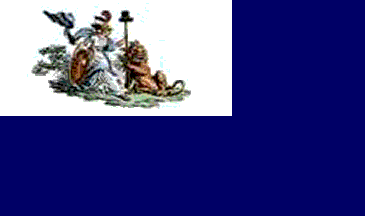 by Mark Sensen, 20 May 1999

Flag used by Vice Admiral De Winter at the Battle of Camperdown/Kamperduin, 1797: a (very) dark blue flag with the jack in the canton.
Mark Sensen, 20 May 1999 and Jarig Bakker, 21 May 1999

---
Flag plate from 1796 and other sources
A scan of a plate with the ensign, jack, standard and pennant can be found here (46kb).
Because this plate shows the reverse sides of the flags, some drawings show the canton of the ensign mirrored. These are erroneous; the virgin and lion should be looking to the fly, not the hoist.
The plate itself (which is kept in the Maritime Museum "Prins Hendrik" in Rotterdam, Inv.nr. Cdj667, size 345x460 mm) was made by H. Roosing in 1796.
The plate can be found in [smi75b] Smith 1975, page 162 in the chapter about the Dutch flag, and in [vis90] Visser 1990) p. 20.
More about the flags of the Batavian Republic can be found in: Mark Sensen, 19 January 1999 and 20 May 1999, and Jarig Bakker, 20 May 1999

---