This page is part of © FOTW Flags Of The World website
Mexican America (a.k.a. Northern America) (1813-1821)
América Mexicana / América Septentrional
Last modified: 2019-11-30 by juan manuel gabino villascán
Keywords: mexico | américa mexicana | américa septentrional | puruarán | erroneous | morelos (josé maría) | aury (louis michel) |
Links: FOTW homepage | search | disclaimer and copyright | write us | mirrors

---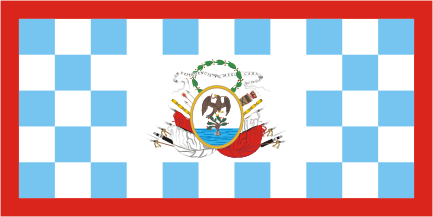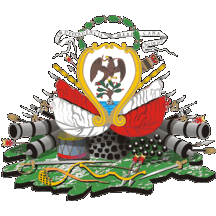 by Juan Manuel Gabino Villascán, April 09, 2001.
Based on [cpe70] and [cpe73]
---
See also:
---
The Congress of Chilpancingo (a.k.a. Congress of Anáhuac) was a meeting held in Chilpancingo (capital city of the modern-day state of Guerrero from September to November 1813. The result of this meeting was that Mexico formally declared itself to be independent of Spain and what was later to become the first national constitution was ratified. José María Morelos, who assumed the leadership of the independence movement after the execution of founder, Miguel Hidalgo, convened the National Constituent Congress of Chilpancingo. It was composed of representatives of the provinces under his control and charged with considering a political and social program which he outlined in a document entitled Sentimientos de la Nación ("Feelings of the Nation").
On September 13, 1813, the Congress, with Morelos present, endorsed Mexico's declaration of independence from Spain, established the Catholic religion and drafted a Constitution, creating the legislative, executive and judicial branches of government. The Congress declared respect for property but confiscated the goods of the Spaniards. It abolished slavery and all class and racial social distinctions in favor of the title "American" for all native-born individuals. Torture, monopolies and the system of tributes were also abolished. Morelos was offered the title Generalissimo with the style of address "Your Highness", but he refused these and asked to be called Siervo de la Nación ("Servant of the Nation").
After some military defeats, the Congress met again in Apatzingán (in the present-day state of Michoacán de Ocampo and on October 22 promulgated the Decreto Constitucional para la Libertad de la América Mexicana (Constitutional Decree for the Liberty of Mexican America). This established a weak executive and a powerful legislature, the opposite of what Morelos had called for. He nevertheless conceded that it was the best he could hope for under the circumstances. On November 6, the deputies to the Congress signed the first legal document where the separation of the New Spain with respect to the Spanish rule is proclaimed. The name of this document is Acta Solemne de la Declaración de Independencia de la América Septentrional (Solemn Act of the Declaration of Independence of Northern America).
from Congress of Chilpancingo, Wikipedia, retrieved 21 April 2016.
---
The Hidalgo's revolt was continued by Generalísimo José María Morelos y Pavón. In 1815, fleing from the Spaniard Army, Morelos moved down to Puruarán, there he sumounned the Supreme Congress (inaug in Chilpancingo on Nov. 6, 1813) and adopted three flags and a coat of arms by decrees of 3 and 14 July, 1815. Though those were the first ever formally established flags, they last few time, Morelos would be shuted in Ecatepec, México, next December.
The Decree established tree flags:
1. National War flag and ensign.
2. White flag and ensign.
3. Flag and ensign of commerce.
4. National pennants.
Juan Manuel Gabino Villascán, April 09, 2001
---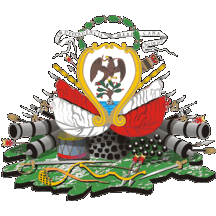 by Juan Manuel Gabino Villascán, April 09, 2001.
Based on [cpe70] and [cpe73]

The coat of arms is described by decrees of July 3, 1815 and decreed on July 14, same year in Puruarán, (in the present-day state of Michoacán de Ocampo).
"The Mexican Supreme Government to all who the present one reaches, know: that the Mexican Supreme Congress (...) recognizes as arms and Great Seal of the Republic of Mexico, the following ones:
In a silver shield an stand eagle with a snake in its peak perching on a fruitful nopal whose trunk rises from a lagoon. The shield shall be adorned with war trophies. In the top as a crest a laurel crown through of which is crossed by a scroll with the motto: Independencia Mexicana. Año de mil ochocientos diez (Mexican Independence. Year: 1810). This coat of arms shall be the Great Seal of the Nation, by means of which all decrees, laws, plenipotentiary powers, and the other diplomatic ministers, all kind of government offices, decrees sanctioned by the Supremo Tribunal de Justicia, and the passports for Mexican citizens abroad shall be sanctioned (...)"
From [cpe73], [hpc85] and [lve91]
Quoted and translated by Juan Manuel Gabino Villáscan, May 15, 2002.
---


This flag was employed
by several "insurgentes" since 1815.
This actually is the so called
"Bandera de los Insurgentes" (Insurgent's flag).
Click here to see the erroneous version.
by Juan Manuel Gabino Villascán, August 31, 2001.
Based on [cpe70] and [cpe73]
About the War flag and ensign the Puaruarán decree states [cpe73], [hpc85] and [lve91]:
National flag at war. A checkered white sky-blue cloth whose longitude (hoist) and latitude (fly) be just like those used by the other nations. The arms (coat of arms) established and detailed as the Nation great seal according a same-date decree, with no amendments nor alterations, shall be placed inside a white oval on a silver field centering the cloth. Bordering all the cloth a red six-inches wide orle.
This is the insurgentes flag recognized and saluted in New Orleans, USA with 19 cannon shots [sjs40], [bas53] and [cpe73].
Juan Manuel Gabino Villascán, August 31, 2001
---
Still in the 1810'ies, the insurrects used another flag, used in the merchant ships that sailed the coasts of the Gulf between Mexico and the USA. This flag, previous to the one of Iguala, of three colours white, blue and red, was saluted in North-America with 19 cannon shots.
From La Bandera Mexicana (website no longer in service)
Translated by Jorge Candeias, 27 Oct 1997.
---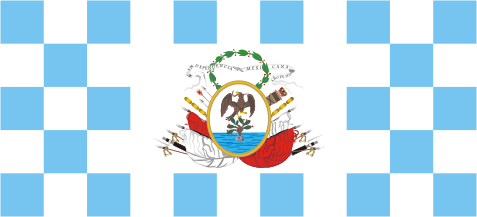 by Juan Manuel Gabino Villascán, May 20, 2002.
Based on [cpe70] and [cpe73]
---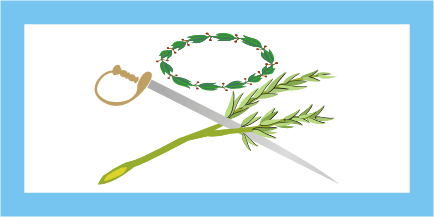 by Juan Manuel Gabino Villascán, August 31, 2001.
Based on [cpe70] and [cpe73]
The fourth paragraph of the Puruarán Decree describes the flag fo truce as follows:
"White flag and ensign. A white cloth with the same measures of that mentioned above, bordered by a sky-blue six-inches wide orle, and an olive branch through a sword placed in the center of the flag and united at their intersection by a laurel crown (garland)."
From [cpe73], [hpc85] and [lve91]
Quoted and translated by Juan Manuel Gabino Villascán, May 15, 2002.
---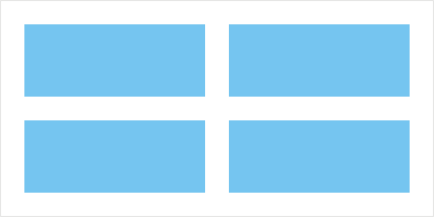 |


by Juan Manuel Gabino Villascán, August 31, 2001.
Based on [cpe70] and [cpe73]
Finally, the decree promulgated on July 3 and 14, 1815, states about the Flag of commerce as follows:
"Flag of commerce. A sky-blue cloth with the correspondent measures bordered in white (six inches wide), centered by a white cross..."
From [cpe73], [hpc85] and [lve91]
Quoted and translated by Juan Manuel Gabino Villascán, May 15, 2002.
---
The decree also mention the national pennants features: "...The pennats shall be in the same colors after the flags." [cpe70] and [cpe73]
Juan Manuel Gabino Villáscan, May 15, 2002.
---


by Juan Manuel Gabino Villascán, May 15, 2002.
Based on [cpe70] and [cpe73]


by Juan Manuel Gabino Villascán, May 15, 2002.
Based on [cpe70] and [cpe73]


by Juan Manuel Gabino Villascán, May 15, 2002.
Based on [cpe70] and [cpe73]
---
I have an ancestor who, in 1821, captained a merchant ship to Cuba from Boston. He was captured by pirates south of Cuba near Trinidad. My question relates to a description of a flag that the pirate's ship was flying. He later writes in a narrative of his experience: "she was a schooner, wearing the Patriot Flag, (blue, white and blue) of the Republic of Mexico". My ancestor was obviously familiar with the flag. The only flag I find that fits this description is the Insurgents Merchant Ensign that supposedly was used between 1813-1815. The next image of a Merchant flag doesn't appear until 1864 and it has the familiar green, white, and red stripes. Was the earlier flag in use by merchant ships all those intervening years? The reason this is significant for me is that there was a contemporary painting of the pirate attack showing the blue, white, and blue flag. Can you provide any insight to this admittedly obscure topic? Thanks for any help or direction you can give me.
David Bouvé, 18 November 2016.
---
Doing a quick search, what I found with the description given as "white and blue" are the following flags/pennats (and I mention "pennants" in the sense of being used on ships, and not merely because they were pennants in its shape and form):
América Mexicana, or América Septentrional (Mexican America or Northern America). In contrast, there's an entry on WikiPedia showing this image and labeling such a flag as the Bandera Nacional de Guerra del Congreso de Anáhuac (1815) (National War Flag of the Congress of Anahuac). It is also important to notice that during the existence of the América Mexicana, other blue and white flags were in use, such as the Flag of Truce (as opposed to the War Flag), and WikiPedia shows a different rendition and labels it as "Bandera Parlamentaria del Congreso de Anáhuac (1815)" (Parliamentary Flag of the Congress of Anahuac). Here's another drawing for the same flag (source: Banderas de México). One more flag labeled as Merchant Ensign is labeled in the same manner: "Bandera de comercio y gallardete del Congreso de Anáhuac" (1815) [Commerce Flag and Pennant of the Congress of Anahuac] but depicted differently . All of the above flags have their corresponding pennants.
Morelos' flag, used by José María Morelos y Pavón (1812-1815). It is important to notice that there are other depictions of the same flag: 01 on Wikipedia; 02 on Morelos y su bandera azteca based on the actual historical flag; 03 on Wikipedia. Its size is 145 cm wide and 189 cm long and it is located in the Museo Nacional de Historia (National History Museum) at Castillo de Chapultepec (Chapultepec Castle) (official website: www.mnh.inah.gob.mx) as correctly pointed out by Juan Manuel Gabino Villascán back in August 2005. Morelos' flag is then a rectangle as seen here on Banderas de Morelos. This specimen is an exact replica and it is located at the "Museo Casa de Morelos" (Morelos' House Museum), also known as "Centro Comunitario Casa de Morelos" (Casa de Morelos Community Center).
Yet, there is one more blue and white flag used in Mexico, and that is a celestial blue Burgundy Cross over a white square flag, with no regulation, used by the Junta de Zitácuaro (Junta of Zitacuaro) ("Junta" being a governing body), flown in 1812 as seen here. The actual flag is portrayed on page 14 (94) in this PDF document.
Esteban Rivera, 19 November 2016.
---
I greatly enjoyed your very informative website, "The Flags of Florida History". I am writing especially in regard to the entry you have concerning Gregor MacGregor's 1817 expedition to Amelia Island. I edit the Suffolk County Historical Society Register, a publication of the Suffolk County Historical Society in Riverhead NY. We have in our collections an account of the participation in that expedition by Harry Hunt of Sag Harbor NY, written by his granddaughter. The account says that after MacGregor left in September 1817 until December of that year Amelia Island, Florida, was under the command of Louis Aury, a French privateer holding a commission from the Republic of Mexico [At that time, Mexico was officially a Spain's Vicerroyalty. It will become a Republic just util 1823. Note by editor], and flew the Mexican flag [Possibly the war flag of the self-proclaimed América Mexicana. Note by editor]. Hunt served as Superintendant of Public Works under Aury. In 1817 the flag flown would not have been the current Mexican tricolor of green/white/red. I do not have an adequate description of what flag Aury would have flown, but it would probably have included red, white and blue, and the Mexican Eagle-Snake-Cactus arms [smi75c p. 149] [Smith (1975) provides the erroneous version. Note by editor]
Ned Smith, February 12, 2000.
---
After the leader of the 1810 revolt, Fr. Miguel Hidalgo, was executed in 1811, the revolt was carried on by José María Morelos y Pavón. Whitney Smith [smi75c p. 149] stated the Mexican revolutionary forces apparently adopted a national flag on 14 July 1815. After Morelos' capture and execution in 1815 the revolutionary forces became disorganized and ineffective- but they were never completely eliminated. At Xavier Mina web-site there is specific reference to Louis Aury. In 1816 he was appointed revolutionary governor and naval commander at Galveston Island, Texas (then a Mexican province). This webpage describes some actions he was involved in the Spring of 1817, but nothing specific is attributed to him for the Fall, so the alleged expedition against Amelia Island, Florida, is perfectly plausible chronologically. See also: Mexican Revolution.
The webpage also says that Aury flew a unique flag -an illustration is given on the page- and also the Venezuelan flag, by permission of that republic. The document stating that he flew the Mexican America flag at Amelia Island was written by the grandaughter of one of the expedition's participants. Her sources came presumably from her grandfather, but we don't have his originals. It is possible that, being a Yankee, he confused the Venezuelan flag for the Mexican America's, but he had been a merchant in the Caribbean and thus had some familiarity with the area. Also, he was relatively high in the command structure. IMHO, while this document cannot be accepted as conclusive proof that Aury flew a Mexican America flag in Florida, the claim merits some consideration, and there is nothing inherently implausible about it.
Right after posting this I did find this website (citing work in a scholarly journal) which agreed that the flag of the Republic of Mexico(e.g. Mexican America) did fly over Amelia Island in 1817. There is another flag attributed to Aury at this web site. It had a red-bordered white field with a green wreath above blue crossed sword & olive branch [e.g. the flag of truce. Note by editor].
Edward Smith, February 14, 2000.
---
It is erroneously said that the famous insurgent flag (ensign) saluted in New Orelans with 19 cannon shots is that one divided into white-blue-red vertical stripes. This mistake could be attributed to Manuel de Jesús Solís, who published such a flag, in his book Historia de la Bandera, Himno, Escudo y Calendario Cívico Nacionales" (1940). In the same book, he also pubishes an erroneus flag supposedly granted to the Trigarante Army.
Why is this flag a mistake?, Why did this flag ever never exist? The answer is by Fr. Servando Teresa de Mier, the same who proposed a new flag in 1823 when the Empire was overthrown and the Federal Republic established:
On April 12, 1823, Fr. Servando Teresa de Mier, as chief of the commission appointed to choose the national coat of arms and flag, proposed to adopt a white-sky blue checked flag with the coat of arms in the middle, after that flown by the first insurgentes.
Servando Teresa de Mier, inspired in that designed, argued that the last flag confused with other nations'.
(...) The flag used by the so-called insurgentes was that recognized in the United-States: the city of New Orleans recognized it. The US Congress was entered and it recognized it as well. Thus, when we landed and hoisted such a flag, called "the insurgentes flag", they suluted us with 19 cannon shots. Then, it is a recognized flag. We had 56 corsairs who rised the same flag authorized to sail by Gen. Guadalupe Victoria. They [the corsairs] were respected over all Americas seas and the flag, recognized; thus we do not want changing it. (...) Then we have chosen that one designed by the insurgentes (...)
Mr. Muzquiz, another 1823 congress man, said about the flag:
"That is flag when I and Mr. José Manuel Herrera travel with to the United-States ordered by the government we had established at that time we were fighting for independence. Once in Louisiana our flag was recognized, since all ships that raised it could enter US terriotory without no problems or taxes (...)"
So, if the flag proposed by Teresa de Mier was checked and red bordered, after that adopted in 1815, it is clear that the white-blue-red tricolor is a mistake.
Juan Manuel Gabino Villascán,g May 15, 2002.
---
Anything below this line was not added by the editor of this page.