This page is part of © FOTW Flags Of The World website
Université Saint-Joieph de Beyrouth (USJ) (Lebanon)
Last modified: 2021-05-07 by ian macdonald
Keywords: lebanon | université saint-joseph |
Links: FOTW homepage | search | disclaimer and copyright | write us | mirrors

---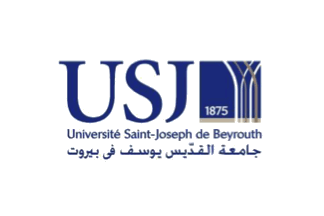 image by Ivan Sache, 4 April 2021
---
See also:
---
Description
Université Saint-Joseph de Beyrouth (USJ) was established in 1875 by the Society of Jesus, as the first French-speaking, Roman Catholic university in the region. USJ succeeded the College-Seminary originally established in Ghazir in 1870. The university was canonically approved by the Holy See in 1881 and by the Ottoman Empire in 1901.
The USJ was re-founded in 1975 by Father Jean Ducruet, Rector from 1975 to 1995. The university's Charter was issued on 20 May 1975. The university's Statutes, originally approved on 20 May, 6 and 10 June 1975, were last amended on 3 September 2020.

USJ is composed of 13 Faculties and 18 Institutes and Vocational Schools.
USJ has its main campus in Beirut and regional campus in Tripoli (North Lebanon), Saïda (South Lebanon), and Zahlé (Bekaa).

https://www.usj.edu.lb
USJ website
USJ adopted a new logo, and therefore a new flag in 2016.
The flag of USJ is white with the university's logo.

Photos
https://www.usj.edu.lb/news.php?id=9381
https://www.usj.edu.lb/news.php?id=8382
https://www.facebook.com/usj.edu.lb/photos/1307382259430060
https://www.facebook.com/usj.edu.lb/photos/1354176224750663
https://www.facebook.com/usj.edu.lb/photos/1562129207288696
https://www.facebook.com/usj.edu.lb/photos/1274963582671928
https://www.facebook.com/usj.edu.lb/photos/867222630112694
https://www.focusmagazine-lb.com/2017/11/un-partenariat-officialise-entre-luniversite-saint-joseph-et-esmod/#prettyPhoto[gallery]/2/

The logo of USJ, adopted in 2016, is composed of two elements:
- the acronym "USJ", in very visible, capital letters;
- a square framing a graphic element that represents the centenary banyan tree grown in the Botanical Garden of the campus of Medical Sciences of USJ.

The tree emphasizes the present-day's mission of the university, which has a strong identity built for years through academic and Lebanese socio-cultural experience, and its very diverse achievements to the service of higher education.
The new logo, namely the tree's trunk, contains several images and symbols:
- the soundness of education offered at USJ;
- the belonging of anyone to the very same source, USJ;
- the unity and creativity of students' to be taught;
- the diversity of disciplines, campuses and regional centers;
- the diversity of academic domains and research centers;
- the deep rooting in the soil of Beirut.
The lianas symbolize academic, socio-cultural and political pluralism defended by USJ;
The trunk appears to pull upward. Educated for the others, the students and 100,000 alumni of USJ are expected to become actors of social transformation and promotion.

The five lines forming the banyan's trunk represent, from left to right:
- religious sciences;
- medical sciences;
- social sciences;
- sciences and technologies;
- human sciences.
Number "1875" recalls the year of foundation of USJ.

The color specifications are given as:

Blue
Pantone 2747
CMYK 100 95 23 21
RGB 105 131
Hex 232C69

Gray
Pantone 7530
CMYK 36 38 47 3
RGB 165 148 131
Hex A49382

Font are Candara / Cambria / ITC Symbol (Latin script) and AXTGihane Light / AXTAdvertising (Arabic script).

https://www.usj.edu.lb/chartegraphique/mobile/html5forpc.html
Graphic charter, 2018

The logo was inaugurated on 19 October 2016 un a ceremony held in front of the banyan in the presence of several authorities: the Minister of Culture, the Minister of Labor, the Apostolic Nuncio, the French Ambassador, the President of the State Council, also President of Alumni FSJ, and the President of the Economical and Social Council.
Rector Salim Daccachesaid that the new logo was designed by the Department of Publications and Communications, led by Cynthia Ghobril-Andrea, especially by Carine Haddad.
The banyan was planted by the Jesuit fathers even before the erection of the buildings of the Faculty of Medicine. "The munificent tree gushes fort from the soil like a plant geyser falling down to the soil in twirls, lianas and branches for a slow surface growth that can last thousand years, so that the banyan was nicknamed 'the walking tree'. [...] The tree trunk can become a pillar [...] Its branches are open to the sky as a sign of reward and to emphasize the university's steadfast aspiration to achieve its missions with the same confidence."

https://www.lorientlejour.com/article/1013907/usj-a-nouveau-logo-digne-fete.html
L'Orient - Le Jour, 21 October 2016

The banyan (Ficus benghalensis L.) is native to the Indian Subcontinent. The giant banyans of India are the largest known trees in the world, as measured by canopy coverage. One single tree can cover more than 19,000 square meters – almost two hectares. The tree spreads horizontally by propagating aerial root from its branches which then root, branch, and consequently extend the tree's crown. Over time, a single banyan tree can sprawl across the ground and create a network of interconnected trunks of unparalleled complexity.
Using the net canopy coverage area as the primary measure of size, Thimmamma Marrimanu in Andhra Pradesh, at 19,107 m2, is the largest known tree in the world, and one of the superlatively largest living things on Earth.

https://outreachecology.com/landmark/resources/the-largest-trees-in-the-world/
Landmark Trees of India
Ivan Sache, 4 April 2021
The Faculty of Medicine of USJ was inaugurated on 30 November 1883 (11 students), as prescribed by an Agreement signed on 7 May 1883 by the Society of Je
---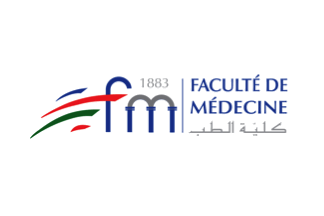 image by Ivan Sache, 4 April 2021
sus and the French Government. The students were selected by a commission presided by the French Consul.
On 6 October 1888, the French Minister of Public Instruction awarded to the Faculty the title of French Faculty of Medicine in Beirut, which means that their diploma was recognized by France. So did Egypt two years later, but the graduates had to pass an exam in Constantinople to be recognized by the Ottoman Empire. In 1895, it was decided that two official juries, one Ottoman and the other French, would seat each year in Beirut.
The faculty was closed on August 1914 after France had broken diplomatic relationships with Turkey; the Society of Jesus was expelled on 23 November 1914. On 7 October 1918, Father Gérard de Martimprey, former Chancellor of the faculty, landed in Beirut with the French flotilla and reorganized the faculty, which was re-established on 17 January 1919. In 1920, the faculty had 250 students; the diploma was recognized in Syria, Palestine, Egypt, Iraq, Transjordan, and Persia.
While the faculty had maintained its activity during the Second World War, its campus was completely destroyed and looted during the Lebanese War (1975-1990), putting an end to the French Faculty of Medicine at Beirut.
The Statutes of the new Faculty of Medicine at USJ was promulgated on 19 October 1976 and Pr. Nagib Talbe was elected Dean on 15 November 1976. Starting in 1981, bombings made access to the main campus impossible and classes were relocated, time after time, to safer places, and preserved the continuity of teaching all along the war.

https://www.usj.edu.lb/fm/
Faculty website

The flag of the Faculty of Medicine is white with the faculty's logo.

Photos
https://www.facebook.com/usj.edu.lb/photos/1282530228581930
https://www.facebook.com/usj.edu.lb/photos/1282526548582298
https://www.facebook.com/usj.edu.lb/photos/999689620199327
https://www.facebook.com/usj.edu.lb/photos/954733101361646

Ivan Sache, 4 April 2021
---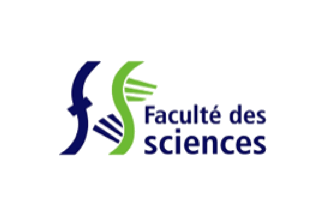 image by Ivan Sache, 4 April 2021
The Faculty of Sciences was established in 1997.

The flag of the Faculty of Sciences is white with the faculty's logo.

Photos
https://www.facebook.com/usj.edu.lb/photos/1277791792389107
https://www.facebook.com/usj.edu.lb/photos/1001848306650125
Ivan Sache, 4 April 2021
---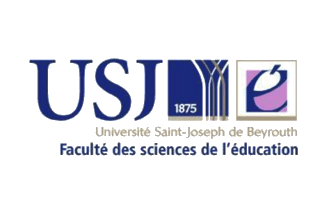 image by Ivan Sache, 4 April 2021
The Faculty of Education Sciences was established in 2002. Classes have been given in French, Arabic and English since 2017.

The flag of the Faculty of Education Sciences is white with the faculty's logo (as prescribed on the university's Graphic Charter).

Photos
https://www.facebook.com/usj.edu.lb/photos/1171600189674935
https://www.facebook.com/usj.edu.lb/photos/1171600043008283
Ivan Sache, 4 April 2021
---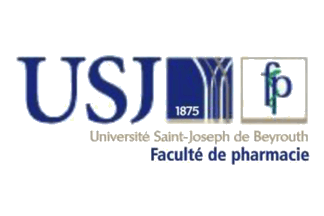 image by Ivan Sache, 4 April 2021
Pharmacy has been taught at USJ since the establishment of the university. Considered as "an obligate corollary of Medicine", Pharmacy was not officially listed, though. The School of Pharmacy was eventually recognized on 4 December 1889 and integrated to the Faculty of Medicine, renamed to Faculty of Medicine and Pharmacy.

https://usj.edu.lb/fp/
Faculty website

The flag of the Faculty of Pharmacy is white with the faculty's logo (as prescribed on the university's Graphic Charter).

Photos
https://www.facebook.com/usj.edu.lb/photos/984565208378435
https://www.facebook.com/usj.edu.lb/photos/984564595045163
Ivan Sache, 4 April 2021
---
Faculties and Colleges appear to have specific graduation pennants, white with the body's emblem and name in base, on a color background

Photos
https://www.facebook.com/usj.edu.lb/photos/1350309021804050
https://www.facebook.com/usj.edu.lb/photos/1346669438834675
https://www.facebook.com/usj.edu.lb/photos/1345675418934077
https://www.facebook.com/usj.edu.lb/photos/1158607510974203
https://www.facebook.com/usj.edu.lb/photos/1063191197182502
https://www.facebook.com/usj.edu.lb/photos/1060786430756312
https://www.facebook.com/usj.edu.lb/photos/1046521722182783
Ivan Sache, 4 April 2021
---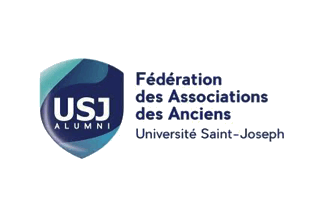 image by Ivan Sache, 4 April 2021
The flag of USJ Alumni is white with the faculty's logo.

Photos
https://www.facebook.com/usj.edu.lb/photos/984762198358736
Ivan Sache, 4 April 2021
---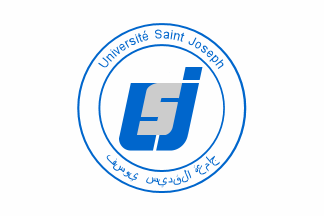 image by Eugene Ipavec, 20 July 2007
image by Eugene Ipavec, 20 July 2007
Has a flag w/ seal, but seems to use one w/ sigla in all contexts – I can't even find a decent image of the seal, but it consists of the sigla in a ring with French and Arabic names of the institution. Visible along with a bunch of UFE's in photo.
Eugene Ipavec, 20 Jul 2007