This page is part of © FOTW Flags Of The World website
Inland Waterways Association of Ireland
Last modified: 2011-12-24 by rob raeside
Keywords: inland waterways association of ireland | erne flag | lough derg |
Links: FOTW homepage | search | disclaimer and copyright | write us | mirrors

---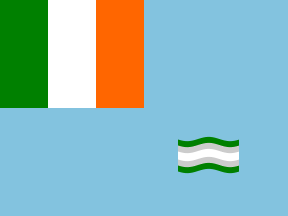 image by Eugene Ipavec, 25 July 2011

---
See also
---
The IWAI i.e. Inland Waterways Association of Ireland has a webpage, presenting three flags (two photos, one drawing): http://www.iwai.ie/insignia.html, two of which (ensign, burgee) are also illustrated by Graham Bartram, fifth and sixth on this page: http://www.flags.net/IREL14.htm.

"The IWAI Ensign should normally be flown paired with the IWAI Burgee": light blue field, the national flag in the canton and a wavy set of stripes in the lower fly. See: http://shop.iwai.ie/catalog/index.php?cPath=23. This "set" seemingly consists of a white wavy stripe between two green ones, not touching. On the photo however, the three are connected by similar grey stripes which might have been added to better visually separate them.

As to the blue field, Graham comments: "This ensign is sometimes made with a navy blue field " but then, I suppose, the manufacturer would be a different one from IWAI's.
Jan Mertens, 24 July 2011
---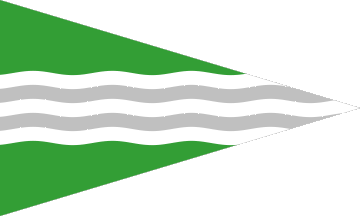 image by Eugene Ipavec, 26 July 2011
The IWAI's burgee (to be flown with the ensign – first photo of page): http://www.iwai.ie/insignia.html. There is also this helpful page describing the IWAI logo featuring said burgee, see end of page for a drawing and its exact dimensions: http://www.iwai.ie/org/logo/index.html:

"The colours of the logo are inspired by the book Green and Silver. The burgee has a ratio of 5:3 and design elements in the proportion shown below.
The colours are as follows:
Green: RGB: 51,158,53 #339E35; Pantone 362; CMYK 68%,0%,66%,38%
Grey: RGB: 192:192:192 #C0C0C0, Pantone 441, CMYK 0%,0%,0%,20%; Unless one is printing glossy brochures with metallic silver ink, grey as per above is acceptable; Where a Metallic Silver coating is desired, Pantone 877c can be used".

The burgee is a green pennant, broad horizontal wave white-silver-white-silver-white.
Jan Mertens, 25 July 2011
---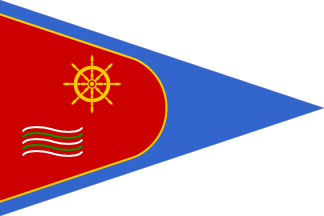 image by Eugene Ipavec, 27 July 2011
A pennant named "IWAI helmsman burgee" is found on this page: http://www.iwai.ie/insignia.html.
Blue or azure pennant, extending into it a red triangle with rounded apex situated in the fly and thinly bordered white; on the red field, upper right, a yellow steering wheel (eight spokes) and lower left, five horizontal waves shown separately white-green-white-green-white.

This drawing does not quite do justice to the red colour, compare this photo here: http://www.iwai.ie/gallery/2009/20090301_Skipper_Course_T_Klug.jpg, and clickable picture on this page: http://shop.iwai.ie/catalog/product_info.php?cPath=23&products_id=37.
"This striking burgee signifies that [the person flying it has] passed the IWAI/ISA Certificate of Competency for Motor Cruising."
Jan Mertens, 26 July 2011
---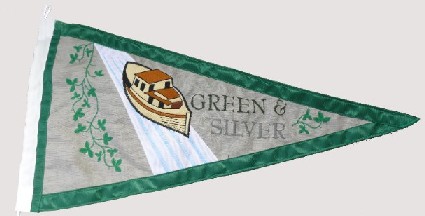 image located by Jan Mertens, 19 September 2011
Source: http://dublin.iwai.ie/greenandsilver.html
A further IWAI burgee is awarded to sailors completing a roundabout inland waterway route inspired by Tom Rolt's book "Green and Silver" – details at the end of this page: http://dublin.iwai.ie/greenandsilver.html. Photo (copyright IWAI
Grey pennant bordered green, in the hoist a sprig of green trefoils hanging down from that border, in the fly end a similar sprig, much smaller; in the centre, a small boat in beige, brown and black is sailing down a river of white-light blue stripes (streaming from upper left to lower right). To the right of the boat is placed the motto "GREEN & / SILVER" (serifed), the upper line in dark grey and the lower one, staggered towards the right, in silver.

Proudly displaying the burgee: http://dublin.iwai.ie/images/GreenAndSilver/004+Clontarf_YBC/slides/MS_P1130618.html
Jan Mertens, 19 September 2011
---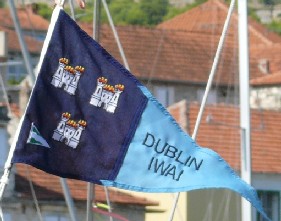 image located by Jan Mertens, 27 September 2011
Source: http://dublin.iwai.ie/index.html
This IWAI (Ireland) page presents a special Dublin burgee (top and bottom of page – net cost of item 20 €): http://dublin.iwai.ie/index.html.
Vertically divided dark blue (hoist) and celestial blue (fly); in the hoist, Dublin's three burning castles, white with red and yellow flames issuing; in the fly, dark blue name "DUBLIN / IWAI" without serifs. For good measure (my code for "not really necessary") a tiny IWAI burgee appears in the lower hoist.

A "Burgees on Tour" section, starting on this page: http://dublin.iwai.ie/images/DublinBurgees/index.html is just that, a photo collection showing some flags and, mostly, IWAI Dublin burgees used on the Irish waterways and much farther afield.
Jan Mertens, 27 September 2011
---

image by Eugene Ipavec, 28 July 2011
A further flag proposed by IWAI, in a light-hearted way, is the Erne flag: http://shop.iwai.ie/catalog/product_info.php?products_id=101.
"There has been debate over the years as to the correct way to fly the Erne Flag. Some argue "Green to the ground and blue to the sky". However the accepted way is for the green stripe to be on top representing the land and the blue on the bottom representing the water. As the source of the Erne is in the Republic of Ireland with the main loughs in Northern Ireland, a more cynical interpretation is that the flag was designed to not offend anybody in that it is neither green/white/orange or red/white/blue!!! This flag is constructed of woven polyester and is approximately 24" x 36". Its designed to be flown green uppermost but you can fly it the other way if you wish." See 1/3 of the following page showing the flag in action – green uppermost: http://www.iwai.ie/forum/read.php?1,21945,22036.

More on this Wikipedia page "Cross-border flag for Ireland": http://en.wikipedia.org/wiki/Cross-border_flag_for_Ireland
"This flag was initially used on the Shannon–Erne Waterway, which is bisected by the border. Rather than flying a national flag, boats fly this green, white and blue flag. It is endorsed by The Inland Waterways Association of Ireland, an all-Ireland organisation."

Very appropriately, the yearly Erne Boat Rally specifies: "No flags are to be flown during the Rally, with the exception of the Erne Flag and Burgees."
Homepage – blue uppermost: http://www.erneboatrally.com/rallyinstructions.html.
Jan Mertens, 27 July 2011
---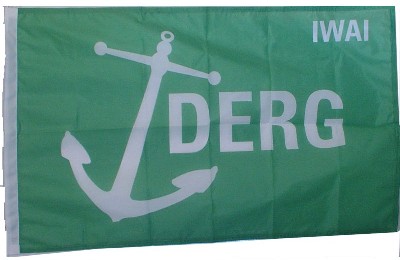 image located by Jan Mertens, 3 October 2011
Two more locally used IWAI flags, presented as the IWAI Lough Derg Branch Burgee and Flag, respectively, are to be found at http://shop.iwai.ie/catalog/index.php. The first one, called a burgee, is captioned "approx 480 mm wide by 300 mm high, single-sided printed in white on green, polyester material with a bolt rope sewn in". The second one is "approximately 1 m wide by 600 mm high, printed in white on a green background. Single sided. Polyester material with sewn edge and bolt rope".

In both cases a green field bears a white anchor placed diagonally, flukes towards lower hoist, with white names "DERG" in the fly and "IWAI" – much smaller - in the upper fly (no serifs). I suppose the name "burgee" was used by mistake and really meant to indicate a small sized flag. Comments by Mark Shanley: "I designed a flag for the Lough Derg branch of the Inland Waterways Association. Nice to design something less ephemeral than an ad every now and again."

Lough Derg is the lake traversed by the River Shannon before it reaches the sea near Limerick, roughly SW of Ireland.
Jan Mertens, 3 October 2011
---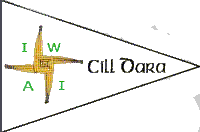 image by Jan Mertens, 16 October 2011
Many of our branches have their own burgees, e.g. http://dublin.iwai.ie/images/GreenAndSilver/slides/gands_burgee_big.html (context is here). The Kildare branch of IWAI is presented at http://heritageboatassociation.ie/cms/images/stories/Buttons/B%20Kildare%20Burgee%20.jpg
Michael Slevin, 11 October 2011
White pennant, a yellow St Brigid's cross separating the organization's initials in green: 'I' and 'W' on top, 'A' and 'I' on the bottom; in the fly, Irish county name "Cill Dara" in black Irish script. For information on the cross, I was guided by the current Kildare County Council's flag. St Brigid was a local Kildare saint, patroness of farm animals: http://hillshepherd.blogspot.com/2010/02/happy-saint-brigids-day.html:
"These crosses are traditionally made from rushes, but today many materials (and sometimes even different regional designs) are used. Any material used for making the cross should ideally be blessed. You may note that the design of the Saint Brigid's Cross is straddling the pagan and Christian world – while it is a cross, it also is similar in design to a fylfot or swastika. The finished cross is hung on the inside of a thatched roof above the front door. In a pinch the inside of your front door will do. Saint Brigid's Crosses are left in their place for the year and renewed on the following Saint Brigid's Day."
Jan Mertens, 16 October 2011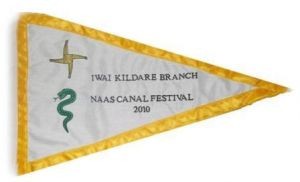 image located by Jan Mertens, 21 October 2011
Two further local IWAI flags or rather pennants are shown with clickable photos dedicated to the 2010 Naas Canal Festival: http://heritageboatassociation.ie/cms/index.php?option=com_content&task=view&id=352&Itemid=43. The first photo presents a white pennant bordered yellow; in the hoist appears a yellow St Brigid's cross, representing Kildare, above a green upright snake representing Naas, the county capital. In the fly appear black words "IWAI KILDARE BRANCH" above "NAAS CANAL FESTIVAL / 2010".

image located by Jan Mertens, 21 October 2011
On the same page appear several photos showing a similar pennant hoisted vertically, again showing the cross above the snake plus the local branch name, in green, at the top: "IWAI / KILDARE BRANCH".
Jan Mertens, 21 October 2011