This page is part of © FOTW Flags Of The World website
British shipping companies (B)
Last modified: 2016-03-13 by rob raeside
Keywords: c | btco | btc | castle (red) | bmm | bmssco | acb | jab | star (blue) |
Links: FOTW homepage | search | disclaimer and copyright | write us | mirrors

---
See also:
---
Bibby Line Group Limited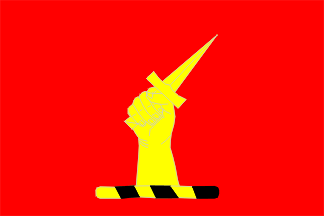 image by Jarig Bakker, 5 August 2004

Red with a yellow device in the center with wide black fimbriations. The device shows a hand holding a dagger.
Jorge Candeias, 16 Feb 1999

Originally it was a plain red flag, but later the crest of the Bibby family was added.
David Prothero, 17 Feb 1999

From The National Maritime Museum:
"The house flag of Bibby Brothers and Co., Liverpool. A rectangular red flag with a crest of a yellow hand holding a dagger. The mantling is yellow and black. The Bibby family crest was added the to the original plain red flag in 1926 to avoid association with the Bolshevik red flag. The flag is made of a wool and synthetic fibre bunting. It has a cotton hoist and is machine sewn. A rope and Inglefield clip is attached. Stencilled on the hoist is '7 x 5 Bibby H/F'.

The Bibby Line originated from the Liverpool ship broking business, John Bibby & Co., set up in 1805. The shipping interests of the company began in the coastal trade and were extended to Ireland, South America and the Mediterranean. By the 1830s Bibby Ships were sailing to Bombay and Canton. After the death of John Bibby in 1840 (he was found drowned, apparently having been robbed), the business was taken over by his sons and become John Bibby & Sons. In the 1850s iron steamers were added to the fleet. The trade was primarily with the Mediterranean, exporting British manufactures in return for local agricultural produce. When James Bibby retired, his partner Frederick Leyland acquired a majority shareholding in the firm and the Bibby family formed another company, Bibby Brothers & Co., to exploit trade with newly annexed Burma.

Between the wars the mainstays of their business were trooping contracts and transporting passengers to India and Burma. The line also provided short cruises to the Mediterranean. Bibby Steamship Co. Ltd changed its name in 1931to the Bibby Line Ltd. The Burma and Ceylon trade never recovered after the Second World War but with some government compensation for the loss of the trooping contracts, the company acquired bulk carriers and liquefied petroleum gas carriers. Bibby Line Ltd are still in business owning chemical and gas carriers and accommodation vessels."
Jarig Bakker, 5 August 2004

Bibby Line Ltd.
This is, and always has been, a British company with headquarters in Liverpool. Possibly there has been confusion over their also operating from the Isle of Man in recent times through their subsidiary Bibby International Services (IOM) Ltd. which was formed in 1885 as Manx Ship Management Ltd., changing name in 1991, but now no longer operating.

There have been two Bibby Lines with the original formed by John Bibby who goes back to 1807 and then formed John Bibby & Co. in 1817. After his death in 1940 son James took over until 1873 when Frederick Leyland, who had gained a majority holding took over with James going into retirement. Leyland retained the right to use both the Bibby name (which he did not enforce) and livery (which he did). At this stage the flag was the plain red one. In 1889 (the company website says 1880 but I think they have made a mistake there as the date does not fit with other comments) James Bibby came out of retirement and with his nephew Arthur Bibby formed Bibby Brothers & Co. which later seems to have become Bibby Steamship Co. Ltd. and then in 1931 the current Bibby Line Ltd. They used the old colours so for a while two companies had the same livery though both later changed their flags. Two explanations of the Bibby change have been to (a) avoid confusion with the "Explosives" flag of the signal code and (b) to deny that they supported a certain cause of the time by flying a revolutionary emblem. According to Loughran (1979) this happened soon after 1889 though sources through to Brown 1926 continue to show the plain red flag. The fleet commodore used a swallowtail version. There is no connection with Cunard.
Neale Rosanoski 18 May 2005

The Bibby Line Limited is the name for the marine division of Bibby Line Group Limited, involved in offshore platform construction, shipping
chemicals and the so-called "coastels" [sic], purpose-built offshore floating accommodation. There is a comprehensive history of this company, which originated in Liverpool in 1807 and has had its head offices there since foundation, on the Merchant Navy Association web site here: http://www.red-duster.co.uk/BIBBY.htm.
Sources:
(1) Bibby Line Group Limited, web site http://www.bibbyline.co.uk, Ships and More Ships The History of Bibby Line from 1807 to date, as
consulted 03 January 2008
(2) The Merchant Navy Association, web site http://www.red-duster.co.uk, as consulted 03 January 2008
Colin Dobson, 3 January 2008
---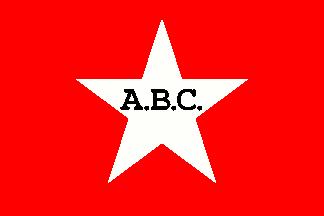 image by Peter Hans van den Muijzenberg, 30 May 2010

A. Bilbrough & Co. Ltd of London shows the house flag on this placeholder page: http://www.a-bilbrough.com/. It is a red field, in the centre a large white five-pointed star bearing black initials "ABC". A partial history is found on this genealogy page: http://freepages.genealogy.rootsweb.ancestry.com/~billbrough/RR01/RR01_018.HTML.

Founded by Arthur Bilbrough in or around 1878 after his brother James and business partner George Smith had both left the company's predecessor. He "was the owner of a fine fleet of Clipper ships. His business outlived many of the great names of the time, and was strong competition for many other notable ship owners during the gold rush to Australia and New Zealand in the middle of the 19th Century (…) By the beginning of the new century the firm owned 34 vessels."

Currently "ABC" manage (as sole activity?) the London P&I Club being "one of the world's leading mutual marine liability insurers": the acronym stands for
"Protection and Indemnity".
Jan Mertens, 12 April 2010
---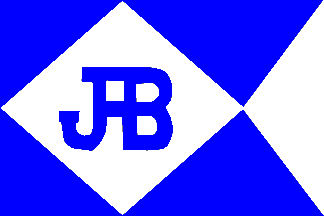 image by Jarig Bakker, based on the website of the National Maritime Museum.
From the website of the National Maritime Museum, the house flag of J. A. Billmeir and Co. Ltd, London. A blue swallow-tailed burgee with a white diamond bearing the monogram 'JAB'. The flag is made of a wool and synthetic fibre bunting. It has a cotton hoist and is machine sewn. A rope and toggle is attached."
Brown (1951) list this as "Stanhope S.S. Co. Ltd. (J.A. Billmeir), London. Between the "J" and the "B" is a gap on top, so changing the "A" into an "H". (possibly an error).
Jarig Bakker, 31 August 2004
J.A. Billmeir (Stanhope S.S. Co. Ltd.). Stanhope were a subsidiary company which was sold in 1964 to George Nott Industries Ltd. [possibly the sale also included Billmeir, sources are not clear] and presumably at that point ceased to fly the flag (although a 1967 book records them still using the old Billmeir funnel) and then around the 1980s the company title, i.e. as a shell company, was acquired by Townsend Thorensen Ferries and they became registered ferry owners, first for this company using their livery, and then for P&O Ferries in their colours until absorbed in the early 1990s. The "JHB" logo shown by Brown 1951 was an error, repeated in the 1958 edition with the latter also showing it as a normal rectangle but both points were corrected in this edition by a notation. The rectangular version is also shown by Stewart and the Liverpool Journal of Commerce chart for 1966.
Neale Rosanoski, 13 February 2005
---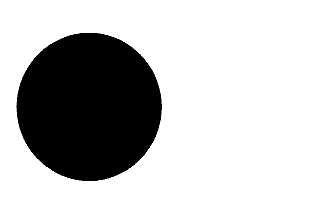 image by Jarig Bakker, 15 July 2004
According to http://freepages.genealogy.rootsweb.com/~nzbound/nzbound/lines.htm, the flag of the Blackball line was a white swallowtail with a black ball. On that site it says:
"James Baines founded the Blackball Line of Australian packets in 1851 and had Donald McKay, the American ship builder, build the Lightning, Champion of the Sea, Donald McKay and the James Baines. These vessels were comfortable, had well ventilated quarters for steerage passengers, state rooms for cabin passengers, smoking rooms, decorated saloons and were strongly rigged. There was also an American Black Ball Line, no connection.

The Blackball Line had a contract to deliver mail to Australia, started with the purchase of the St. John ship Marco Polo built by James Smith. This line carried more passengers to Australia than any other line. In addition to the Marco Polo the Blackball Line at various times owned 15 other Saint John ships including the Constance, Oliver Lang 1275 t, Palm Tree, Samarang 1175 tons b. 1857, Sovereign of the Seas, and the Zealandia (renamed Hebe). Reference: Saint John Ships and Their Builders by Esther Clark Wright. The Blackball Line went bankrupted in 1866.

Blackball vessels: Dover Castle, Elizabeth Ann Bright, Fiery Star (136t), Flying Cloud, Light Brigade, Indian Queen (1051 t), Montmorency (carried settlers to NZ in 1856-1857 and 1866-1867. The ship was destroyed by fire at Napier 28 March 1867 after discharging passengers), Morning Star, Owen Glendower, Sunda, Whirlwind.

Hollet, Dave. Fast Passage to Australia 1986 London: Fairplay. History of the Black Ball, Eagle, and White Star Lines of Australian packets.
Stammers, M.K. Passage Makers UK 1978 History of this line of Australian packets, 1852-71."
Jarig Bakker, 6 May 2002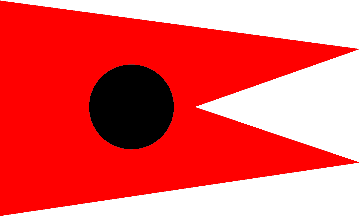 image by Rob Raeside, 3 January 2011
Loughran (1979) (Survey of Mercantile Houseflags and Funnels) has the same image for the USA Black Ball line and the British one. He writes: "When Liverpool ship-owner J. Baines entered the trade <in 1851> he was sufficiently conscious of the merits of that famous house flag, and sufficiently unscrupulous to purloin it for his own vessels. He paid slight regard to the fact that the New York firm were still in existence, and his direct competitors. In spite of their protests, he continued to use the flag. The efficiency of his own fleet built on the impetus the house flag may have given him made the Liverpool Black Ball Line one of the leading companies in the Atlantic and Australian runs."
Jarig Bakker, 15 July 2004
The Black Ball Line noted here is that operated by James Baines & Co. of Liverpool, U.K. and according to Loughran (1979) both the name and the flag were appropriated from the American company of that name, despite their protests, which means that the field was red, not white. Loughran so shows it though he shows for both companies as a tapered swallowtail whereas some other sources show the American flag as non tapered. Basil Lubbock in "The Colonial Clippers" shows an illustration from a painting of the "James Baines" which though in B&W supports the red colour of the field but it is impossible to say for sure whether there is any tapering of the flag.
Neale Rosanoski, 26 August 2004
I did some checking to see if additional information had surfaced in support of the white flag rather than the red field one shown by Loughran (1979). This flag is shown by www.theshipslist.com website but they do not give a source though the two may well be connected. Not that I would class theshipslist site as an authority, rather they are depending on their source. There is, however, far more support for the flag having been a red swallowtail with a black ball, though less clear as to whether there was any tapering.

The following sites give paintings of their ships. The artists may not perhaps have worried too much about the proportions and exact shape of the flag but the colours I would expect to be accurate:
(1) www.lintonmaritimeart.com/maritime_art_pages/marine_art_lightning_clipper.htm
(2) www.lancashiregallery.co.uk/4515/14376.html+James+Baines+painting&cd=114&hl=en&ct=clnk&gl=nz&client=firefox-a
(3) http://www.christies.com/LotFinder/LargeImage.aspx?image=/lotfinderimages/d48604/d4860457x.jpg

The following site gives detail of the company and describing the end in 1871 is specific about the flag colours: http://www.eraoftheclipperships.com/page56.html. But the cruncher for me is the 1862 passage ticket shown at http://museumvictoria.com.au/collections/items/806694/passenger-contract-ticket-netherby-black-ball-line-steerage-london-to-melbourne-1862.
Neale Rosanoski, 22 December 2010
See also: American Black Ball Line.
---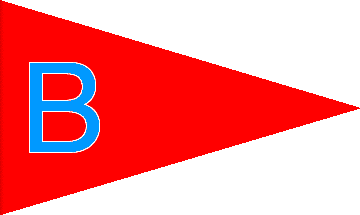 image by Ivan Sache
The main competitor of Moore & Co. is Blakes, who says: "With close to 100 years' experience in holiday boating, no one knows the Broads like Blakes." Blakes Holiday Boating is based in Barnoldswick, Lancashire. It is a division of the Holiday Cottage Group.

The house flag of Blakes is a red triangular flag with a light blue B fimbriated in white.
Company website: <http://www.blakes.co.uk>
Ivan Sache, 12 September 2004
---
Bland Line Ltd.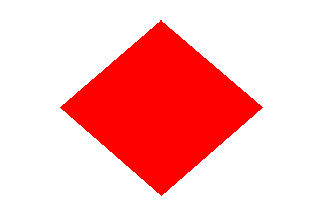 image by Phil Nelson, 11 April 2000

from Stewart and Styring's Flags, Funnels and Hull Colors 1963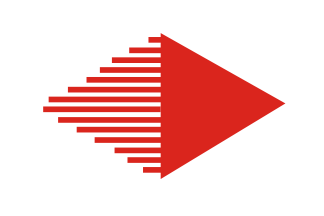 image by Rob Raeside
Bland Line Ltd. Originated around 1810 and based Gibraltar, for most of the time shown as M.H. Bland & Co. Ltd. trading as Bland Line up until the 1970s, possibly becoming Bland Ltd. by 1980 and apparently ceasing in the latter 1980s. According to Brown 1978 & 1982 the diamond was altered so that the dexter half comprised horizontal lines of red-white (they show 19) [see second image which shows more lines for artistic effect].
Neale Rosanoski, 9 February 2004
---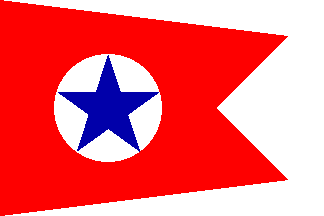 image by James Dignan
Based on an illustration by Sampson (1957)
James Dignan, 8 October 2003
This company operated from London to Brazil and the River Plate. The house flag was a red burgee with a five-pointed blue star on a white disc.
Jarig Bakker, 8 October 2003
Brown's Flags and Funnels (1940): Blue Star Line Ltd., London
Funnel: Red with a blue five-pointed star on a white disk, close to a black top with a white band.
Flag: A red swallow-tailed flag with near the hoist on a white disk a blue five-pointed star. The angle of the fork is approximately 60 degrees, the diminishing of the outside is at approximately 5 degrees. The diameter of the disk appears to be equal to the distance between the tips.
Peter Hans van den Muijzenberg, 18 October 2003
Larousse Commercial Illustré (1930) shows Blue Star Line (1920), London: a red swallow-tail with tapering edges, a five-pointed blue star near the hoist. It not only mentions '1920' but furthermore draws a funnel with the blue star on a white disk. The version with white disk is shown; although according to Neale, it replaced the previous one in 1928.
A nice site is dedicated to this line is at http://www.bluestarline.org/index.html and near the end of the following page, you will find a menu showing the earlier flag but with the star very near the upper edge: http://www.bluestarline.org/avila1.html whereas Larousse shows it as the on-line 1912 Lloyd's Flags & Funnels does:
see No. 1470 on p. 71, 'Blue Star Line Ltd., London': http://library.mysticseaport.org/initiative/ImPage.cfm?PageNum=71&BibId=11061&ChapterId=8
Jan Mertens, 28 May 2004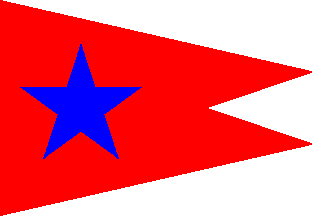 image by Peter Hans van den Muijzenberg, 25 April 2012
Blue Star Line. The original flag did not have a white circle, with this being added in September 1928.
Neale Rosanoski, 9 February 2004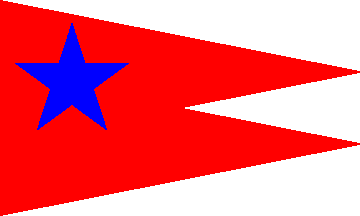 image by Peter Hans van den Muijzenberg, 25 April 2012
While the menu has the split for something like half the flag, Lloyds image has it more shallow, for something like a third of the flag. I thought that maybe they drew all split flags the same, of at least all tapering ones, but apparently that's not the case. Whether the differences are artistic license or change over time, I don't know.

It would have been so nice and clear if the company started with the star in canton, lowered it later, and then added a white circle. Unfortunately, Lloyd's has the star centred hoistwise in 1912, and the menu for the Avila's maiden voyage, has it more in canton on 1 April 1927, so it would be going the wrong way. Interestingly, Shipbuilding and Shipping Record from December 1927 shows the plans of Avila with her funnels already bearing disks.

The Blue Star Line was founded in 1911, and was acquired by P&O Nedlloyd in 1998.
Peter Hans van den Muijzenberg, 25 April 2012
---
British Shipping lines: continued