This page is part of © FOTW Flags Of The World website
Nostromo (novel)
Joseph Conrad
Last modified: 2019-02-08 by peter hans van den muijzenberg
Keywords: nostromo | conrad (joseph) | sulaco | occidental republic | wreath | amarilla flower | costaguana | palm trees: 2 (green) |
Links: FOTW homepage | search | disclaimer and copyright | write us | mirrors

---
See also:
---
In the novel Nostromo by British author Joseph Conrad, there are two fictional countries, one of which is seceding from the other. They are called Republic of Costaguana and Western Republic of Sulaco.
On AlternateHistory.com, "Dr. Strangelove" has made pictures of the two countries' flags based on the descriptions in the novel.
Elias Granqvist, 26 June 2011
---
Costaguana
Republic of Costaguana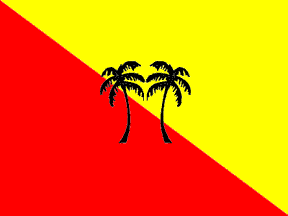 image by "Dr. Strangelove", 26 June 2011
In the novel, this flag is identified and described:
An enormous national flag of Costaguana, diagonal red and yellow, with two green palm trees in the middle, floated lazily at the mainmast head of the Juno.
I think I would have used a lighter colour of green for the palm trees, though; one that actually looks green. I'm also not sure where the 3:4 ratio comes from.
Peter Hans van den Muijzenberg, 2 March 2012
---
Sulaco
Western Republic of Sulaco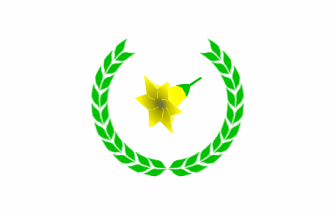 image by Eugene Ipavec, 9 January 2012
I found a flag mentioned in Nostromo by Joseph Conrad:
How the United States cruiser, Powhattan, was the first to salute the Occidental flag — white, with a wreath of green laurel in the middle encircling a yellow amarilla flower.
The Occidental Republic is a fictional nation in which the novel occurs.
Sean McKinniss, 28 March 2003
---
The flower depicted on the Sulaco flag is an amarilla flower, which doesn't seem to have a clear botanical meaning (it simply means "yellow" in Spanish, though thus named in an English text). Therefore any reconstruction is not trivial and it would be acceptable to show several different reconstructions.
António Martins-Tuválkin, 18 December 2011
Actually, in English "Amarilla" is a variant for "Amaryllis" (Amaryllis belladonna & Amaryllis paradisicola). See eHow.
Ned Smith, 9 January 2012
---
In the novel, two flags are identified and described. Other than that, there are mentions of entities with flags:
The "company flag" of the "Oceanic Steam Navigation Company" at the stern of a gig;
An "Indian boy ... with the red flag of a surveying party in his hand";
An "old flag of Cortez preserved in a glass case above the President's chair";
The provinces again displaying "their old flags (proscribed in Guzman Bento's time)" ... "these old emblems of the war of Independence".
And there are mentions of colours of flags:
There are "fluttering little green and white flags stuck upon each cart" of the convoy that transports the mine's gold. Though the design isn't mentioned, we do know from earlier in the text that San Tome miners would wear "white ponchos with a green stripe" and "also adopted white hats with green cord and braid", so it's tempting to imagine those flags as white with a green stripe. Then again, when the miners marched upon Sulaco, they came "green flags flying, a wild mass of men in white ponchos and green hats". Either there are two designs involved or the green must be dominant in the flags.
The "Sulaco National Guard" have "an enormous green and yellow flag flapping in their midst", but there's nothing to suggest a design.
Lastly there's a call for a white flag, but the meaning is no different from any real life attempt to stop a conflict, preferably before more people lose their heads.
Peter Hans van den Muijzenberg, 2 March 2012