This page is part of © FOTW Flags Of The World website
Learning the World (novel)
Last modified: 2016-03-19 by peter hans van den muijzenberg
Keywords: learning the world | macleod (ken) | realm of gevork | gevork | disc (green on blue) | reach of seloh | seloh | claw | southern rule | lizard |
Links: FOTW homepage | search | disclaimer and copyright | write us | mirrors

---
See also:
---
Learning the World (also Learning the World: A Scientific Romance) is a 2005 novel by the Scottish science fiction writer Ken MacLeod. It was very well received, being nominated for the 2006 Hugo, Locus, Clarke, and Campbell Awards and winning the Prometheus Award.
While the story's timeframe is only given imprecisely, it takes place about fifteen thousand years from now, as a generation ship dispatched from one of the cluster of colonized stars in a radius of 500 light-years around Earth approaches its target, which the colonists call the "Destiny Star". To their considerable surprise they discover a habitable planet and an alien species — the first one ever encountered. The rest of the narrative follows the societal unrest and conflict created by the discovery both aboard the ship and among the aliens, whose planet is called "Ground" (the humans call it "Destiny 2") and is divided into three major states:
The last is formally called the "Roost of Man" (which is what the aliens call themselves) and is something like China or the Byzantine Empire — it had missed out on the planet's equivalent of the dark ages, but also on its equivalent of the Renaissance, and is consequently somewhat backward. The other two are mutually hostile industrializing powers at a c.1930s level of technology.
Page 291 of the first US hardback edition:
Soldiers, their movements sluggish in the heat and stumbling on the rough rock, spread banners across boulders: the golden lizard of the South, the claw of the Reach, the roundel of the Realm.
Eugene Ipavec, 16 June 2010
---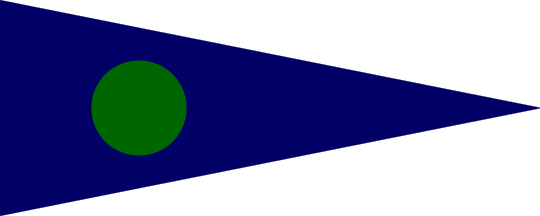 image by Eugene Ipavec, 16 June 2010
(Describing a dirigible:)
On its underside at the front was a greenish dot, which Darvin knew to be the blue and green roundel of Gevork.
(Page 237 of the first US hardback edition.)
This flag drawing is mildly speculative, as the description is unclear.
Eugene Ipavec, 16 June 2010
That roundel sounds a bit like a planet depiction, doesn't it? You'd need some light colour field for that.
Peter Hans van den Muijzenberg, 26 February 2011
Good point: Maybe concentrically blue/green, or divided. Probably not a planet, though, as the aliens to whom it belongs are not yet spacefaring, and this one country is not world-spanning.
Eugene Ipavec, 1 March 2011
---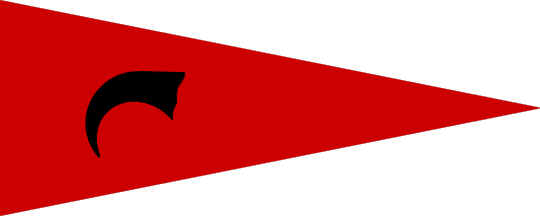 image by Eugene Ipavec, 16 June 2010
(Describing airplanes:)
Painted on their red wings was the black claw of the Reach.
(Page 237 of the first US hardback edition.)
Eugene Ipavec, 16 June 2010
---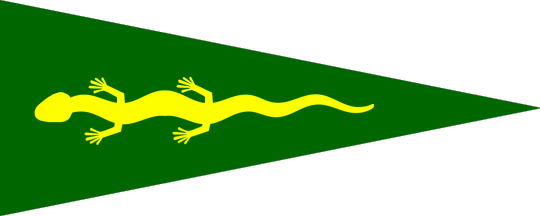 image by Eugene Ipavec, 16 June 2010
He guessed from its lines that it was a Southern Rule ship, and then noted with satisfaction the long triangle of the banner that confirmed his guess: green, with a gold wavy line that he couldn't make out in detail at this distance, but knew to represent a stylized lizard, symbolic of the Southern Rule's vaunted antiquity.
(Page 197 of the first US hardback edition.) I can't remember if the book mentioned whether the lizards should have four or six legs.
Eugene Ipavec, 16 June 2010