This page is part of © FOTW Flags Of The World website
The Indians won
Last modified: 2014-12-27 by peter hans van den muijzenberg
Keywords: indians won (the) | indian nation | united states of america | sun | 55 stars |
Links: FOTW homepage | search | disclaimer and copyright | write us | mirrors

---
See also:
---
The Indians won is a novel about the relationships of immigrants and native Americans, written by Martin Cruz Smith, who is, as far as I know half Cherokee. The main plot is not really worth to be mentioned. Interesting is an alternative, historical scenario: The Indian tribes end their antagonisms and annihilate the US Army, led by President Rutherford Hayes, on 30 May 1876. The Indians are supported by modern weapons and Europeen instructors and they have the Mormons and their army, the Nauvoo Legion as confederates.
After their victory they establish the Indian Nation on the territory of the real-life states of North Dakota, South Dakota, Montana, Idaho, Wyoming, Utah, Colorado, Arizona and New Mexico. In a treaty with the US Government they cede Nevada to the USA. As a result the USA are separated into two regions. The USA become the strongest naval power and they conquer or purchase a vast maritime realm. Among others the gain the Philippines, Cuba, Puerto Rico, Samoa, the Bermudas, Jamaica, Okinawa, Midway, and the Caroline Islands. In the end there are 55 states (no further details mentioned).
Klaus-Michael Schneider, 17 December 2013
---

image by Klaus-Michael Schneider,
17 December 2013

image by Klaus-Michael Schneider,
17 December 2013

image by Peter Hans van den Muijzenberg,
19 January 2014
In the last chapter during peace negociations an Indian Nation table flag is mentioned: A green flag with a red sun in a white annulet.
Of course I don't know the details. And I have my doubts about the annulet (Ring in the German edition). Thus I have drawn two versions:
An Indian Nation flag according to the description of the German edition; the Indian's sun symbol I chose arbitrarily, it looks like the New Mexican emblem. The red sun is in an annulet.
Another Indian Nation flag. I placed the sun onto a white disc.
The second design looks better; it would be interesting to read the description from the American edition.
Klaus-Michael Schneider, 17 December 2013
I've drawn this as a green field with a big red circular sun in a white ring.
Peter Hans van den Muijzenberg, 19 January 2014
---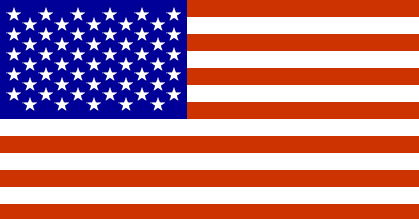 image by Peter Hans van den Muijzenberg, 19 January 2014
In the last chapter during peace negociations a US table flag is mentioned: blue — white — red with 55 stars and 13 stripes.
Klaus-Michael Schneider, 17 December 2013
---