This page is part of © FOTW Flags Of The World website
Erthring Cycle (series of novels)
Wayland Drew
Last modified: 2019-02-08 by peter hans van den muijzenberg
Keywords: drew (wayland) | erthring cycle | master of norriya | yggdrasil | norriya | rank: master | n (white) | pioneer corps | xtaplacia | juhuria | triangle (white on blue) | disc (blue with white charge) |
Links: FOTW homepage | search | disclaimer and copyright | write us | mirrors

---
See also:
---
A series of three ecological-dystopian (or possibly utopian, I can't entirely tell) science fiction novels by Canadian writer Wayland Drew: The Memoirs of Alcheringia (1984), The Gaian Expedient (1985), and The Master of Norriya (1986). Set about 150 years after WWIII and the attendant fall of civilization, the books follow a decaying high-tech enclave called Yggdrasil, located on a few small islands off the west coast of North America, as it tries to manipulate the barbaric societies on the mainland into a configuration that will allow the rebuilding of civilization on a different basis, without the problems that caused the war. The Erthring is the portion of the mainland over which Yggdrasil exerts control.
Eugene Ipavec, 16 September 2009
---
The position of Master of a region is somewhat analogous to a colonial governor. Implied [from Norriya's] is that there are also pennants for the Masters of other four regions, and perhaps for the Keeper of Yggdrasil itself.
Eugene Ipavec, 16 September 2009
---
No flag is given for Yggdrasil itself, but its symbol is mentioned a lot, and illustrated on the book covers: a three-rooted tree inscribed in a circle.
Eugene Ipavec, 16 September 2009
---
Norriya is one of five regions of the Erthring. The Master pennant could not function as the flag of Norriya itself, as the region only exists on a map for Yggdrasilian administrative purposes; on the ground, it is purposely kept fragmented into hostile tribes, and its inhabitants are unaware they live in it. The "Alcheringia" from the book title is one of the tribal homelands within Norriya.
Eugene Ipavec, 16 September 2009
---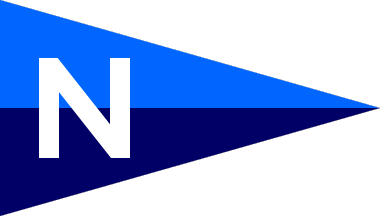 (freely reconstructed) image by Eugene Ipavec, 29 September 2009
Rank flag of the Master of Norriya:
From the swaying antenna flew a two-tone blue pennant with a white N in the center.
(page 4, The Gaian Expedient, Del Rey paperback, 1st edition)
Eugene Ipavec, 16 September 2009
---
The Pioneer Corps — a newly-formed long-range exploration unit — apparently also has a pennant, but it is not described:
… the crisp pennant of the Norriyan Pioneers fluttering from whip antennae.
(page 222, The Gaian Expedient, Del Rey paperback, 1st edition)
Eugene Ipavec, 16 September 2009
---
Two other pre-war enclaves are introduced in the later books: One of them is Xtaplacia, in S. America, with no symbol given.
Eugene Ipavec, 16 September 2009
---
Two other pre-war enclaves are introduced in the later books: One of them is Juhuria, in the far west somewhere, with a white pyramid in a blue disc.
Eugene Ipavec, 16 September 2009