This page is part of © FOTW Flags Of The World website
Firefly (television series)
Last modified: 2017-10-31 by peter hans van den muijzenberg
Keywords: firefly | union of allied planets | anglo-sino alliance | alliance | doubt | independents | stars: 6 (yellow) | stars: 6 (white) |
Links: FOTW homepage | search | disclaimer and copyright | write us | mirrors

---
See also:
External:
---
Firefly was a TV series; a spin-off film, Serenity, was made as well.
Alan Baker, 11 November 2005
---
The flag of the Union of Allied Planets is clearly a mix of the US and PRC flags; the two large stars are supposed to represent the two allied superpowers.
Alan Baker, 11 November 2005
The two different reconstructions below are based on props from different episodes. Both can be seen as stickers. As far as I can tell, neither show up as actual flags so these might actualy only be logos.
Marc Pasquin, 20 March 2012
Thus, the discrepancy is canonical, even if unintended by the authors. Still to be explained are the two main differences in design (leaving aside ratios, color shades, star sizes/positions, and possible flipping):
At the Wikipedia page on the Alliance are references to this flag and its two concurrent designs. Here, both depictions (13 stripe version and 5 stripe version) show yellow stars, casting a shadow on the report on the flag from "Bushwacked" by Travis Dunn.
António Martins-Tuválkin, 22 March 2012
---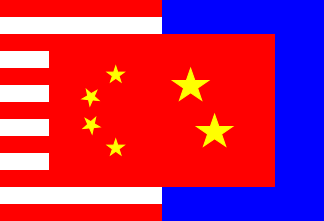 image by Eugene Ipavec and Alan Baker, 31 July 2006
The flag of the Union of Allied Planets can be seen on some Alliance crates in the episode The Train Job. I find it interesting to note that the postion of the larger to smaller stars on the Chinese part and the blue field – stripes of the US section are mirrored from there relative positions on the real life flags. I don't know if that means anything, but given the dystopian nature of the Alliance, it could be a deliberate pointer that something's not right.
Alan Baker, 11 November 2005
Regarding the mirror effect, apart from this explanation it could be that:
It is part of their cultural habits to draw flags with the hoist to the right.
The crates were upside down.
Marc Pasquin, 11 November 2005
Flipped image to show its putative hoist at the left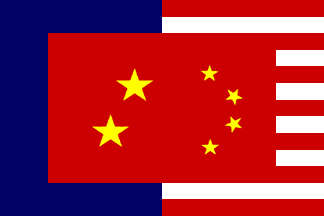 image by António Martins-Tuválkin, Eugene Ipavec and Alan Baker, 25 March 2012
---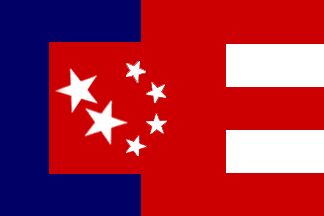 image by Travis Dunn and António Martins-Tuválkin, 25 March 2012
At the Wikipedia page on the Alliance the depictions of the 5 stripe version) shows yellow stars.
António Martins-Tuválkin, 22 March 2012
---
In the spin-off film Serenity this flag was not seen, but an Alliance emblem incorporating several planets and stars in a diamond field could be seen on the inside of an Alliance research ship.
Alan Baker, 11 November 2005
---
At the Firefly and Serenity database is shown what is apparently the flag of the "Independents": A 1:2 green flag with two narrow horizontal yellow stripes and a black five-poinetd star standing on a tip centered overall. The particular shades of green and yellow seem to be indetermined, as the original posted used bright 100% saturated RGB values and those were later replaced with the current subdued pastel shades.
António Martins-Tuválkin, 19 March 2012
This is strictly a fan creation based on triangular patches worn by some characters. it doesn't even show up in rectangular form so I don't think we can count it as a flagoid.
Marc Pasquin, 20 March 2012