This page is part of © FOTW Flags Of The World website
Hamburger SV (Football Club, Germany)
HSV
Last modified: 2017-11-11 by peter hans van den muijzenberg
Keywords: hamburg sv | hsv | lozenge (white) | lozenge: pierced (black) |
Links: FOTW homepage | search | disclaimer and copyright | write us | mirrors

---
See also:
Description
Issue 14 (2nd April 2001) of the German weekly news magazine Der Spiegel, p. 175, showed this picture of supporters of the German football club HSV waving flags of their club. Pictures of the different flags can be seen at the club's website in the fanshop.
Marcus Schmöger, 11 May 2001
From the club website:
September 29th 1887: The Hohenfelder Sports Club and the Wandsbek-Marienthaler Sports Club found Sport-Club Germania von 1887, which was to become one of the three clubs to form HSV.

June 1st 1919: SC Germania, Hamburg FC and FC Falke 1906 merge to form Hamburg SV. The club colours of red and white are picked as a compromise suitable for all.
(Red and white are the Hamburg city colours.) However the flag shown on that same webpage is the current one — though labelled Hamburg's colours (sic). Quite confusing. However, the German version gives further and more correct details:
01. Juni 1919: Der SC Germania, der Hamburger FC und der FC Falke 1906 vereinigen sich zum Hamburger SV. Rot und Weiß werden zu den Vereinsfarben gewählt, blau und schwarz —die Farben des SC Germania— tauchen im Rhombus des Vereinswappens auf.
The last sentence reads, "Red and white are chosen as the club's colours, blue and black —the SC Germania colours— appear in the lozenge of the club's arms". The contradiction is not fully settled, since the nearby flag (again the same as Marcus reported) is labelled Die Vereinsfarben des HSV i.e. the HSV club colours.

By the way, the scanned picture from Der Spiegel shows (center left) a further variant of a HSV flag (at least it uses the same colours) which is quite interesting in that it follows the Union Flag pattern.

Santiago Dotor, 7 June 2002

White shirts and red trousers are the colours in which the HSV traditionally plays — that is probably what the 'club colours' are about.

Stefan Schwoon, 7 June 2002

Stefan is right. There is another detail. The football socks of the team didn't match the shirts. Now the reason is clear. The pattern had been based upon the colours of Germania. The socks always were and are blue having a ribbon of alternating black and white squares at the top.
Klaus-Michael Schneider, 4 April 2011
Flag variant with hoist stripe in the German colours
Cross flag variant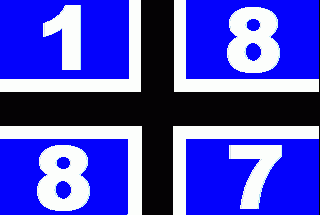 image by Christian B. Schneider, 17 July 2009

Description of flag: It is a blue flag divided by a black centred cross fimbriated white. In the quarters are numbers as follows: "1"(upperhoist), "8"(upper fly and lower hoist" and finally "7"(lower fly). Together the numbers are forming "1887", the year in which HSVwas established.

Having made further inquiries about the subject, here are our results: The 1887-flag is definitely a supporter's flag, sold exclusively by a shop dealing with "football fashion for Hamburg" and has nothing to do with HSV. Christian and I visited the HSV city fan shop to get this information. The reason for the existence of the 1887-flag is very simple. Hamburger SV has changed the HSV-rhomb(German: Raute) into a registered trade mark and takes ridiculous licence fees for any product containing the rhomb. First we have to alterate our description of the official club's flag. It is not diamond in diamond in diamond but a black rhomb in a white diamond. Second Hamburger SV nevertheless is very popular and has fans spread out at least all over Germany, among those a lot of people, who can't effort the ridiculous prices. So the simply use cheaper products free from licence fees. One of those is the 1887-cross-flag. Klaus-Michael Schneider and Christian B. Schneider, 8 Oct 2009
Blue Hamburg flag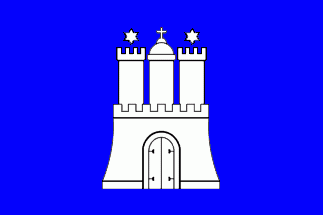 The very basic variant in order to avoid licence fees, even cheaper, used by HSV supporters, simply is a blue Hamburg flag, which could be purchased at any souvenir shop in Hamburg together with T-shirts, picture postcards and all the lot. Meanwhile it seems that itis replaced by newer patterns containing the middle coat of arms of the city of Hamburg and having different mottos around the coat of arms.
Source: spotted at Rathausmarkt Hamburg on 23 July 2009
Klaus-Michael Schneider and Christian B. Schneider, 8 Oct 2009
As blue is the predominant colour used in the arena (Volkspark Stadion), the supporters often use the old island flag of Fehmarn.
Klaus-Michael Schneider, 4 Apr 2011