This page is part of © FOTW Flags Of The World website
Hamburg City Soldiery (1684-1811)
Hamburger Stadtmilitär, Garnison, Garrison
Last modified: 2021-01-08 by

klaus-michael schneider
Keywords: hamburg | city soldiery | castle(golden) | grenade | wreath(holly) | hussar's cut | coronet | supporters |
Links: FOTW homepage | search | disclaimer and copyright | write us | mirrors

---
See also:
---
Introduction
City Soldiery in General
The proper military protection in the early 17th century was run by some 50 up to 100 mercenaries, professional soldiers having the self-image of being craftsmen. The soldiery consisted of foot soldiers (musketeers and grenadeers), cavalry (riders and dragoons), later on also artillerists, in Hamburg called constables, in order to operate the cannonry. Like a master brought with him his journeymen, so the captain brought with him his lansquenets. He collected the wages from the employer sharing out them to his soldiers due to their contracts.
Let's look back on times of the Hanseatic league. Then the citizens themselves fought bravely on battlefields or the high seas, led by their aldermen. Since the early 15th century this code of practice was degraded step by step:
-1408 exemption from military service by paying a compensation fee to the city treasury
-1420 first mission of complete squads of mounted mercenaries during a war against Duke Erik of Saxony
-1477 recruitment of a professional wall master under supervision of two aldermen in order to maintain walls and cannonry
-around 1600 introduction of permanent infantry companies; it was advantageous for the city, which had to pay less officers, and also for the captains, who received an additional per capita quota on top of their guerdon.
-1616 introduction of a city captain (Stadtkapitän), having the rank of a colonel; already before 1599 there existed a city constable (Stadtwachtmeister), who became the captain's deputy in 1616, since 1631 his title was city major (Stadtmajor)
-10 March 1628 introduction of a permanent war council under the chairmanship of the burgomaster.
-1699 introduction of permanent cavalry
Source: Cipriano Franzisko Gaedechens: "Das hamburgische Militär bis zum Jahre 1811 und die hanseatische Legion", Hamburg 1889
Klaus-Michael Schneider, 17 Aug 2013
---
Infantry (Musketeers)
Especially in the early decades the soldiers had been constantly hired and fired. E.g. in 1599 there was one sergeant having 16 soldiers. In 1628 during the 30-Years-War, when the Catholic general Tilly threatened the city, a regiment having 18 companies, among those a colonel's company (Leibkompanie) having 410 soldiers and the other companies each with 230 soldiers, altogether 5400 soldiers. During the Danish siege in 1686 there were just 12 companies having altogether only 1800 soldiers. Apart from that complete regiments of other states were temporarily put under oath and Hamburg had to pay for the guerdon of the foreign soldiers.
Around 1765 there existed one regiment having four companies. Colonel, lieutenant colonel, major and 2nd major formed the operational headquarter. Every company had officers as follows: captain, lieutenant, sub-lieutenant, warrant officer (Feldwebel), staff sergeant (Führer), 3 sergeants, 6 corporals, 2 drummers, 10 lance corporals (Gefreite), between 147 and 155 privates, plus two civilians: pay roller (Musterschreiber) and corpsman (Feldscher). The 1st and 2nd company also had a piper, the colonel's company had 15 additional musicians, since 1769 also an adjutant
Around 1770 the main guard-house at Großneumarkt Square was permanently manned by 66 soldiers.
Early Infantry Colours
We have only little information about the early infantry colours of the City Soldiery. We know from Gaedechens that the colonel's company (Leibkompanie), as usual in those times, had a white flag, while the other companies had monochrome colours.
Gaedechens mentions three reasons:
On the one hand in the 17th century company flags had been considered to be the private property of a captain, which had been hung above the grave on the occasion of his funeral, together with his family arms. Even earlier due to the permanent hiring and firing there had been the ceremony of "tearing the colour", when a company was disbanded. During the ceremony each of the present soldiers received one piece of the sheet.
Description of Colours of the 2nd Infantry Regiment of 1686
Based on the description within the chronicles of a man named Sperling from 1686, the year of the Danish siege, Gaedechens described the flags of the 10 companies of the newly deployed 2nd infantry regiment as:
-1st company: "Jehova" (in Hebrew characters) and the motto: "Der Herr ist mein Banner und mein Schild" (The Lord is my banner and my shield)
-2nd company: a mountain, standing in the water, with a circumscription: "Ich stehe fest" (I stand firmly)
-3rd company: a light on a candlestick, ignited, with an inscription: "Ich zünde anderen an" (I enkindle for others)
-4th company: a lion with an inscription: "Ich fürchte mich für nichts" (I dread nothing)
-5th company: a crane with a headline: "Ich halte gute Wacht" (I keep good watch)
-6th company: the sun shining onto the sea with a headline: "Geschwind und unermüdet" (swift and tireless)
-7th company: the Goddess Fortuna with an inscription: "Das Glück zu ergreifen muß man keine Gelegenheit versäumen" (You mustn't miss any opportunity in order to grasp luck)
-8th company: a fellow with arrows, which he tries to break on his knees with an inscription: "Je mehr je stärker" (the more the stronger)
-9th company: the city arms with an old grenadeer's bayonet
-10th company: three leaves of holly, on top a grenade with a headline: "Greifstu nach mir, so stech ich Dir" (If you grasp me, I'll prick you)
There is nothing mentioned about the colours. More or less all flags will be based upon family arms of the commanding officers. When the regiment was dissolved in 1695, the flags were given away to the commanding officers.
Infantry Battalion Colours (1724 - 1757)
| | | | |
| --- | --- | --- | --- |
| speculative image by Klaus-Michael Schneider, 17 Aug 2013 | speculative image by Klaus-Michael Schneider, 17 Aug 2013 |   |   |
In 1724 there are six flags per battalion. According to the following pages we may conclude that it had been altogether 12 flags. In 1757 they are replaced step by step, four companies receive their flags on 26th March, four companies on 15th September, four companies on 28th December, described by Gaedechens as follows: "Like the embroidered standards, which had been granted to the dragoons in 1710, the selfsame colours will have displayed the red city arms in a white shield with supporters and coronet and a headline 'Pro libertate'." It had been painted flags made of silk. We have to remark that the "city arms" on the dragoons' standards hadn't been red but yellow (golden) instead.
Infantry Battalion Colours (1794 - 1802)
Within a drawing of 1794, illustrating the marching order, for the infantry regiment there are displayed two battalions infantry with 10 companies each. The infantrymen of the 1st battalion had a white and a blue flag, the infantrymen of the 2nd battalion had two blue flags. In 1797 just four flags were ordered, which probably was the same already in 1794. The flags from 1797 are described as follows:
-a white colonel's colour (Leibfahne) with Hamburg Arms
-a blue flag of the 2nd battalion with Hamburg Arms
-another two blue flags to be used on special occasions, during military reviews, in order to flank the colonel's colour and in order to be used by single companies. Their inscriptions acclaimed:
-1) "Senatus Populusque Hamburgensis" (Senate and People of Hamburg)
-2) "Patriae, Civibus, Legi" (for Homeland, Citizens and Law)
-3) "In Civium Salute Republicae Salus" (the Welfare of the State (is based upon) the Welfare of the Citizens)
-4) "Civium Securitati" (for Safety of Citizens)
Source: Cipriano Franzisko Gaedechens: "Das hamburgische Militär bis zum Jahre 1811 und die hanseatische Legion", Hamburg 1889
Klaus-Michael Schneider, 17 Aug 2013
---
Infantry (Grenadeers)
Colour of the Grenadeer Company of 1684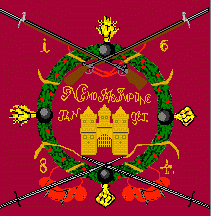 reconstruction by Klaus-Michael Schneider, 17 Aug 2013

In 1683 an additional company of grenadeers, having 250 soldiers, was deployed but the company was disbanded very soon due to a reorganization in 1711. The personnel was incorporated into the 12 existing infantry companies. 36 grenadeers were added to each company. Cohesive with the deployment of a grenadeer company in 1683 also a square flag was endowed to the company in 1684. According to the description as given by Grot the sheet is made of crimson silk. The trimmings are painted. In the centre is a golden castle having three towers and an ajar portcullis. The castle is surrounded by a wreath of holly (ilex aquifolium) in natural colours. Four black grenades with golden flames are evenly spread over the wreath. Outside of the wreath the four digits ofthe year "1684" are placed into the corners. Inside the wreath above the castle is a golden inscription: "Nemo me impune tanget" (Nobody touches me unpunished). At the bottom of the wreath there are hanging two cinnabar grenade bags. Two muskets with bayonets crossed per saltire are forcing the middle of the wreath.
Grenadeer Battalion in 1794
According to the marching order in 1794 there existed a complete grenadier battalion within an infantry regiment having 10 companies. The grenadeers had no proper flag, which was the same e.g. in Prussia.
Sources:
Cipriano Franzisko Gaedechens: "Das hamburgische Militär bis zum Jahre 1811 und die hanseatische Legion", Hamburg 1889
Klaus Grot: "Chronik des Standortes Hamburg - Bilder aus Hamburgs militärischer Vergangenheit", Hamburg 1993
Klaus-Michael Schneider, 17 Aug 2013
---
Cavalry
In 1686 Hamburg's cavalry consisted of two companies of riders and two companies of dragoons, altogether 160 soldiers, who all were decruited after the Danish siege in 1686. The first permanent unit in 1699 consisted of 24 mounted infantry soldiers, commanded by a lieutenant. On demand of an imperial commission the cavalry was restocked in 1709 up to one squadron with two companies. The cavalry, just like the infantry, had an excellent reputation.
Cavalry Standards in the 17th and 18th Century
| | | | |
| --- | --- | --- | --- |
| image by Klaus-Michael Schneider, 18 Aug 2013 | speculative image by Klaus-Michael Schneider, 18 Aug 2013 |   |   |
Already in 1675 standards for two cavalry companies are said to have been endowed. The 1st company had a white standard with the inscription "Pro Libertate" (for Freedom), the 2nd company had a green standard with the inscription "Pro Patria" (for Homeland).
It is known that standards had been endowed for two dragoons companies, which had been deployed by Colonel Woldenberg on 26 August 1709. Grot describes the standard of the 1st company as follows: The standard was sewn from two pieces of white, flowered damask silk. It was manufactured in hussar's cut (remark of the editor). It had golden fringes. In the centre was a castle, having three towers with an ajar portcullis. The castle was flanked by two lions of golden embroidery. Above was a golden coronet with red and blue gemstones. Golden beams came out of the corners. Above the castle was a motto "Pro Libertate" (for Freedom). The standard had a white staff and a gilded, open-worked finial with a Hamburg Castle.
The standard of the 2nd company disappeared after the company was disbanded in 1716, the standard of the 1st company still exists. According to Gaedechens only one of the two companies was disbanded and its flag was kept in the armoury. Furthermore Grot mentions that the standard of the 2nd company had had "the same pattern, but a red sheet with a white stripe in the middle".
Sources:
Cipriano Franzisko Gaedechens: "Das hamburgische Militär bis zum Jahre 1811 und die hanseatische Legion", Hamburg 1889
Klaus Grot: "Chronik des Standortes Hamburg - Bilder aus Hamburgs militärischer Vergangenheit", Hamburg 1993
Klaus-Michael Schneider, 18 Aug 2013
---
back to Hamburg military flags click here
---