This page is part of © FOTW Flags Of The World website
Flag History of Quebec (Canada)
Last modified: 2019-04-20 by rob raeside
Keywords: quebec | canada |
Links: FOTW homepage | search | disclaimer and copyright | write us | mirrors

---
See also:
---
Quebec Blue Ensign
Flag of 1868 (only official design after 1920)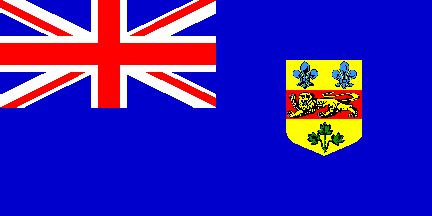 image by Luc-Vartan Baronian
Alternate design 1868-1920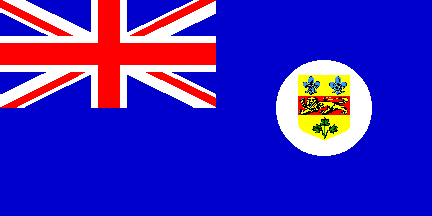 image by Luc-Vartan Baronian
In 1918 it was noticed that some flags, including that flown at the Canadian High Commission in London, did not, in the use of white discs, correspond with the illustrations in the Admiralty Flag Book.
The Admiralty drew the attention of the Colonial Office to, "variations in the use of the white circle on Ensigns defaced with a colonial badge", pointing out that, "unless there was some special reason for obtaining a particular colour around a badge, the badge should appear on the Ensign without a surrounding circular disc", and appear in a white circle only if, "the colouring of the badge was indistinguishable from the field of the Ensign".
The Colonial Office conducted a survey of Colonial Flags and in a number of cases directed that the white disc should be removed. There is no record in the Admiralty correspondence about flags of the Dominions, but it seems likely that they would have adopted the same principle.
There is no blue near the edge of the badge of Quebec and so no reason for it to be on a white disc. However a Quebec Red Ensign, if there was one, should have been on a white disc, since the red band across the badge would have merged with the red field.
D. Prothero, 25 January 1998
---
Flag of Lieutenant-Governor of Quebec
1952-??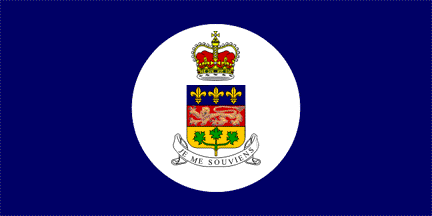 image by Martin Grieve, 1 December 2005
Lieutenant-Governor's flag 1870-1939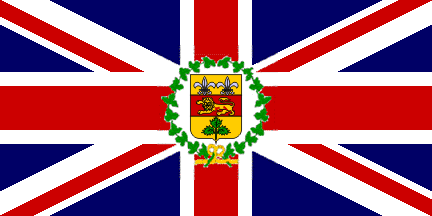 image by Martin Grieve

Badge Detail, 1870-1939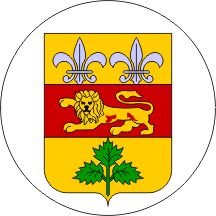 image by Martin Grieve

In 1870 the arms granted 26 May 1868 were adopted for use on the Union Jack of the Lieutenant-Governor of Quebec when afloat. The flag was probably being used on land before the end of the century.
Badge Detail, 1939-present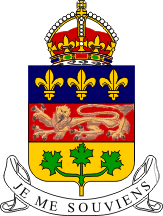 image by Martin Grieve

1939. 9 December. The arms were revised by Order of the Lieutenant-Governor in Council. The two blue fleur-de-lis on yellow were replaced by three yellow fleur-de-lis on blue, an Imperial Crown was placed above the shield and a motto added below the shield.
1940. Defaced Union Jack replaced by plain Union Jack. This may have been because the revision of the arms had been done in an unauthorised manner. Only the authority that grants the arms can properly change them.
1950. Union Jack replaced by Canadian Red Ensign.
1952. Canadian Red Ensign replaced by current flag, the arms, as revised in 1939, on a large white disc on a blue flag.
In the 1868 arms the top panel appears to be derived from the Banner of France but with the colours of the fleur-de-lis and their background transposed. The shade of blue is very pale, but does match the colour of the illustration in the 1881 HMSO publication. It seems unlikely that the shade of blue is due to fading, as blues in other badges on the same sheet are much darker.
David Prothero
---
Erroneously Reported Flag of 1939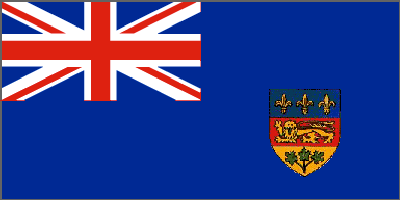 image by Chris Pinette
In 1939, modified by a ministerial decree (never approved by His Majesty):
Top : blue with 3 gold fleur de lys
Middle same
Bottom : golden lines are added to the maple leaves
The motto : Je me souviens (I remember) and the royal crown are added officially (but they were seen unofficially since 1908 when Eugene Etienne Tache added them at the entrance of the Parliament's Hotel - he was the architect of the building)
Luc-Vartan Baronian, 17 February 1997
No Canadian Provincial Blue Ensigns were ever authorised by the Admiralty/Colonial Office. In the 1881 HM Stationery Office publication 'Arms and Badges of the Several Colonies of Great Britain', a note under the badge of the Governor-General reads :- "This badge with the crown is used by the Governor General of the Dominion of Canada and without the crown is used in the fly of all Vessels belonging to the Dominion of Canada irrespective of the particular Province to which they belong."
David Prothero, 14 May 2005
One thing I reported under Burroughs Pelletier proposal "A" would also seem to disprove the existence of a blue ensign used by the Québec government: Why would the Ministry for Mines order unofficial flags to represent the province if they already had something?
Marc Pasquin, 13 May 2005