This page is part of © FOTW Flags Of The World website
Standard of Gaspésie, Quebec, Canada
Anniversary of Jacques Cartier landing
Last modified: 2012-08-05 by rob raeside
Keywords: quebec | gaspesie | unidentified flag |
Links: FOTW homepage | search | disclaimer and copyright | write us | mirrors

---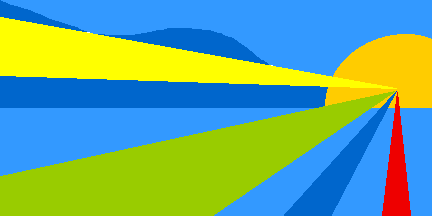 image by Ivan Sache, 16 January 2010
---
See also:
---
The "Corporation des Fêtes de Gaspé 2009" (Gaspé Festival Corporation 2009) was set up to organize the celebration of the 475th anniversary of Jacques Cartier's landing at Gaspé on 24 July 1534 ("475e Gaspésie 2009"). Cartier erected a cross, which is traditionally considered as the proof of the territorial claim by King of France François I and, therefore, the founding event of the French colonization in the Americas, Gaspé being nicknamed "The Cradle of Canada". Some historians question this interpretation, considering that crosses were commonly used at that time as a help to sailors and that the official explanation of the event was invented much later to substantiate the French claims. Anyway, nothing has remained of the cross but a replica built in Saint-Malo (Brittany, France), charged with the royal arms '"Azure three fleurs-de-lis or". In 1934, to celebrate the 400th anniversary of the event, a monolithic granite cross (10 m in height, 29 t in weight) of modern design was erected on the most probable site (also disputed because of the lack of details in Cartier's original record) of the founding event; the cross was relocated in 1979 in the downtown.

The "Corporation des Fêtes de Gaspé 2009" unveiled the "standard of Gaspésie" on its blog on 19 January 2008. Deemed "typically Gaspésien", the flag has the following explanation (original in French):
In the East, between the sea and the mountains,
Stands up the rising sun,
High and proud, its warmth is in the image
Of the soul of the Gaspésiens.
Sometimes bright, sometimes blurred,
It is always there.
Its rays, red for fall, blue for winter,
green for spring and yellow for summer,
Illuminate our motherland,
Uniting and wrapping it within
An aura of joy and hope.
The dimension of the flag is 36" x 72", that is a 1:2 proportion.

http://lecartablenouvelles.blogspot.com/2009/01/dvoilement-de-ltendard-de-la-gaspsie.html

Claudine Roy, President of the Board of the "Corporation", convinced the well-known Canadian astronaut Julie Payette (b. 1963) to patron the celebrations. After having completed the cross-country skiing race "Traversée de la Gaspésie", also organized by Claudine Roy, Julie Payette was offered the flag of Gaspésie. She brought the flag into the "Endeavour" space shuttle and the International Space Station during the STS-127 mission (15-31 July 2009). She had been expected to bring back the flag to Gaspé on 24 July 2009; due to the postponing of the mission, the ceremony actually took place on 28 August 2009. During the ceremony, the astronaut stressed that the flag had made 248 revolutions around the Earth, travelling 10.5 millions km.
http://webtele.tv/index.php?id=76&c=12 - Video of the ceremony (the flag appears at the very end of the video)

A photo of the flag brought by Julie Payette is shown on the Canadian Space Agency's website: http://www.asc-csa.gc.ca/eng/missions/sts-127/ofk.asp#ofk6 - (the image shows the reverse of the flag, with the sun rising in the west!)
Ivan Sache, 16 January 2010
---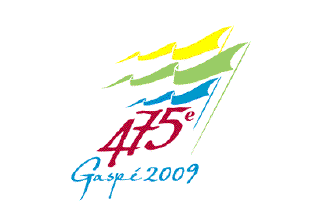 image by Ivan Sache, 16 January 2010
The official flag of the 2009 celebration is a 36" x 54" white flag with the corporation's logo. On the logo, the three flags, from top to bottom, yellow, green and blue, can be seen as waves, the wind or sails. As on the flag of Gaspésie, the colours represent the four seasons. There is also a set of coloured flags (red, blue, green and yellow; 36" x 54" and 6" x 10") of a more complex design, also including the logo.

http://www.475gaspe.com/?id=5&titre=Salle_de_presse_et_signature_corporative - Logo
http://www.475gaspe.com/?id=9&titre=Pavoisement___Decoration - Flags
Ivan Sache, 16 January 2010
---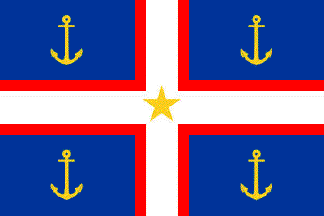 image by Ivan Sache, 16 January 2010
The "standard of Gaspésie" does not seem to have been unanimously accepted in Gaspésie. On 22 July 2009, a visitor to the blog complained that the Gaspesians did not seem to have been widely consulted on the flag; s/he stressed that nothing in the flag's design is specifically representative of Gaspésie.

In "Le Riverain", 14 January 2010, Daniel Lamarre presents a proposal of "flag of Gaspésie". The proposal is also supported by a Facebook group that claims some 1,500 members.

The project was initiated in autumn 2001 by the historian Marc-Antoine Deroy, from Sainte-Anne-des-Monts, and Dave Noël, from Alma. They wanted Gaspésie to be the second region of Québec after Saguenay-Lac-Saint-Jean to have its own flag. I understand that the creation of the "standard of Gaspésie" boosted the old project.

The "flag of Gaspésie", sought to be an alternative to the "standard of Gaspésie", is blue with a white cross fimbriated in red, a yellow star in the middle and a yellow anchor in each quarter. The authors claim that each element of the flag has a proper, local significance and follows the rules of vexillology and heraldry. The blue quarters represent the Gulf of Saint Lawrence. The white cross recall the [French royal] flags hoisted by the explorers Jacques Cartier and Samuel of Champlain, the whit cross on blue recalling that Gaspésie is part of Québec. The red fimbriation represents the energy available on the shores of Gaspésie. The anchors recall that fishing was the founding activity of Gaspésie and that its inhabitants are "anchored in the four corners" of the territory. This is a literal illustration of the French expression "ancrés dans les quatre coins", which means "firmly settled in every corner of the territory". Anchors were also used as their symbol by the French port towns. The star represent the Mounts Notre-Dame, located in the center of the region, and is also a tribute to the Acadian settlers in Gaspésie.

The next step is to present the flag to the Regional Conference of Representatives. The proposers have also created a Facebook group, which has now more than 1,500 members.
http://leriverain.canoe.ca/webapp/sitepages/content.asp?contentid=125280&id=483&classif=Nouvelles - "Le Riverain", 14 January 2010
http://www.facebook.com/group.php?gid=66226314965&ref=share -"Drapeau de la Gaspésie" Facebook group
Ivan Sache, 16 January 2010
In "Le Riverain", 2 February 2010, Daniel Lamarre reports that the flag proposal was officially delivered to the Regional Conference of the Representatives ("Conférence Régionale des Élus" - CRÉ) during a public meeting held in Sainte-Anne-des-Monts on 29 January 2010. Following a presentation of the proposal by Marc-Antoine DeRoy, the board of the CRÉ have accepted to put the flag proposal on the agenda of the next meeting, scheduled to the beginning of March 2010. The CRÉ will probably require a democratic process of adoption and the appointment of a ad hoc commission. DeRoy asked that the submitted proposals are designed by professionals and follow the rules of heraldry; the CRÉ members are also required to spread the project, especially via the Municipal Councils.
http://leriverain.canoe.ca/webapp/sitepages/content.asp?contentid=127749&id=483&classif=Nouvelles
Ivan Sache, 2 February 2010