This page is part of © FOTW Flags Of The World website
Sociedad Española de Vexilología (SEV)
Spanish Vexillological Society
Last modified: 2014-04-05 by rob raeside
Keywords: vexillological association | sociedad española de vexilología |
Links: FOTW homepage | search | disclaimer and copyright | write us | mirrors

---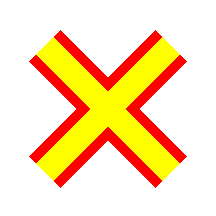 1:1, image by Jorge Candeias
---
See also
---
Association Name:
Sociedad Española de Vexilología (SEV)
Officers:
Jose-Carlos Alegria Diaz, president
Jorge Hurtado Maqueda, vice president
José-Manuel Erbez Rodríguez, secretary
Tomás Rodríguez Peñas, treasurer
Type:
Association
Territory:
Spain
Established:
31 October 1977
FIAV Member since:
29 June 1979 (Full Member)
Flag:
Square with a white field, a yellow saltire fimbriated in red.
---
The Spanish Vexillological Society adopted a flag based in the Burgundy cross. The flag of SEV was created image by José Luis Brugués, a long-time vexillologist and co-founder of the SEV.
Jaume Ollé, 28 Aug 1999
The Burgundy cross was chosen because of its tradition in Spanish flags long before this century's political ideologies.
José Carlos Alegría, 30 Aug 1999
---
SEV 17th Congress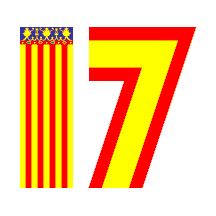 image by Luis Miguel Arias
Several proposals for the flag of the 17th Congress of the Sociedad Española de Vexilología (SEV) held in Valencia in 2002 were submitted by Spanish vexillologists. The winner was Luis Miguel Arias's.
The square white field is that of the SEV flag. The two digits which make up the number 17 show the flags of Valencia (both the city and the autonomous community) and Spain.
The bat (Valencian "rat penat" or winged rat) is a common charge in municipal arms of the former territories of the Kingdom of Aragon, particularly in Valencian ones, the most known one being of course that of Valencia city.
Even though it is now always blazoned and shown as a (usually black) bat, it is actually a mistaken representation of the crest of the Aragonese royal arms, a dragon. This can still be seen on some arms, as is the case with the arms of the Valencian Community or those of the Diputación Provincial (provincial government) of Valencia
Santiago Dotor, 9 May 2002
---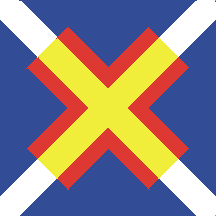 1:1 image by Santiago Dotor, 10 May 2004
Luis Miguel Arias reports on the 19th congress of the Sociedad Española de Vexilología (SEV), which takes place this weekend at Tenerife (Canary Islands). The congress flag was designed by Canary vexillologist José Manuel Erbez and merges the flag of Tenerife island and that of the SEV (above).
Santiago Dotor, 08 Oct 2004
---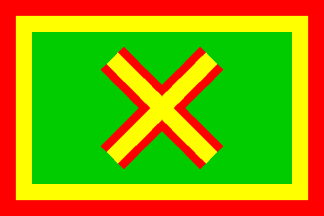 1:1 image by Santiago Dotor, 09 Mar 2005
Attached is the flag adopted by the Sociedad Española de Vexilología (SEV) for its upcoming 20th Congress, to be held in Castellón de la Plana (Castellón province, Valencian Community) on 30th April and 1st May.
The flag is based on those of Castellón de la Plana and the SEV. It was designed by the late Franco Ricart, one of the SEV founding members, who died recently.
Santiago Dotor, 09 Mar 2005
---
Contact Information
Mailing Address:
Other Communication:
Carretera de Loeches 13-D, 4º-C
Torrejón de Ardoz, 28850 Madrid
Spain
Telephone: Telephone: +34 985 33 24 11 (José C. Alegría)
E-mail: vexilologia@terra.es
Home Page: http://www.vexilologia.org/

Publications
Links to journals lists articles from this source (if present) by bibliographic code, not by title or content.
Name
Language
Frequency
Period
ISSN
Banderas
Spanish
quarterly
since 1979
0213-0955
Gaceta de Banderas
Spanish
French
English
eight times/yr
since 1979 in collaboration with CEBED