This page is part of © FOTW Flags Of The World website
Pacifist flags (U.S.)
Last modified: 2018-12-31 by rick wyatt
Keywords: pacifism | peace | peace sign | united states |
Links: FOTW homepage | search | disclaimer and copyright | write us | mirrors

---
---
See also:
---
Examples of Peace U.S. flags
| | | |
| --- | --- | --- |
| image by Tom Sparks, 17 March 1999 | | image by Jorge Candeias, 19 May 1999 |
It consists of the usual U.S. flag but the canton, instead of the stars, bears the so called peace sign.
António Martins-Tuválkin, 5 December 1999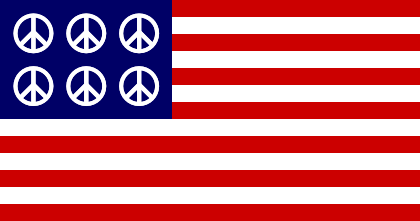 image by Pete Loeser, 1 February 2016
During the mid-1960s a strong protest movement was born among the draft-age college students to protest the Vietnam War. At first the student protesters used crude peace symbols, usually black painted on white backgrounds, at their rallies. The peace symbol was also spray painted on walls and clothing.

The use of the peace symbol on flags was rare in these early protest rallies, where signs of protest leaned more heavily on the burning of flags rather than carrying them. However, as the protest movement matured into the Peace Movement several popular flag designs emerged, the most popular being a turquoise green flag with a white peace symbol on it.

Also reported were two versions of the United States flag with modified blue cantons. The first had a single large white peace symbol centered in the canton. The second, which had the traditional stars replaced by six white peace symbols arranged in two rows of three, was much more rarely seen when compared to the popularity of other designs. Both of these "stars and stripes" hybrids were reported being used in the United States in the early 1970s in the growing widespread opposition to the Viet-Nam War. These Peace flags were most commonly flown at anti-war demonstrations and rock festivals, but also used as wall decorations.
Pete Loeser, 1 February 2016, modified from Historical Flags of Our Ancestors
The symbol for peace was first used during the Campaign for Nuclear Disarmament in the United Kingdom as protest for nuclear tests being carried out in the 1950s. Then in the 1960s it became widespread in Music Festivals like Woodstock, for example, where attendance was massive (and probably and most likely Monterrey as well as many others from that era). I would even take the risk to say that during the (African-American) Civil Rights Movement in the U.S. this peace symbol was also seen, thus becoming not only a symbol for anti-draft protesters, but a much wider range of people was represented by this in a decade that saw a lot of turmoil in the U.S.

Also, let's not forget that elsewhere around the world, but also in the U.S. as well, other major important events (related to peace, pacifism, anti-war, pro women rights, same-sex rights, etc.) were taking place (i.e. the non-violence doctrine by Gandhi in India; the Non-Aligned Movement in Third World Countries as opposition to two blocs during the Cold War; Pop Art in all its forms as a counter culture, hippies, etc.).
Esteban Rivera, 2 February 2016

---
Version with Stars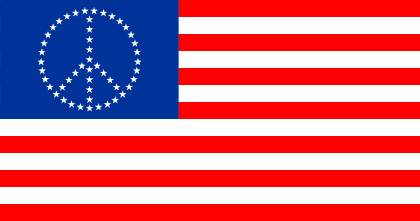 image by Jorge Candeias, 1 April 2003
This flag was a relatively common sighting in the American demonstrations, judging from it's appearances in the photos.
Jorge Candeias, 1 April 2003
---
Peace Sign Ecology Flag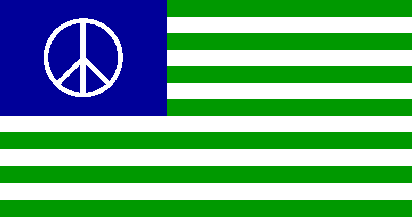 image by Antonio Martins and Željko Heimer, 13 May 1999
This flag was first made by the San Francisco based Paramount Flag Co. in August 1967. The flag, based on the Stars and Stripes, used green stripes instead of red and a white peace symbol in the canton instead of the usual field of stars. The colors represented "pure air and green land"" and environmental action.
Pete Loeser, 1 October 2015
---
Peace Symbol flag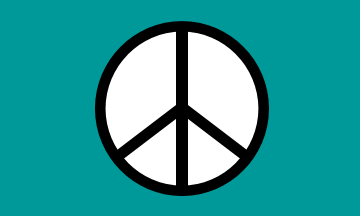 image by Eugene Ipavec, 17 April 2009
I saw on the BBC news website a peace flag during a protest in Washington DC, marking the sixth anniversary of the beginning of the Iraq War in 2003.
Eugene Ipavec, 17 April 2009
The flag appears in a variety of shades, from light blue to turquoise to teal. An example which is undisputedly light blue was photographed in Jerome, Arizona on 2010-06-23: https://www.flickr.com/photos/onemillion/4734298504.
Photo of another flag with the same description can be found here: https://www.flickr.com/photos/dr_television/2871929446 and the flag seen in Santa Cruz, California on 2012-03-03: https://www.flickr.com/photos/markaclem/6804118362 also seems to match the description, as well as the one from Minneapolis, Minnesota which was photographed on 2007-08-11: https://www.flickr.com/photos/bryanbope/1084408677.

Even the flags whose field can be described as light blue may display color which inclines towards turquoise. Such was the case with the one from San Francisco, California photographed on 2010-03-20: https://www.flickr.com/photos/19180182@N07/4449543018 or the one photographed on the same day in Washington, DC: https://www.flickr.com/photos/theqspeaks/4453677058 while there are also those whose color is not easy to classify, as was
the case in Miami, Florida on 2008-11-17: https://www.flickr.com/photos/luxclara/3039318412/.
On some flags, the color should better be classified as turquoise, such as the one from San Francisco, California photographed on 2007-03-18: https://www.flickr.com/photos/technomonk/433062197, the one from Washington, DC seen on 2007-09-15: https://www.flickr.com/photos/10911427@N06/1389484241 or the one photographed in the same city on 2011-10-06: https://www.flickr.com/photos/thisisbossi/6219172927/.

When darker, the color may look more like teal, like the example from Denver, Colorado on 2014-07-19: https://www.flickr.com/photos/desrowvisuals/14556330168 but even in those cases, it is not always easy to describe the color, for it may incline a bit towards the blue. Such was the case with the flag from Milwaukee, Wisconsin which was seen on 2007-03-03: https://www.flickr.com/photos/spikymushroom/409967790 as well as the one from Lawrence, Kansas which was seen on 2009-06-10: https://www.flickr.com/photos/stupidlittlekid/3614580545

The flag was probably originally meant to display the sky blue color, but it was changed by age and weather on some copies, while the others might have been modelled after those aged items and created with original turquoise or teal color.
Tomislav Todorovic, 10 January 2016