This page is part of © FOTW Flags Of The World website
Baltimore Ravens (U.S.)
National Football League, AFC North,
Last modified: 2017-12-22 by rick wyatt
Keywords: nfl | afc | united states | football | baltimore ravens | ravens | raven head |
Links: FOTW homepage | search | disclaimer and copyright | write us | mirrors

---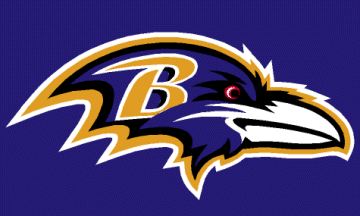 image by Randy Young, 30 January 2017

---
---
See also:
---
Introduction: The Baltimore Ravens franchise
Baltimore Ravens (1996-present)
The Baltimore Ravens play in the American Football Conference (AFC) North division, part of the National Football League (NFL). The team was founded in 1996 when the Cleveland Browns were relocated from Cleveland, Ohio, to Baltimore. Neither the NFL nor the Ravens organization consider the Ravens to be a continuation of the Browns or Baltimore's previous football team, the Baltimore Colts. Throughout their short history, the Ravens have won division championships four times (2003, 2006, 2011, and 2012), won the conference championship two times (2000 and 2012), and won two Super Bowls (Super Bowl XXXV in 2000 and Super Bowl XLVII in 2012), and appeared in the playoffs 10 times.

The Ravens franchise is based in Baltimore, Maryland, and play their home games at M&T Bank Stadium.

Note: Be aware that there are a host of manufacturer variants of these and other fan flags being marketed for "Ravens" fans. This includes garden flags, banners, and pennants.
Randy Young, 30 January 2017

---
Official flags
There are two flags used by the Baltimore Ravens organization at the football games. The flags are carried on the field and used to introduce the players prior to the game, then are carried on the sidelines during the game to keep the crowd engaged and cheering.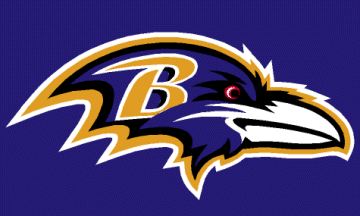 image by Randy Young, 30 January 2017

The first of these flags features the Ravens team logo (a purple raven head facing the fly, fimbriated gold, and bearing a gold capital "B") centered on a purple field.

The second flag is nearly identical to the first, but with the team name appearing beneath the logo.
Randy Young, 30 January 2017

---
Commemorative Flags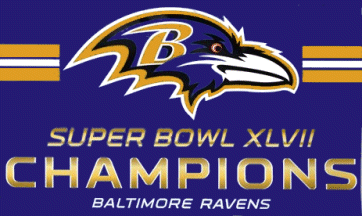 image by Randy Young, 31 January 2017

There are many non-standardized designs for flags commemorating the Ravens' two Super Bowl victories. This particular flag commemorates the Baltimore Ravens' victory in Super Bowl XLVII over the San Francisco 49ers in 2013. Randy Young, 31 January 2017

---
Fan Flags
Baltimore Ravens Man Cave Style Flag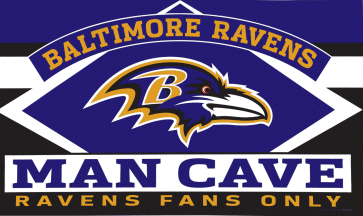 image by Randy Young, 31 January 2017

These popular Ravens fan flags are for the "Man Cave." They are being made for most NFL teams, same design, and different colors.
Randy Young, 31 January 2017

---
Baltimore Ravens Helmet Style Flag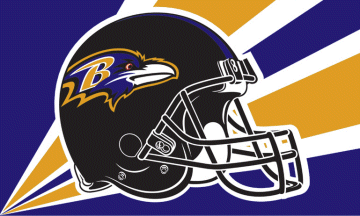 image by Randy Young, 30 January 2017

These helmet-style flags done in team colors are being made for most NFL teams and have become very popular, with both diagonal rays and horizontal stripes.
Randy Young, 30 January 2017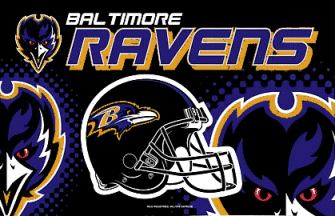 image by Randy Young, 31 January 2017

This flag has the team's helmet design in the center of a black field beneath the team's name and surrounded by purple ravens that appear to be looking at the viewer.
Randy Young, 31 January 2017

---
Baltimore Ravens Vader Style Flag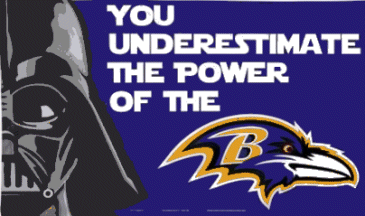 image by Randy Young, 31 January 2017

This flag is a cross between a Baltimore Ravens fan flag and Star Wars fan flag. A similar flag is being made for most NFL teams. The flag has a profile of Star Wars villain Darth Vader on the hoist and the team's logo on the fly. In between are the words "YOU UNDERESTIMATE THE POWER OF THE" in one of the team's primary colors on a field of another of the team's colors, with the result being a vision of Darth Vader saying "You underestimate the power of the [NFL team name]."
Randy Young, 31 January 2017

---
Baltimore Ravens Allegiance Flags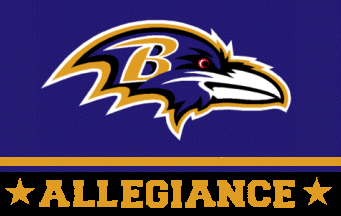 image by Randy Young, 31 January 2017

These have become popular designs for fans of many of the NFL teams. It refers to the fans that have pledged their allegiance to their team. The design shows the team's logo centered in the upper half of the flag on a field of one of the team's primary colors. A white stripe separates the logo portion of the flag from the lower one-fourth, which bears the word "ALLEGIANCE" between two stars, all in one of the team's primary colors on a field of another of the team's colors.
Randy Young, 31 January 2017

---
Ravens Country flag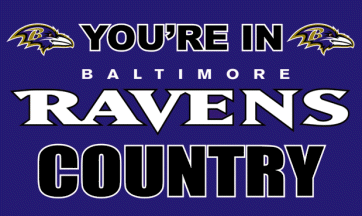 image by Randy Young, 30 January 2017

This is another popular design for fans of many of the NFL teams. It refers to the territory of fans of the team. The design shows the team's logo in the upper hoist and upper fly corners on a field of one of the team's primary colors. Between the logos are the words "YOU'RE IN" above the name of the team, with the word "COUNTRY" in the bottom, all in the team's other primary colors.
Randy Young, 30 January 2017

---
Baltimore Ravens-Orioles flag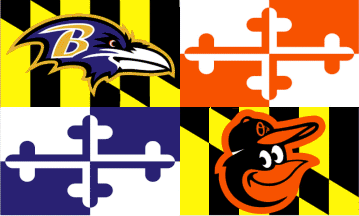 image by Randy Young, 31 January 2017


This flag represents fans who are simply Baltimore sports fans, cheering for Baltimore's football team - the Ravens - and their baseball team - the Orioles. The flag is in the form of Maryland's state flag, with the Ravens logo in the first quarter and the Orioles logo in the fourth quarter, while the counter-charged cross in the second and third quarters have been recolored to reflect the orange and white of the Orioles and purple and white of the Ravens, respectively.
Randy Young, 31 January 2017