This page is part of © FOTW Flags Of The World website
2020 Campaign Donald Trump Flags (Republican)
US Presidential Election of 2020
Last modified: 2021-07-03 by rick wyatt
Keywords: s |
Links: FOTW homepage | search | disclaimer and copyright | write us | mirrors

---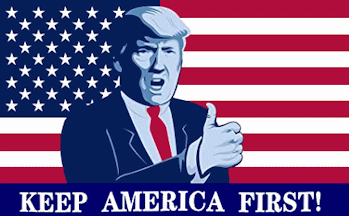 image by Randy Young, 7 February 2021.
On this Page:
See also:
---
Introduction: 2020 Political Campaign of Donald Trump and Mike Pence
The Republican Party selected incumbent President Donald Trump as its presidential nominee at the 2020 Republican National Convention, which was held from August 24-27, 2020. His running mate was incumbent Vice-President Mike Pence.
In the following 2020 presidential race both candidates received record-breaking number of votes, not surprising since the U.S. population has grown from 304 million people in 2008, to more than 330 million people in 2020.
Donald Trump and Mike Pence earned 232 electoral votes and received 74,111,419 popular votes (46.96%). Their Democratic opponents the former Democratic Vice-President Joe Bidden and California Senator Kamala Harris garnered 306 electoral votes and 81,009,468 (51.33%) to win the election. Kamala Harris would become the first Black woman and person of South Asian descent to become Vice-President.
Trump left office amongst his false claims that his victory had been stolen from him, and in danger of being impeached for the second time for inciting a mob to violently attack the capital building causing five deaths. All his untrue claims about winning the election were unsubstantiated and without any basis in fact.
Pete Loeser, 7 February 2021
---
2020 Pro-Trump Campaign Flags *
Both Official Republican Party and variant Commercial Flags
The number of both pro- and anti-Trump flags is astonishing and certainly we will never be able to catalog them all. Dave Martucci, 1 November 2020

The 2020 election generated a profusion of flags, both for and against Donald Trump, a selection of which are shown here. The illustrations are the work of Randy Young, Tomislav Todorović, and myself.
Pete Loeser, 7 February 2021

* Note: Some of these flags were used in both the 2016 and 2020 Election Campaigns, and one for a future imagined campaign in 2024.
---
(they may include 2020 Republican Party presidential primaries' flags)

These flags cover the period when Donald J. Trump formally commits himself and his team to take part in 2020 as a Republican Party candidate for the primaries, leading up to the 2020 U.S. Presidential elections. It may also portray flags used right after winning the Republican party's ticket for the Presidential election as well as flags used during and after the contested results for the appointment of the 46th President of the United States (both pro and against if applicable). The main slogan is "Keep America Great (Again)" and it is both featured on the campaign logo and flags.
Esteban Rivera, 31 December 2020

Pro-Trump images: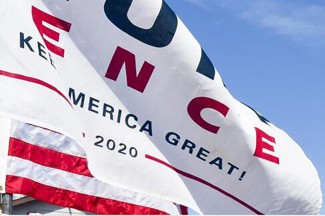 image located by Esteban Rivera, 31 December 2020
Picture of a flag based on the final campaign logo with some slight differences first seen in 2016, white background version (cropped image from the original located here: https://www.gannett-cdn.com, source: https://www.seacoastonline.com/story/news/)
Esteban Rivera, 31 December 2020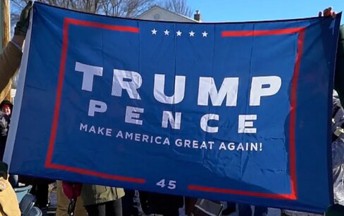 image located by Esteban Rivera, 31 December 2020
Yet another flag based on the campaign logo, featuring the number "45" below in white) (cropped image from the original located here: https://www.gannett-cdn.com, source: https://www.burlingtonfreepress.com/story)
Esteban Rivera, 31 December 2020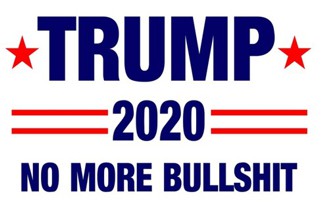 image located by Esteban Rivera, 31 December 2020
Sticker logo with inscription "NO MORE BULLSHIT") (cropped image from the original located here: https://images-na.ssl-images-amazon.com, source: https://www.amazon.com/Trump-2020-Bullshit-Aluminum-Metal)
Esteban Rivera, 31 December 2020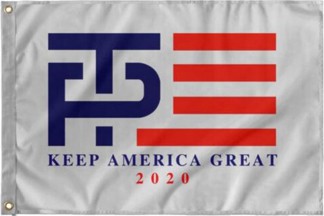 image located by Esteban Rivera, 31 December 2020
Flag based on the first Trump-Pence 2016 campaign logo which was later discarded, adjusted to 2020 (cropped image from the video located at: https://i.etsystatic.com/, source: https://comercio-local.qroo.gob.mx/Presidential-Candidates)
Esteban Rivera, 31 December 2020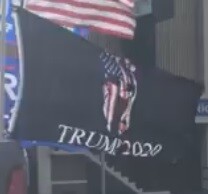 image located by Esteban Rivera, 31 December 2020
Pro-Trump flag observed at Humboldt County, on October 3, 2020, in support of current President's bid for reelection) (cropped image from the video located at: https://www.facebook.com/RedheadedBlackbelt and also found here: https://kymkemp.com)
Esteban Rivera, 31 December 2020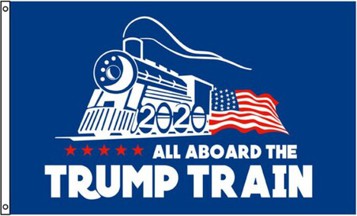 image located by Esteban Rivera, 31 December 2020
"All aboard the Trump train 2020" logo flag (copied image from the original located here:
https://i5.walmartimages.com, source: https://www.walmart.com/ip/Trump-Flag-Train
Esteban Rivera, 31 December 2020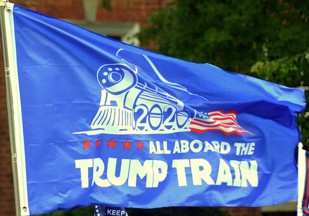 image located by Esteban Rivera, 31 December 2020
Flag based on the logo previously described, in blue background version and most common in use) (cropped image from the original located here: https://www.wunc.org, source: https://www.wunc.org/post/pro-trump-caravan-loops-around-orange-county-faces-counter-protesters)
Esteban Rivera, 31 December 2020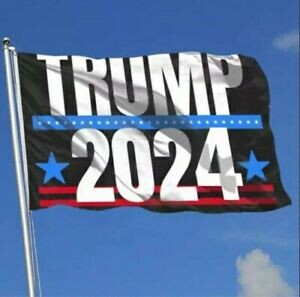 image located by Esteban Rivera, 19 July 2021
This is a logo displaying Trump 2024 in white capitals with two five-pointed blue stars on each side, with a Thin Blue Line in the middle and two thinner Red Line below the stars) (copied image from the original located here:
https://i.ebayimg.com/images/g/uwkAAOSw7vRfRH~L/s-l300.jpg, source: https://www.ebay.com/itm/Trump-2024-flag-3x5-ships-from-Nevada-/313195489307
Esteban Rivera, 19 July 2021