This page is part of © FOTW Flags Of The World website
Revenue Cutter Service (U.S.)
Last modified: 2019-01-01 by rick wyatt
Keywords: united states | revenue cutter |
Links: FOTW homepage | search | disclaimer and copyright | write us | mirrors

---
---
See also:
---
Overview
In 1790 Alexander Hamilton formed the Revenue Cutter Service for the express purpose of enforcing the customs laws. In contrast, the other armed services are prohibited by law from conducting law enforcement activities, except as authorized by Congress on a limited basis. (Posse Comitatus Act)
Herbert R. Mann, 9 October 1999
In 1915, the Revenue Cutter Service and the Lifesaving Service were merged to form the Coast Guard under its modern name. Over time, additional functions were added as other maritime safety organizations were amalgamated into the USCG.
Joe McMillan, 22 October 2000
---
Circa 1917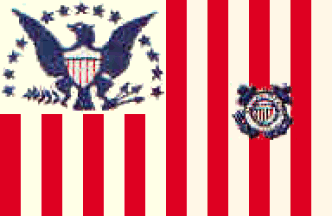 image by Phil Nelson, 18 April 2000
---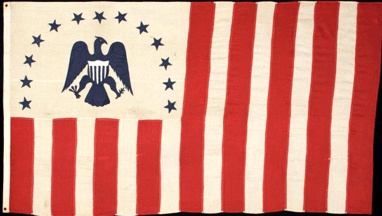 image located by Esteban Rivera, 5 July 2016
At https://a.1stdibscdn.com/archivesE/upload/8497/24_13/ofj868fv/XXX_ofj868fv.jpg is a "Revenue Cutter Service Flag with a Blue Eagle amid an arch of 13 blue stars on a white field and 16 vertical red and white stripes, ca. 1880-1895".

"(The United States Revenue Cutter Service) was created by an act of Congress on August 4, 1799, when there were 16 states in the Union. For this reason, it has 16 vertical, red and white stripes. At one time there may have been 16 blue stars, set in an unspecified pattern around a large eagle on a white canton, but no original survives. Some early illustrations show 15 stars, which was the official star count on the American National flag from 1795 until 1818, and 16 stripes. Among the tiny number of surviving examples, all have 13 stars and 16 stripes, like this flag, except one, which has 13 stars and 13 stripes. This particular example has a rather unusual profile for the period. Tall and narrow and with a pronounced brow, is not in the design seen on most RCS flags, nor on most American objects with eagle imagery. The overall impact is one of a flag with greater folk presence than the small handful of the others that I have seen that were produced in the last quarter of the 19th century through the beginning of the 20th. Since eagles are both very desirable and rare on early American flags of all kinds, and because the RCS design is so visually arresting and different, this is a particularly fine example.
The Revenue Cutter Service was founded in 1790 by U.S. Treasury Secretary Alexander Hamilton, through an act of the United States Congress. Its job was to protect merchant ships in and around major ports, and to thus ensure not only the safe transport of goods with regard to looting and piracy, but also to oversee that proper tariffs were collected on trade goods. Following the Revolutionary War, America sold its ships and had no navy. Vast debt taken on to fund the war was partially repaid by their sale and the most significant source of revenue for the Treasury Department was taxes on import goods. Ten ships were ordered by the "Revenue Marine", as it was originally called, and distributed among various ports. And while the U.S. Treasury held the overall umbrella for the Revenue Marine, the captain of each ship was directly responsible to the customs collector in whatever port the ship sailed from.
Captains had wide-ranging authority to do what they saw fit to keep order and could board and search any vessel, whether docked or at sea. From 1790 until the U.S. Navy reformed in 1798, the Revenue Marine cutters were the only armed American ships in government service. Afterwards, when we went to war at sea, they fought alongside the Navy and have since participated in every major U.S. seafaring conflict, including D-Day during WWII. The mission, general orders, and organization of Revenue Marine was reformed and revised a couple of times during the 19th century. First by default, then by general orders, one of its functions became the rescue of ships in distress. In 1894, the name was formally changed to the Revenue Cutter Service and this is the term most widely used today by historians and collectors of related artifacts. In 1915 The RCS merged with the U.S. Lifesaving Service to form the U.S. Coast Guard. As of this date it was no longer responsible to the U.S. Treasury, but instead became a branch of the U.S. Armed Forces, responsible to the president. Today it falls under the Department of Homeland Security in times of peace, but at times of war its direction can be transferred by the president to the U.S. Navy.
"It was generally referred to as the Revenue-Marine until July 1894, when it was officially renamed as the Revenue Cutter Service. The Revenue Cutter Service operated under the authority of the U.S. Department of the Treasury. On 28 January 1915, the service was merged by an act of Congress with the United States Life-Saving Service to form the United States Coast Guard.
Sources:
https://www.1stdibs.com/furniture/folk-art/memorabilia-political-patriotic/rare-revenue-cutter-service-flag-blue-eagle/id-f_821708/ and https://en.wikipedia.org/wiki/United_States_Revenue_Cutter_Service

For additional (historical) Ensigns see:
- 1836: https://en.wikipedia.org/wiki/File:Ensign_of_the_United_States_Revenue-Marine_(1836).png
- 1841: https://en.wikipedia.org/wiki/File:Ensign_of_the_United_States_Revenue-Marine_(1841).png
- 1868: https://en.wikipedia.org/wiki/File:Ensign_of_the_United_States_Revenue-Marine_(1868).png

Esteban Rivera, 5 July 2016