This page is part of © FOTW Flags Of The World website
Navy (U.S.)
Last modified: 2020-07-04 by rick wyatt
Keywords: united states | navy | ship | anchor | submarine |
Links: FOTW homepage | search | disclaimer and copyright | write us | mirrors

---

Indoor/Parade version
image by Rick Wyatt, 6 September 1998

Outdoor version
image by Rick Wyatt, 14 November 1998
---
---
See also:
---
Description
The website of the U.S. Naval History Center says:
Ships of the earliest period in the Nation's naval history wore a variety of flags, including the striped Grand Union, and those bearing a pine tree or rattlesnake. However, these various banners may be considered steps in the genesis of the national ensign, the "Stars and Stripes," rather than forebears of a specific flag for the Navy.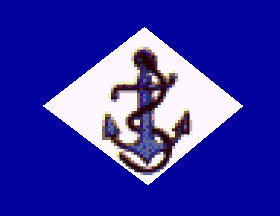 Toward the end of the nineteenth century the Infantry Battalion flag was introduced for use by naval landing forces. This was a blue flag with a white diamond shaped device in the center and a blue foul anchor superimposed on the diamond. For more than sixty years, the Infantry Battalion flag served as the unofficial Navy flag in drill formations and parades and at other ceremonies. An official Navy flag, truly representative of the Navy's operating forces at sea, was authorized by Presidential order 24 April 1959:
The flag for the United States Navy is 4 feet 4 inches hoist by 5 feet 6 inches fly, of dark blue material, with yellow fringe, 2 1/2 inches wide. In the center of the flag is a device 3 feet 1 inch overall consisting of the inner pictorial position of the seal of the Department of the Navy (with the exception that a continuation of the sea has been substituted for the land area), in its proper colors within a circular yellow rope edging, all 2 feet 6 inches in diameter above a yellow scroll inscribed "United States Navy," in dark blue letters.
Unlike the national ensign, commission pennant, union jack, and admiral's broad pennant which fly from gaff, mast, or staff on board naval vessels, the flag of the United States Navy is reserved for display purposes and is carried by an honor guard on ceremonial occasions.
Andrew Rogers, 8 January 1999

While the outdoor versions are certainly seen being used by various unofficial groups, they are not only unauthorized but in some cases expressly prohibited by the relevant service directives. In the Navy's case, SECNAV Instruction 10520.2D, paragraph 4.a(3) says "The U.S. Navy Flag shall not be used for outdoor fixed display purposes."
Joe McMillan, 6 September 1999

The display of the Navy flag is governed by Secretary of the Navy instruction 10520.2D. This instruction authorizes but does not require the display of the full set of "battle streamers" (so officially called by the Navy; the Army and Air Force call these "campaign streamers") with the Navy flag, whether indoors or carried by troops outdoors.

In fact, the enclosure to the instruction provides a specific list of commands and organizations that are entitled to be issued a Navy flag with the full set of streamers, and in the operating forces the list goes down only as far as the force/type command level (two- to three-star level). Other commands are supposed to provide justification for the issue of the flag with streamers. So, clearly, the display of the Navy flag without streamers is permissible, according to this instruction.
Joe McMillan, 26 May 2004

Three flags are seen on Navy seal: the US flag, the commission pennant and a commodore's flag- see
www.history.navy.mil/faqs/faq43-1.htm "On a circular background of fair sky and moderate sea with land in sinister base, a three-masted square-rigged ship underway before a fair breeze with after topsail furled, commission pennant atop the foremast, National Ensign atop the main, and the commodore's flag atop the mizzen." Note also that the description simply says a 3 masted ship, it doesn't identify it as the US Constitution.
Ned Smith, 20 April 2006