This page is part of © FOTW Flags Of The World website
Sudan
Republic of the Sudan / Jumūrīyyat as-Sūdān
Last modified: 2019-01-11 by bruce berry
Keywords: sudan | africa | arab |
Links: FOTW homepage | search | disclaimer and copyright | write us | mirrors

---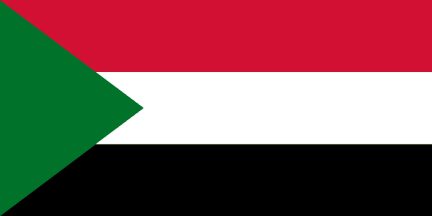 Image by Željko Heimer, 24 Jan 2003
Proportions: 1:2
Flag adopted 20 May 1970; coat of arms adopted 1970
See also:
---
Explanation of the Flag
The Sudanese national flag was adopted on 20 May 1970 and comprises three horizontal stripes of red, white and black with a green triangle next to the hoist.
The symbolism of the colours is as follows:

Red stands for struggle and the martyrs of the Sudan and the Great Arab Land.
White stands for Islam, peace, optimism, light and love.
Black stands for Sudan and the Mahdiya revolution (the Black Flag).
Green stands for prosperity, good and agriculture.
Jaume Ollé, 04 Mar 1996
It appears that Sudan adopted a new set of flag related legislation in 1993 and 1994, available at the World Intellectual Property Organization (WIPO) site in Arabic. These are:

Sudanese Marine Flags Act of 1994 (1994)
Emblem of the Republic Act of 1993 (1993)
National Flag Act of 1993 (1993)
Seal of the State Act of 1993 (1993).
Željko Heimer, 03 Feb 2012
---
The construction diagram (shown below) is based on the Album des pavillons nationaux et des marques distinctives (National flags and distinctive markings) 2000 edition [pay00] and is correct according to 'The National Flag and Foreign States Flags (Amendment) Act' which established it and which came into force on 20th May 1970. The relevant Article reads as follows:
Description and Dimensions of the National Flag.

3. The National Flag is rectangular in shape, its width is half its length and it consists of three equal horizontal rectangles and ends on the side of the staff with a triangle of two equal sides, the length of the base of the triangle is the width of the flag and the length of its vertical height is one-third the length of the flag. The colours of the rectangles from top to bottom are red, white and black respectively and the colour of the triangle is green."
Christopher Southworth, 30 Dec 2003
---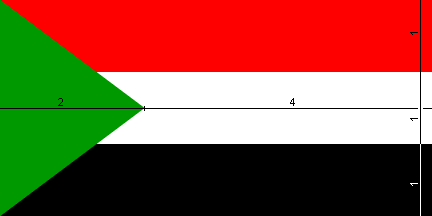 Image by Željko Heimer, 21 Jan 2003
According to the construction details provided in the Album des pavillons nationaux et des marques distinctives (National flags and distinctive markings) 2000 edition [pay00], the triangle reaches with its top from hoist towards center double the width of one stripe (which in turn is 1/3 of the length, of course).
Željko Heimer, 21 Jan 2003
The protocol manual for the London 2012 Olympics (Flags and Anthems Manual, London, 2012 [bib-lna.html]) provides recommendations for national flag designs. Each National Olympic Committee was sent an image of their flag, including the PMS shades, by the London Organising Committee of the Olympic Games (LOCOG) for their approval. Once this was obtained, the LOCOG produced a 60 x 90 cm version of the flag for further approval. So, while these specifications may not be the official, government, version of each flag, they are certainly what the National Olympic Committee believed their flag to be.

For Sudan : PMS 032 red, 355 green and black. The vertical flag is simply the horizontal version turned 90 degrees clockwise.
Ian Sumner, 10 Oct 2012
---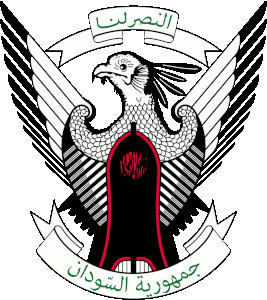 Image by Paige Herring, taken from Flags of the World by William Crampton (1990) [cra90i], 21 May 1998
The description of the Arms is given as follows:
'The arms are a secretary bird with a native shield on its breast; above it is a scroll with the motto, "Al Nadr Nila" (Victory is Ours), and beneath it is the name of the country.'
Sources: Flags and Arms across the World by Whitney Smith (1980) [smi80] and Guide to the Flags of the World by Mauro Talocci (1982) [tal82].
Paige Herring, 21 May 1998
The text above eagle's head reads An-Nasr Lana, which means "Victory is Ours". The text below reads Jumhuriyat as-Sudan ad-Dimuqratiyah (The Democratic Republic of Sudan).
Henry Churchyard, 06 April 2004
It seems that Nadr is simply a typo in the Crampons book. (Ed.)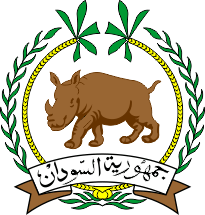 image by Zoltan Horvath, 02 Aug 2010
Above is an image from Wappenlexikon of the former Sudanese coat of arms used between 1956 and 1970. The main feature of the emblem is a rhinoceros enclosed by two palm trees.
Zoltan Horvath, 02 Aug 2010
---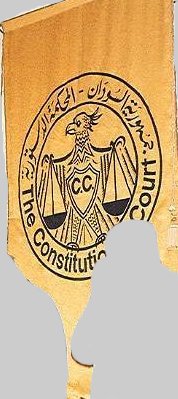 Image sent by Vanja Poposki, 11 May 2012
---