This page is part of © FOTW Flags Of The World website
Russian Navy flags
Last modified: 2015-01-17 by zoltán horváth
Keywords: navy | jack | ensign | andreevskiĭ | saint andrew | saltire (blue) | cross (white) | surrender | defeat |
Links: FOTW homepage | search | disclaimer and copyright | write us | mirrors

---
See also:
Other sites:
Russian Navy website,
reported by Pascal Vagnat, 16 Dec 1998

The Russian Navy website is not a good source. We know about lot of mistakes at this website.
Victor Lomantsov, 20 Jan 2001

Kursk class submarine insignia. Image here.
reported by Steve Stringfellow, 07 Nov 2000
---
Naval ensign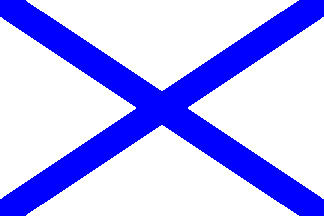 image by Yosef Obskura and Željko Heimer, 06 Apr 1999

First adopted in 1712.
António Martins, 25 Oct 1999

This flag is called in russian "андреевский" (read "ahndrehyevskeey"), which means "[St.] Andrew's", refering to the saltire motive.
António Martins, 11 Jun 2000
A flag never surrendered?
It was precisely on ships of the Russian Black Sea Fleet that this flag was hoisted for the first time three hundred years ago by the order of Peter the Great. The history of the Russian navy knows not a single case when this flag was lowered as a sign of surrender to the enemy.
Lev Ryabchikov (ITAR-TASS), 11 Dec 1999
A cute bit of phraseology! One can always twist words to make even the greatest catastrophe sound glorious and pleasant. In 1904-05 the Japanese destroyed most of Russia's Pacific fleet. The Baltic fleet then circumnavigated the globe to meet the Japanese — only to meet the same fate. Many ships did indeed go down with St. Andrew's flag still flying. After that disaster, Russia began a massive rebuilding programme.
Todd Mills, 13 Dec 1999
With all due respect to the Russian Navy, this claim strikes me as unlikely since the Japanese Navy took several Russian warships as prizes at the Battle of Tsushima, some of which were repaired and recommissioned in the IJN, e.g. the Okinoshima, ex-General Admiral Graf Apaaksin.
Tom Gregg, 13 Dec 1999
Even apart from the Tsushima debacle, I'm skeptical of this claim. There were periods in the Napoleonic wars, if I recall correctly, when Russia was allied with France. I'd bet that at least once in that period a Russian man-of-war struck to a British vessel somewhere in the world. And no surrenders during the Crimean War? World War I? Really hard to believe.
Joe McMillan, 13 Dec 1999
I checked Fred T. Jane's 1904 book, The Imperial Russian Navy, just to verify my hunch that it couldn't be true. In his historical chapters, Jane includes examples of Russian ships surrendering to Swedish, Austrian, and British ships. This includes specifically the statements that the 74-gun ship of the line Vladimir "struck" to the Swedes at Gotland in 1714 and the Svlod to HMS Centaur in 1808. In addition, although Jane doesn't specifically refer to striking of colors, Admiral Senyavin surrendered his entire fleet to the Royal Navy in the Tagus estuary in Portugal in August 1808. Since Jane was writing before the Russo-Japanese War, this does not include the Tsushima debacle.
The current Andreyevsky flag was introduced in 1712 and remained the ensign of the Russian Navy until 1917. There's a remote chance, I suppose, that in each case mentioned above (and the other surrenders of Russian vessels) it was some other flag that was struck. Many flags were used at varying periods up to 1865, so it may be that there's a bit of sophistry at play in the claim that the Andreyevsky flag has never been lowered in surrender. But I'd say the burden of proof is on the Russian Navy, and even if that's their rationale it would be a pretty flimsy case.
Joe McMillan, 16 Dec 1999
---
Navy jack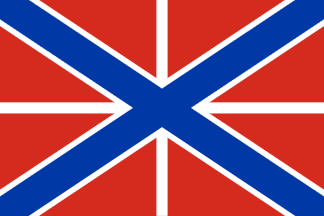 image by Yosef Obskura and Željko Heimer, 06 Apr 1999

First adopted in 1700.
António Martins, 25 Oct 1999
---
---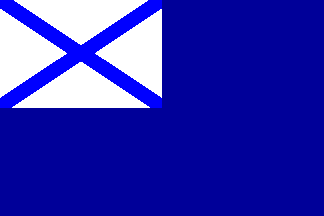 Miles Li, 8 Feb 2009

credits to Yosef Obskura and Željko Heimer
---
Naval Infantry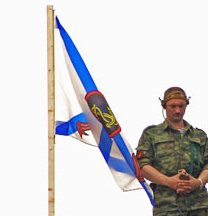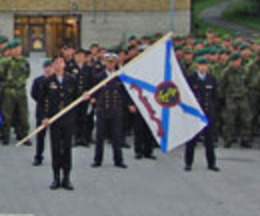 Maybe somebody could identify the Russian Naval Ensign with an anchor arm in the middle, and a pennant in the lower part of the flag. The flag was brought by the 336th Marine-Infantery Brigade of Baltijsk at its recent visit to the Royal Swedish Amphibious Regiment of Älvsborg, Gothenburg, Sweden.
Kristian Söderberg, 12 Jul 2005
I don't know what it's the flag of, but the orange and black ribbon in the lower part of the flag is the emblem of a unit designated "guards" (gvardiya), and the 336th brigade does indeed have the guards designation. In addition, a navy blue circle bordered in red and charged with a yellow foul anchor is the branch insignia for naval infantry in the Russian Navy. So I'd speculate that this might be a flag of the naval infantry collectively, or of the 336th brigade in particular.
Joseph McMillan, 12 July 2005
---
---
---
---