This page is part of © FOTW Flags Of The World website
Oradea (Romania, Bihor)
Municipiul Oradea - Nagyvárad Megyei Jogú Város
Last modified: 2015-07-28 by alex danes
Keywords: oradea | nagyvárad | grosswardein | partium | romania | bihor | bihar | transylvania |
Links: FOTW homepage | search | disclaimer and copyright | write us | mirrors

---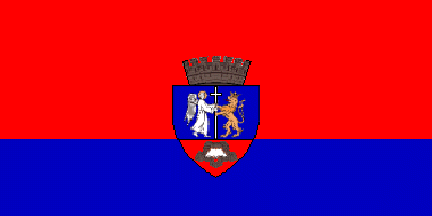 by István Molnár, modified by Peter Michael Abrudan
Flag seen on city hall of Oradea / Nagyvárad City.
István Molnár, 21 May 2002

---
---
See also:
---
Oradea (in Hungarian Nagyvárad, in German Grosswardein) is a city in Bihor (in Hungarian Bihar) County of Romania close to the Hungarian border. The commune contains only the city. The city has got 222.741 inhabitants (74.225 (33,3%) Hungarians, 1992 census). The settlement as the third largest Hungarian community over the border is a cultural and political centre of the Hungarians in Transylvania. The city is the seat of the Roman Catholic and the Calvinist Episcopacy. Neighbouring communities are: Biharia / Bihar, Borş / Bors, Sântandrei, Nojorid, Sânmartin, Oşorhei / Fugyivásárhely, Cetariu / Hegyközcsatár communities.
The city and the Episcopacy of Várad were found by King Ladislas I., King of Hungary in 1093. The king was buried in the cathedral of the city. There were the graves of King Stephen II, King Andrew II, King Ladislas IV, King Sigismund and his wife Queen Mary. In 1241-42 the Mongols devastated the city and the county. At the years of the Anjou Kings the city was one of the largest cities of the kingdom. The first Turkish siege was in 1474. To 1538 Free Royal City of the Kingdom of Hungary. In 1538 King Ferdinand Habsburg and King János Szapolyai (both of them kings of Hungary) signed peace and divided the kingdom into two parts. City of Nagyvárad became part of Szapolyai's kingdom. From 1556 the city is part of the Principality of Transylvania as the centre of the 'Részek' ('Parts'). In 1660 the city was occupied by the Osmans and devastated. 1660-1692 the settlement was under Turkish rule.
1692-1850 and 1861-1919 the city was located in the territory of Bihar County, 1850-1861 in South Bihar County. The settlement in 1910 was a city in the Kingdom of Hungary. Inhabitants in 1910: 64.169; 58.421 (91,0%) Hungarian, 3.604 (5,6%) Rumanian, 1.416 (2,2%) German and 728 (1,1%) other by mother tongue, 19.819 (30,9%) Roman Catholic, 19.459 (30,3%) Calvinist, 15.155 (23,6%) Jew, 4.649 (7,2%) Greek Orthodox, 3.385 (5,3%) Greek Catholic, 1.377 (2,1%) Lutheran and 325 (0,5%) other by religion. From 1919/1920 (Romanian occupation / Treaty of Trianon) to 1940 (Second Decision in Vienna) part of the Kingdom of Romania. 1940-1944 part of Hungary. The Treaty of Paris reallocated it to Romania. Oradea was a city 1952-1960 in Oradea Region, 1960-1968 in Crişana Region and from 1968 is in Bihor County.
The city is the birthplace of some Hungarian celebrities: Péter Pázmány (1570-1637) archbishop, Ede Szigligeti (1814-1878) dramatist, József Nagy-Sándor martyr Hungarian general...
István Molnár, 15 December 2000
The coat of arms are positioned with the red part on the blue coloring, and the blue part on the red coloring. The flag can be viewed on this page.
Peter Michael Abrudan, 15 October 2004

---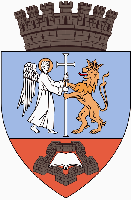 located at http://www.oradea.ro/primaria/index.php (no longer available)
István Molnár, 15 December 2000 and 24 November 2001

---
Historical flag of Nagyvárad (Kingdom of Hungary)

by István Molnár, 15 December 2000
Seven blue and yellow horizontal stripes.
António Martins, 27 February 2001
This flag appears at Dr. Széll Sándor: Városaink neve, címere és lobogója (1941) as "Nagyvárad, Bihar Co.".
István Molnár, 15 December 2000

Historical Coat of Arms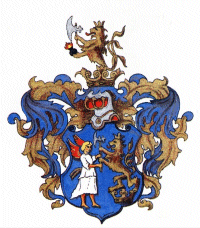 Historical Coat of Arms used till 1919 and 1940-44. Located at http://home.swipnet.se/nagyvarad/
István Molnár, 15 December 2000

Historical Coat of Arms used 1920-40. Located at http://ns.interplus.ro/internet/serv_rom/oradea.htm
István Molnár, 23 Dec 2000