This page is part of © FOTW Flags Of The World website
Câmara de Lobos Municipality (Portugal)
Concelho de Câmara de Lobos, Madeira
Last modified: 2015-07-17 by klaus-michael schneider
Keywords: camara de lobos | anchor | seal(animal) | monachus monachus | mediterranean monk seal |
Links: FOTW homepage | search | disclaimer and copyright | write us | mirrors

---
| | | | |
| --- | --- | --- | --- |
| 2:3 image by Sérgio Horta, 27 Nov 1999 | 2:3 image by Klaus-Michael Schneider, 10 Mar 2912 |   |   |
---
See also:External links:
---
About the Flag
Flag is a yellow over blue gyronny (city rank). .
António Martins-Tuválkin, 26 Nov 1999
Variant
The difference of the variant (right image above) is, that the seals here are grey, which either is their natural colour or a realization of silver. The anchor is brown, also its natural colour if made from wood.
Meaning:
The seals are canting, because "wolves" (lobos) is just an abbreviation of "sea wolves" (lobos marinhos), a species of seals. The anchor might symbolize harbour and fishery.
Source: I spotted this flag near a bridge straight on the borderline between Câmara de Lobos and Funchal on 11 February 2012.
Klaus-Michael Schneider, 10 Mar 2012
Coat of arms
The municipality coat-of-arms is a blue shield, golden anchor between two "sea wolves" of natural colour facing each other. Silver mural crown with five visible towers (city rank). White scroll with black lettering "CÂMARA DE LOBOS". The seal in conformity with the law with the lettering "Câmara Municipal de Câmara de Lobos".
translated by Sérgio Horta, 27 Nov 1999, from the Municipal website
"Câmara de Lobos" means "Wolves' Chamber" (here "chamber" meaning "inlet", "harbour" or "bay"), the beasts on the coat of arms are seals, and those are canting arms. That is because in Madeira the local seal species (Monachus monachus, the Mediterranean Monk Seal) is called Lobo-marinho, meaning sea wolf (portuguese mainland biologists usually say Foca-monge do Mediterrâneo, but this is fading away).
António Martins, 26 Nov 1999
In English heraldry, a sea-wolf would be a mythological animal — Fox-Davies would actually call it a "monster", not without reason — half wolf, half fish. That supposing there is any instance of a "sea-wolf" recorded at the College of Arms. The English blazon of Câmara de Lobos would hence mention «seals» and the arms would no longer be understood as canting, except of course an appropriate reference to the Portuguese terms be made.
Santiago Dotor, 29 Nov 1999
In A Glossary of Heraldry [prk70], Parker wrote:
Seal: It seems to have been fancifully called by some heraldic writers the sea-calf and sea-wolf. The whole animal, however, does not appear to be represented; only the paws and head, and then but rarely.
David Prothero, 29 Nov 1999
---
Version without Coat of Arms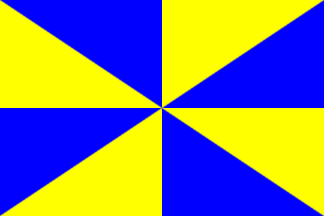 2:3 image by António Martins-Tuválkin, Apr 2010
---
Presentation of Câmara de Lobos
This is a city that belongs to Madeira, has a 53 km2 area, 4 freguesias (communes) and about 31 000 inhabitants.
Sérgio Horta, 25 Nov 1999
Câmara de Lobos is located on the southern coast of the island (and autonomous region) of Madeira, ca. 10 km West of Funchal, the capital city of the island.
Ivan Sache, 18 Feb 2001
An other page of the same website says that It was founded on 25 May 1835 and locally established on 4 October 1835. The freguesia [commune] of Câmara de Lobos had been created in 1430, Estreito de Câmara de Lobos in 1509, Curral das Freiras on 17 March 1790, Quinta Grande on 24 July 1848 and Jardim da Serra on 5 July 1996. Estreito de Câmara de Lobos was upgraded to the status of vila [town] on 3 August 1996 and Câmara de Lobos was upgraded to the status of cidade [city] on 3 August 1996 as said above.
Ivan Sache, 18 Feb 2001
---
Previous flags (1957-1997)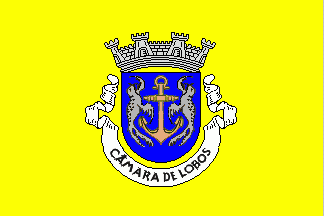 image by Klaus-Michael Schneider, 17 July 2015

The coat-of-arms' current configuration dates from 9 September 1997 and replaces the one approved on January 4th 1957 changing only the mural crown from town to city, because of the status upgrade of the municipality head, occurred on 3 August 1996.
translated by Sérgio Horta, 27 Nov 1999, from the Municipal website

Well, this means that the previous coat of arms had certainly a 4-towered mural crown.
Jorge Candeias, 19 Feb 2001

The previous flag was yellow with centred arms like current one but mural crown Argent with just four visible towers.
Klaus-Michael Schneider, 17 July 2015

Flag and arms published in the official journal Diário da República: III Série on 9 September 1997, the previous symbols in Diário da República, II Série on 4 January 1957
Klaus-Michael Schneider, 17 July 2015
---
back to Municipalities of Portugal click here