This page is part of © FOTW Flags Of The World website
Portuguese National Republican Guard
Guarda Nacional Republicana
Last modified: 2017-01-13 by klaus-michael schneider
Keywords: guarda nacional republicana | gnr | g.n.r. | r.c.1 | alfa | sword | crescent | serpent(winged) | cross(red) | saltire | star(5-point) |
Links: FOTW homepage | search | disclaimer and copyright | write us | mirrors

---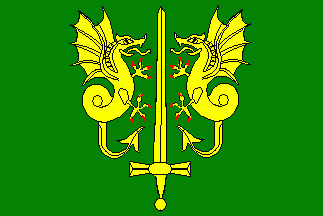 2:3 image by Klaus-Michael Schneider, 12 Dec 2014 See also:
---
Presentation
The National Republican Guard (GNR) is a military organization, whose soldiers, unlike the officers of the Public Safety Police (PSP), are subject to military law and organization. GNR is responsible for doing honour guards and changing of guards cerimonies to public buildings like the National Assembly, the President's Palace (Belém), the Foreign Office Palace (Necessidades), etc. On a more pragmatic basis, they are also responsible for patrolling and enforcing the law at the countryside and small towns (large urban centres are patrolled by the PSP), being a highway patrol, and being a border and fiscal guard. There are also two "military" reserve regiments : an Infantry Regiment and a Cavalry Regiment. Apparently miniature guidons do not follow the complicated designs of the Armed Forces.
João Madureira, 25 Apr 2003
From the GNR site, my rough translation:
The National Republican Guard, created by decree of 3 May 1911, is a security force consisting of military persons organized in a Special Body of Troops depending, in peace time, of the Ministry of the Internal Administration, for the purpose of conscription, administration and execution of the decurrent service of its general mission, and the Ministry of the National Defense for the purpose of uniformization and normalization of the military doctrine, the armament and the equipment; in case of war or situation of crisis, the forces of National Republican Guard will be subordinated the General Chief of Staff of the Armed Forces, when in the terms of the Law these will be placed in its dependence for operational effect.
Francisco Santos, 25 Apr 2003
---
3rd Territorial Brigade Guidon
3ª Brigada Territorial
Apparently the guidon of the Brigada Territorial nº 3 of the G.N.R. do follow the complicated designs of other military units. See it at: members.fortunecity.com/xofia/briga.htm.
Francisco Santos, 25 Apr 2003
---
Alpha Detachment Guidon (in Iraq, 2004)
Destacamento Alfa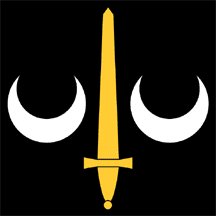 image by João Madureira, 14 May 2004

The flag of the Alfa detachment of the portuguese GNR, currently in operations in Iraq (and formed exclusively for that purpose).
João Madureira, 14 May 2004

Concerning the emblem of the Alfa detachment, Courrier International (#706, 13 May 2004) states that it shall not be used in Iraq in order to respect the local population. The association of the swords and the crescents could have upset the Iraqis.
Ivan Sache, 15 May 2004

The central upright sword, is, according to the official grant, only to reproduce the main charge in G.N.R.'s own arms. Despite that, I'd guess it's very easy to interpret it as a sword dividing two crescents (islam) by force. Nevertheless, I'd think that at least one of these flags must have made it into Iraq and must be present at their headquarters.
João Madureira, 15 May 2004

This flag was used: it was displayed in a parade that took place before the unit left Lisbon.
Jorge Candeias, 16 May 2004

Depiction differences has mostly to do with detail of the heraldic charges. While on the square flag these seems to be lined in black (incl. the central ridge of the crescents), while the cavalry pennon shows them solid, a filled outline with less detail.
António Martins-Tuválkin, 16 May 2004
Symbols "war" between Portugal and Italy in Iraq 2004
Courrier International (#706, 13 May 2004) has the translation of a paper, originally published by Valentina Marcelino in Expresso (Lisboa), dealing with a creeping "flag war" between the Portuguese and the Italians in Nasiriyah. According to the paper, the Alfa detachment of the National Republican Guard (128 men) was integrated in November 2003 to the 3,500 men Italian contingent based in Nasiriyah. The Portuguese arrived in Iraq on 12 Novenber, the day when the Italians were attacked and lost 19. The local population is mostly shiite and very hostile to the Italians. On 6 April, the Italians had to fight against Moqtada-as-Sadr's militia. One of the Italian hostages was murdered on 10 April.
Consequently, the Portuguese heads of the Alfa detachment believe that the integration of their troops into the Italian contingent increases the risk of attack. The Portuguese used until now vehicles "borrowed" to the Italians, and therefore marked as Italians. When identifying the Italian colours, the inhabitants of Nasiriyah, and especially the children, became so aggressive that the Portuguese had to go out of the vehicles and show their national flag to calm down the mob.
The Portuguese shipped very big green and red stickers to be placed on the vehicles they used. The Italian colonel Carmelo Burgio was upset by this attempt to hide the Italian colours. Finally, the Portuguese were only allowed to place small stickers on the vehicles. Those stickers were quickly covered with mud and sand and were no longer visible, compared to the big Italian flags.
To avoid an escalation of the quarrel, the Portuguese army shipped from Lisbon seven vehicles bearing the national colours and won't use anymore the Italian vehicles.
Ivan Sache, 15 May 2004
---
1st Cavalry Regiment Guidon
Regimento de Cavalaria 1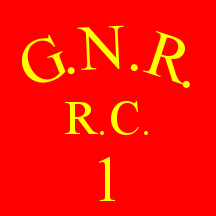 image by João Madureira, 25 Apr 2003

Apparently a guidon of the Cavalry Regiment [R.C.: Regimento de Cavalaria] of GNR or of a sub-unit of that regiment. The only source I have for this is a miniature flag my grandfather had, so this should be treated as quite dubious information.
João Madureira, 25 Apr 2003
---
Rank Flag of General
| | | | |
| --- | --- | --- | --- |
| 2:3 image by António Martins-Tuválkin, 11 June 2005 | 2:3 image by Klaus-Michael Schneider, 12 Dec 2014 |   |   |
Early in May 1995, Santiago Dotor came to Lisbon and we met in a pub with flag-covered walls (and ceiling!). He told me he'd seen a strange Portuguese national flag with a wide green border all around. This was in Carmo sq. (where coincidentally I was too, attending my Heraldry lesson), by the entrance of G.N.R.'s headquarters, the flag was quite small (around 40 cm hoist) and was hoisted in a short-ish pole near the gate. We both thought "rank insignia" and "personal mark", but I confessed I never seen such a flag.
Of course the next time I went there for the Heraldry lesson, I payed attention and indeed saw it. It even catched the exit hour of the C.O. (a General, IIRC), and the subsequent lowering of the flag. Lt-Col. Pedroso da Silva, who gave that day a lecture about Portuguese military heraldry (the current replacement for José de Campos e Sousa and the guy responsible for most of those exellent CoAs of Portuguese millitary units), confirmed that most such personal marks, created in the early 20th century (and mostly based on previous designs), do look like "adapted" national flags (and originally there were, in a textile perspective), and that he's on to have them changed.
Maybe the overall ratio is 2:3 per regulation, but in order to keep the border equally wide and make use of a small national flag to sew this up, may be it is/was 8:11 in practice, assuming the border as 1/6 of the original flaglet.
António Martins-Tuválkin, 11 June 2005
Same place, another time, the place is Largo do Carmo in Lisboa, the days are 5 and 7 Oct 2013. I spotted a tiny national flag on a high pole, with green bordure inwards fimbriated yellow, not much more than a yellow seam. The sentry of the GNR HQ told me, the flag was indicating the presence of the GNR's CIC and it would be a general's rank flag. (I don't know whether GNR and army have the same rank flags.)
I furthermore spotted a green banner of arms with an upright golden sword, supported by two golden winged serpents, a kind of dragon, armed red. That's the design of the shield of the GNR (where the serpent is also tongued and eyed red). The sentry confirmed, this one would be the flag of the GNR (which I never saw at any other precinct of this organization. Sword and dragon are probably attributes of St. George, who is considered to be the patron saint of soldiers.
Klaus-Michael Schneider, 12 Dec 2014
---
Rank Flag of Lt.General of Lisboa Military District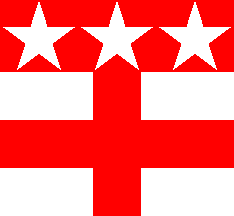 2:3 image by António Martins-Tuválkin, 11 June 2005

Back in 1996 I painted one of the changed ones, It is the Lisboa Military District Lt.-Gen. personal rank insignia and presence mark. The chief (3 stars) indicates the rank, the red cross on white is the Lisbon Military District's arms.
António Martins-Tuválkin, 11 June 2005
---
GNR Territorial Command of Bragança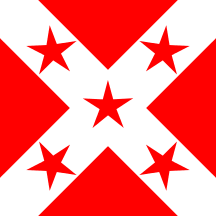 1:1 image by António Martins-Tuválkin, 1 Dec 2016

That's "Comando Territorial da G.N.R. de Bragança" and its flag (a guidon), a square banner of arms, which is: Argent on a saltire Gules five estoiles Argent, shown in use in a parade in this image.
António Martins-Tuválkin, 1 Dec 2016
---
back to Portugal Military Flags main page click here