This page is part of © FOTW Flags Of The World website
Proposed Flags (Palestine)
Last modified: 2020-12-18 by ian macdonald
Keywords: palestine | lozenge (golden) | lozenge (black) | lozenge (green) | cross (golden) | cross: latin (red) | cross: latin (white) | cross: greek (red) | cross: greek (white) | triband | quartered (per saltire) | al-falasteen | a |
Links: FOTW homepage | search | disclaimer and copyright | write us | mirrors

---
See also:
---
1929 Proposals: Introduction
An article by Jan Oskar Engene on 1920s proposals for a flag of Palestine appears in the Autumn 2007 issue of Nordisk Flaggkontakt [nfk07a], the journal of the Nordic Flag Society.
Nozomi Kariyasu, 18 Nov 2007
The Sorek monograph shows images of 28 proposals. The presence of the Arab colors and in some cases combined Muslim/Christian symbols (but nothing to represent Jews) would seemingly suggest that these were proposals for an envisioned future secular Arab Palestinian state, either partitioned out of the Palestine Mandate or comprising all of it (in which case it was presumably meant to be Arab-dominant).
Eugene Ipavec, 18 Nov 2007
The article gives a brief history of the Palestinian flag back to the Arab Revolt Flag and reproduces some other proposals for a flag of Palestine from the late 1920's.
These proposals are based on the research published by Tamir Sorek in the article: "The orange and the 'Cross in the Crescent': imagining Palestine in 1929," Nations and Nationalism 10 (3), 2004, 269-291. The abstract for this article explains the context of the proposals:
This article analyses a public discussion held in Palestine during the last months of 1929 over proposals for a particular Palestinian flag. Based on readers' reactions published in the daily newspaper Filastin and on letters sent to the Arab Executive, the article examines the character of Palestinian identity as it was imagined by a certain segment of the Palestinian elite. The three main leitmotifs of the flag proposals – the four colors of the Arab flag, the color orange and the 'Cross in the Crescent' emblem – serve as a starting point for discussing the tensions between Palestinian particularism and pan-Arabism, as well as the status of Muslim-Christian partnership in a period of increasing Islamisation of Palestinian identity. The second part of the article incorporates a comparative discussion that aims to explain the failure of the color orange and the 'Cross in the Crescent' to be accepted as emblems in the national flag. By comparing the unsuccessful proposals with the Arab flag (that eventually became the official Palestinian flag) and with the Lebanese flag, the article suggests their failure was due to three main reasons:

(a) they reflected the interests of relatively marginal social groups;
(b) they were not raised at a time of sweeping change in the socio-political order; and
(c) they lacked a profound basis in local tradition and the potential to be attached to an ancient past.
Fortunately for us, professor Sorek has put an electronic offprint of the article, with more proposals and interesting historical details available, on the net.
Jan Oskar Engene, 24 Nov 2007
---
Filastin Newspaper Proposals
| | | | |
| --- | --- | --- | --- |
| 2: | 2:3 |   |   |
| image by Eugene Ipavec, 18 Nov 2007 | image by Eugene Ipavec, 18 Nov 2007 |   |   |
| | |   |   |
| An orange lozenge overall, with the edge triangles coloured red-black-white-green (clockwise). | Quartered per saltire green-red-white-black (clockwise). |   |   |
Eugene Ipavec, 18 Nov 2007
---
Munir Dakak Proposals
images by Eugene Ipavec, 18 Nov 2007
Munir Dakak from Jerusalem even proposed drawing an orange on the flag in a letter to the AEC, dated 20 October 1929.
Quoted from "The Orange And The 'Cross in The Crescent:' Imagining Palestine in 1929" by Tamir Sorek
---
Assma Tubi Proposal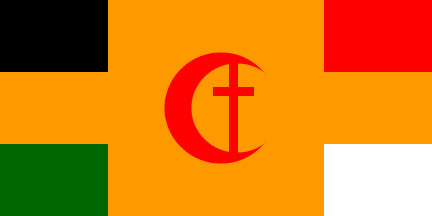 1:2 image by Eugene Ipavec, 18 Nov 2007

A golden cross of unusual shape, with each quarter of the field a different color: red-white-green-black (clockwise). The cross' horizontal arm is 1/3 the height and its vertical arm 1/2 the lenght of the flag, an uncommon design (occasionally found among Slovenian municipal flags; see for example Ormož, Muta). In the center, a red device consisting of a Latin cross within a crescent (see also below).
Eugene Ipavec, 18 Nov 2007
---
Hamdi Can'an Proposal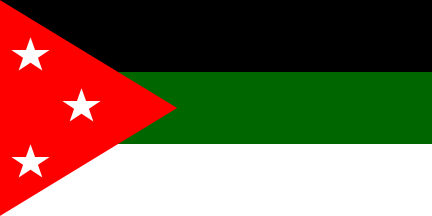 1:2
image by Eugene Ipavec, 18 Nov 2007

A horizontal tricolor of black-green-white with a red triangle at the hoist (the flag of the Great Arab Revolt), but here defaced with three white stars in the triangle. Compare to the 1920-1924 flag of Iraq, or the 1915-1921 flag of the Hejaz. The meaning of the stars is unknown; three stars arranged within a single crescent on the flag of the Kingdom of Egypt (1922-1952) stood for Muslims, Christian, and Jewish citizens of Egypt.
Eugene Ipavec, 18 Nov 2007

Hamdi Can'an from Nablus also requested maintaining the symbolic similarity [on 9 November 1929] with the other Arab countries, and he proposed adopting the "flag that was agreed upon at the convention in Damascus in Faysal's time: the Arab flag with three stars in the red triangle."
Quoted from "The Orange And The 'Cross in The Crescent:' Imagining Palestine in 1929" by Tamir Sorek
---
Husein Mikdadi Proposal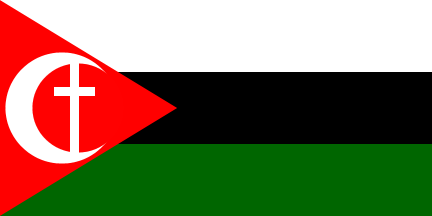 1:2 image by Eugene Ipavec, 18 Nov 2007

An upside-down Arab Revolt flag with a white device in the triangle, consisting of a Latin cross within a crescent. Reminiscent of flags used by Palestinian paramilitary groups of the late 30's.
Eugene Ipavec, 18 Nov 2007

Husein Mikdadi's proposal, [published in] Filastin, 9 November 1929.
Quoted from "The Orange And The 'Cross in The Crescent:' Imagining Palestine in 1929" by Tamir Sorek
---
"Jalili" Proposal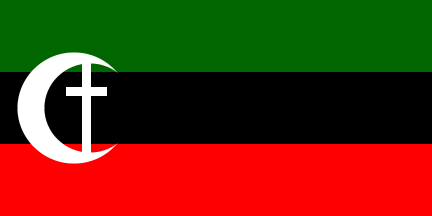 1:2 image by Eugene Ipavec, 18 Nov 2007

A green-black-red horizontal tricolor with the identical cross-crescent device (in white) centered near the hoist.
Eugene Ipavec, 18 Nov 2007

Proposal of 'Jalili' from Jerusalem, Filastin, 9 November 1929.
Quoted from "The Orange And The 'Cross in The Crescent:' Imagining Palestine in 1929" by Tamir Sorek
---
"An Arab From Haifa" Proposals
images by Eugene Ipavec, 18 Nov 2007
[A reader] reluctant to emphasise Palestinian distinctiveness sent a letter to the AE and expressed explicit objection to the color orange appearing on the flag, since it might blur the flag's similarity to the flags of the neighboring Arab countries, thus ignoring the facts that "the Arabs have one interest, in every place and in every time." This reader, who signed as "an Arab from Haifa," enclosed with his letter ten examples of a possible Palestinian flag, all of them based on different combinations of the four colors of the Arab flag and the Cross in the Crescent emblem.
Quoted from "The Orange And The 'Cross in The Crescent:' Imagining Palestine in 1929" by Tamir Sorek
---
As'ad Shufani Proposals
images by Eugene Ipavec, 18 Nov 2007
The orange was not the only crop that was suggested for the flag. In one of the proposals sent by As'ad Shufani from Nazareth, he added two other examples of typical Palestinian crops more common in the Galilee, where he was from – an olive branch and a wheat spike.
Quoted from "The Orange And The 'Cross in The Crescent:' Imagining Palestine in 1929" by Tamir Sorek
---
Theodore Saruf Proposal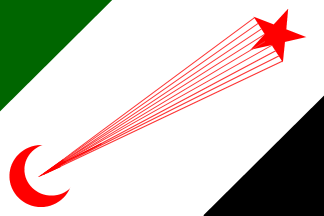 2:3 image by Eugene Ipavec, 18 Nov 2007

A proposal sent by Theodore Saruf, a Christian owner of a public relations office in Jaffa. Like all the other designs, his proposal included the colors of the Arab flag. His design intended to emphasise Muslim-Christian fraternity by the crescent projecting a ray of light with a five-point star at its end.
Quoted from "The Orange And The 'Cross in The Crescent:' Imagining Palestine in 1929" by Tamir Sorek
---
Elias Hana Rantissi Proposal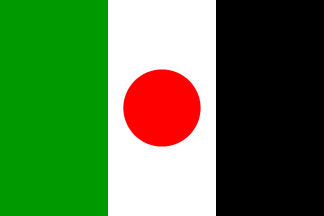 1:2 image by Eugene Ipavec, 18 Nov 2007

Among all the diverse proposals, one is exceptional in its political orientation. Elias Hana Rantissi from Jaffa argued that the proposals published in Filastin were artistically inappropriate and suggested his own design: three vertical stripes – green, white and black, and a full red circle in the middle. Rantissi admitted that his flag was similar to the Japanese flag, but he did not see it as a deficiency since Japan was, in his words, "a great Eastern nation" and "the pride of the East."
Quoted from "The Orange And The 'Cross in The Crescent:' Imagining Palestine in 1929" by Tamir Sorek
---
Proposed Binational State (Israel-Palestine) Proposals
"One-State Solution" Proposal
| | | | |
| --- | --- | --- | --- |
| | |   |   |
| images by Eugene Ipavec, 30 Nov 2007 | |   |   |
From http://one-state.net/, this multicolored horizontal striped flag for a 'One-State Palestine' may have some contemporary interest. Of course, it should be noted that the site is notoriously anti-Israel and anti-Zionist.
Ron Lahav, 27 Nov 2007
In a politically neutral sense, these seem like good proposals, retaining one distinctive element (the horizontal stripes) from both the Israeli ands Palestinian flags while dropping one other distinctive element from both (the red triangle and Magen David.)
Eugene Ipavec, 30 Nov 2007