This page is part of © FOTW Flags Of The World website
Kim Il-Sung Socialist Youth League (North Korea)
Last modified: 2021-08-25 by ian macdonald
Keywords: hammer and sickle | rice plant | cogwheel | kim il-sung | workers party | hammer | hoe | brush | star: red | communism |
Links: FOTW homepage | search | disclaimer and copyright | write us | mirrors

---

image by the Kim Il-Sung Socialist Youth League
located by Valentin Poposki, 19 February 2008


image by the Kim Il-Sung Socialist Youth League
located by Valentin Poposki, 19 February 2008
---
See also:
---
Introduction
From the Youth League website:
The Youth League strives under the leadership of the WPK (Workers' Party of Korea) to firmly defend and add lustre to our Juche-oriented socialist fatherland founded by the respected Comrade Kim Il-Sung, to fulfil the tasks for building a powerful nation and national liberation and to achieve the goal of modelling the whole society on the Juche idea, a final programme of WPK.

The main task of the Youth League is to train the young people as reliable successors to the revolutionary cause of Juche so as to unite them single-heartedly behind the WPK led by the respected General Kim Jong Il and to involve them in the struggle to implement the lines and policies of the WPK. With the leadership of the WPK as its lifeline, the Youth League abides by the fundamental principle of faithfully following the ideology and the guidance of the WPK in its building and activities.

In its activities, the Youth League puts main emphasis on the work with man and the work with young people.
Valentin Poposki, 19 February 2008
---
Description
A red flag approximately 3:5 with golden fringe on all free edges, with the likeness of Kim Il Sung (as depicted in the official photo-based painting e.g., at Wikipedia) on a small roundel (diameter approximately 2/5ths of the hoist height) centered on the upper 2/3 (approximate) of the flag area and above a line of yellow Korean Hangeul text reading "김잍성사ᅟᅩᅩᆼᅵ주으ᅵᅠ정년동맹" set in sans-serif letters. This lettering "represents" the title of the concerned committee», according to the quoted page, i.e., they mean Kim Il Sung Socialist Youth League.

A red flag approximately 1:3 with and emblem on the upper hoist (centered on an imaginary upper hoist rectangle about 3/4ths of the flag sides, i.e., only slightly off set from the center to the upper hoist). This is presumably the emblem of the Kim Il Sung Socialist Youth League organization, which includes two flagoids — over a round background made of a cogwheel, a book and a cereal garb, all yellow and white:

One is a red flag, draped in Soviet style (also used in Komsomol badges etc.), bearing the three-tool North Korean party symbol within shine lines over what seems to be a mountain top, all in yellow.

The second is a ribbon patterned after the national flag (i.e. red, edged blue, with white fimbriation), reading on the red area in large yellow Hangeul letters the word "주체" = "Juche", the national ideology.
António Martins-Tuválkin, 20 February 2008
---
Korean Socialist Young Workers Union (1964)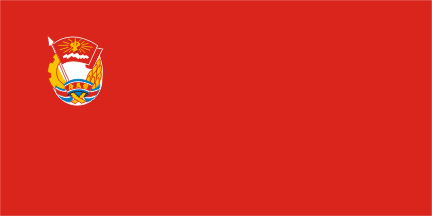 image by Kazutaka Nishiura, 18 September 2009
In May of 1964, the Korean Socialist Young Workers Union used a red flag with an emblem in the hoist.
Source: personal visit to North Korea by JAVA member Haruki Murata
Nozomi Kariyasu, 18 September 2009
---
I came across a website with photographs of several variations of the Kim Il Sung Socialist Youth League flags. The photographs at http://www.dprktoday.com/index.php?type=42&no=990 show League members gathered at Mt. Paektu along the North Korea-China border to learn about the country's revolutionary past. Along with the North Korean national flag and the Youth League flag, there are several variations of the Youth League flag, each with an inscription in white Hangul characters. My knowledge of Korean is not the best, so I was only able to make out three of the inscriptions, and I provide graphics of those three.
Randy Young, 16 July 2016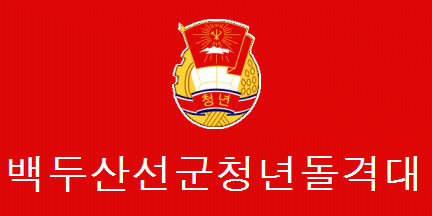 image by Randy Young, 16 July 2016
This variant has the Kim Il Sung Socialist Youth League seal centered on the red field instead of in the canton, with an inscription in white Hangul characters that reads 백두산선군청년돌격대, which Google translated for me as "Paektu Songun (Military First) Youth Onslaught."
Randy Young, 16 July 2016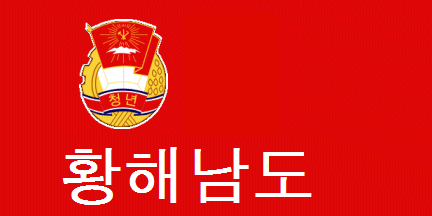 image by Randy Young, 16 July 2016
This is a variant of the Kim Il Sung Socialist Youth League proper flag, with the seal in the canton, and the inscription beneath in white Hangul characters reading 황해북도, or South Hwanghae Province. This may be a flag to represent all of the Youth League members from that province.
Randy Young, 16 July 2016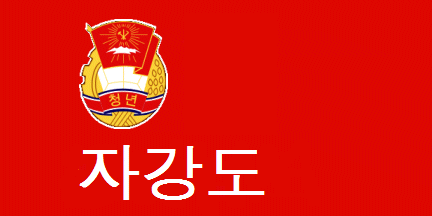 image by Randy Young, 16 July 2016
This variant is similar to the previous one, but with the inscription reading 자강도, or Chagang Province.
Randy Young, 16 July 2016
There are several other variants shown in the photographs, but I wasn't able to make out all of the inscriptions.
Randy Young, 16 July 2016