This page is part of © FOTW Flags Of The World website
South East Asian Games
SEAGF / SEA Games
Last modified: 2023-06-10 by

zachary harden
Keywords: south east asian games federation | sea games | seagf | asian games | peninsular games | sports | organization | federation |
Links: FOTW homepage | search | disclaimer and copyright | write us | mirrors

---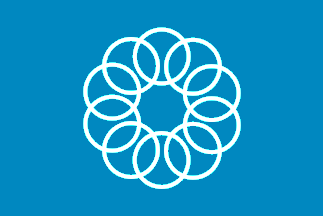 image located by Erik Bell, December 31, 2002.
---
See also:
---
Background
At the suggestion of Laung Sukhum Nayapradit an Olympic official from Thailand, the Southeast Asian Peninsula Games Federation was created in 1958 to stage games promoting friendliness among the nations of Southeast Asia.
The founding members were:
The first games were held in 1959 and biennially afterward. On Febuary 5, 1977 Indonesia, The Philippines, and Brunei Darussalam were admitted and the name changed to Southeast Asian Games Federation.
Erik Bell, December 31, 2002.
"The Southeast Asian Games owes its origins to the South East Asian Peninsula Games or SEAP Games. On 22 May 1958, delegates from the countries in Southeast Asian Peninsula attending the Asian Games in Tokyo, Japan had a meeting and agreed to establish a sport organisation. The SEAP Games was conceptualised by Luang Sukhum Nayaoradit, then Vice-President of the Thailand Olympic Committee. The proposed rationale was that a regional sports event will help promote co-operation, understanding and relations among countries in the Southeast Asian region."
Sources: http://www.seagfoffice.org/seagf.php and https://en.wikipedia.org/wiki/Southeast_Asian_Games
For additional information go to: SEAGF (official website)
Esteban Rivera, 24 August 2015
---
The Flag
The first SEAP Games Federation and ceremonial flag was six gold interlocking rings forming a circle on a blue field. This flag was used from 1959 to 1997. The current flag was introduced in 1999 and differs only in that there are 10 gold rings instead of six. The flag is lowered at closing ceremonies, folded, and presented by the SEA Games Federation to representatives of the next host nation.
Attached is a photo of the SEA Games Flag being carried at the closing ceremony of the 2001 SEA Games. (c) Vietnam News Agency. You can get a close up look at the flag in a video clip of the 2001 SEA Games Opening Ceremony at Thestar: SEA Games site. Click on the OpeningCeremony3 file. The color of the flag appears more accurate in this video clip than in the photo mentioned above.
Erik Bell, December 31, 2002.
---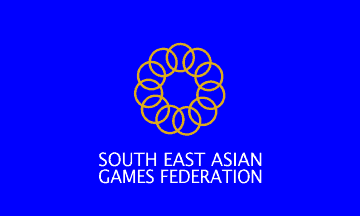 image by Zoltan Horvath, 26 August 2015
During the 28th version of the SEA Games, the flag of the SEA is seen but it is different than the one featured on the site. The one seen in this online article dated June 8, 2015 from the Daily Mail shows the flag actually having the name of the Federation written in white capital letters below its symbol, as seen here (third flag from left to right):
Source: http://i.dailymail.co.uk/i/pix/2015/06/08/article-doc-2s30t-6Z8VrEAIJHSK2-90_634x416.jpg
The SEAGF first flag that Erik Bell mentioned back on December 31, 2002 featuring six rings, is actually seen here (first flag from left to right) in a picture taken in Singapore during the 17th Southeast Asian Games in 1993.
Source: https://www.seagames2015.com/~/media/sea%20games/images/about/60017th%20seap%20games_1993_countryflags.jpg at https://www.seagames2015.com/about/history
Esteban Rivera, 24 August 2015
There is another image of flag with better visibility.
http://www.iweb.ph/wp-content/uploads/2015/06/SEA-Games-01.jpg at http://www.iweb.ph/philippines-hosting-2019-sea-games
Zoltan Horvath, 26 August 2015
---
Statutes on the Federation's flag
I've found the statutes of the SEA Games which describe their flag and anthem:
Flag and emblem

| | | |
| --- | --- | --- |
| "26. | (...) | |
| | | |
| | a. | Both in the Stadium and its neighbourhood, the Federation Flag must be freely flown, with the flags of the competing nations. A large Federation Flag must fly in the Stadium during the SEA Games from a flagpole in the area where it shall be hoisted at the moment the Games are declared open and lowered when they are declared closed. |
| | | |
| | b. | The Federation Flag shall be of a height of two meters and width of three meters. It shall have a light blue background with six bright yellow gold rings in the middle. The rings shall be approximately 3/6 of the height. |
| | | |
| | c. | The light blue coloured background means the water that surrounds, or the sky that covers the Southeast Asian Countries. The bright yellow gold rings symbolize the six original Southeast Asian Countries. They are intertwined to denote friendship, brotherly love and unity of purpose. See back cover for the geographic and graphic details of the emblem. If additional nations are added, or if some are deleted the original design of the flag shall remain unchanged. No attempt will be made to identify any particular nation with any particular ring. The Flag is completely reversible. |
| | | |
| (...)" | | |
Reported by Erik Bell, February 13, 2003
---
23rd South-East Asian Games: Manila 2005
The 23rd Southeast Asian Games (SEA Games) being held in the Philippines was officially opened on Sunday in Manila. Some flag related observations while watching the ceremony broadcasted on television.
The parade of nations saw flag bearers carrying their respective national flags as is customary during the ceremony. For this purpose, all flags were made in equal proportions from what I could visualise. They were all quite elongated, likely to be in the proportion of 1:2, which works naturally for Brunei Darussalam, Malaysia and the host Philippines, but elongated for Myanmar, Singapore, Cambodia, Vietnam, Indonesia, Laos, Thailand and Timor Leste.
Interestingly during the ceremony, Malaysia had not one but three flag bearers, unlike other contingents which had only one. The Laotian flag was strangely made to look more like an equal horizontal tri-band - the rightmost flag). I was quite sure that their white disc was a tad too small.
Herman FMY, November 2005
---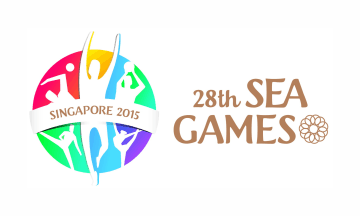 image by Zoltan Horvath, 26 August 2015
The 28th SEA Games were held from 5 to 16 June 2015, although several events had commenced from 29 May 2015.
Source:

https://en.wikipedia.org/wiki/2015_Southeast_Asian_Games
For additional information go to: 28th SEA Games (official website) http://www.seagames2015.com/
The games' flag is the

logo on a white horizontal flag, as seen here (first picture from left to right):
Sources: http://i.dailymail.co.uk/i/pix/2015/06/08/article-doc-2s30t-6Z8VrEAIJHSK2-90_634x416.jpg
http://www.dailymail.co.uk/wires/afp/article-3115746/Flags-half-mast-Singapore-mourns-Malaysia-quake-victims.html
Esteban Rivera, 24 August 2015
---