This page is part of © FOTW Flags Of The World website
Free Aceh Movement (Indonesia)
Aceh independentist movement, GAM
Last modified: 2023-06-03 by

zachary harden
Keywords: indonesia | aceh separatist movment | sumatra |
Links: FOTW homepage | search | disclaimer and copyright | write us | mirrors

---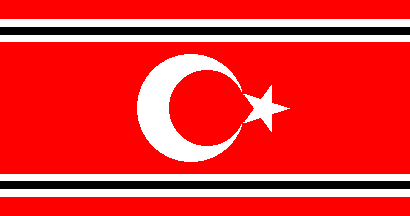 1:2 by António Martins
---
See also:
---
Description of the Flag
The flag of the main Aceh separatist movement. Aceh is a predominantly Muslim region, as evidenced by the flag, which has similarities to the flag of Turkey.
Dylan Crawfoot, 27 February 1999
The star points into the mouth of the moon on the photo in the paper.
Ole Andersen, 2 August 1999
From an interview in Hallands-Posten, a Swedish newspaper:
The flag of the independentist state of Aceh-Sumatra was officially hoisted on the renewed proclamation of independence on 4 December 1976 by Head of State Tengku Tjhik di Tiro Muhammad Hasan (Tengku Hasan di Tiro). It was he who added the black stripes with white fimbriation in 1976, to commemorate those who lost their life defending the flag. It is over thousand years old [sic!], and was used in the naval battle against Portugal in 1586, and in the war against the Dutch from 1873 till 1942. (Officially the war ended in 1914, but I think small resistant groups kept fighting. In 1942 the Japanese invaded the Netherlands Indies). From 1949 till 1976 the flag was not hoisted anymore on account of the Javanese suppression.
The crescent and star are symbols of the Islam for submission to Allah, his laws and justice. The red stands for bravery, loyalty, truth and the willingness to make sacrifices for the right path of God. The white fimbriations symbolise the pureness of the objects made. The length of the flag is one-and-a-half times the height, other dimensions are laid down according the standards of the expert designers.
(Free translation, summarised, from an article in "Vlaggen", no. 25, 1983, page 371-372, by Mark Sensen)
There is a draft of a law for special autonomy for the province of Aceh. The law will soon be discussed by the central parliament. Including in the draft are a name change from 'Province of Special Region of Aceh' to 'Nanggroe Aceh Darussalam' (NAD); the authority of the Wali Negeri (Sultan-like rank) to design the coat of arms of NAD; and most interesting is the design and usage of 'Alam Aceh', that is the flags/standards of Aceh. If this draft passed, Aceh would be the first Indonesian region to use its regional flags de facto and guaranteed by law. It seems inevitable that Acehnese will hoist their new flag if this draft passed (become a full-operating law), since the demands for both autonomy and independence are very strong there.
Sammy Kanadi, 18 January 2001
The star-crescent placement in the flag of Aceh independentist movement (Indonesia) has its roots back to the 1570s. The Acehnese Head of State asked Ottoman Sultan's protection and the Ottoman Sultan of the time, Selim II, ordered his chief of Navy, Hizir Reis to sail to Sumatra and issued a sanjak (provincial flag) to Aceh declaring his protection over the land with an order dated September 21, 1567. After this grant of the sanjak, the Acehnese ruler welcomed the Ottoman flag and used the Turkish Crescent-Star figure in his own as his people's gratitude. That part of the world was governed independently under Ottoman protection until the second half of the 1800s, when Ottoman overseas influence depleted to its minimum thereby opening the way to Dutch colonization attempts, which continued up and down until the formation of the Indonesian state in the 1940s.
M. Ozturk, 8 January 2005
Pascal Vagnat found a newswire by AFP (Agence France Press), which reports that the national flag of Turkey is now very common in Aceh. Turkey has sent first-aid workers in Aceh, but the relatively small number of Turks in Aceh does not explain the sudden popularity of the flag. Indeed, it is fairly clear that the inhabitants of Aceh hoist the flag of Turkey to express their independentist feelings. Hoisting the independentist flag in a zone controlled by the Indonesian army is punishable by immediate imprisonment. Therefore, nobody in Aceh would admit he hoists the Turkish flag by way of the Aceh flag. A reporter from the Turkish television reports his team had problems with Indonesian soldiers because of the Turkish flag they had with them.
Ivan Sache, 13 February 2005
Aceh peace agreement
By ASSOCIATED PRESS, August 15, 2005 from http://www.freenewmexican.com/news/31294.html

HELSINKI, Finland - Main points of the pact signed Monday between the Indonesian government and the rebel Free Aceh Movement, aimed at ending a 30-year conflict in the region that has killed some 15,000 people:

GOVERNMENT: Aceh will be self-governed, except in the fields of "foreign affairs, external defense, national security, monetary and fiscal matters, justice, and freedom of religion." The Indonesian government commits itself to consult and work with the Aceh government when making decisions or entering into international agreements that affect the region. Aceh has the right to regional symbols, including a flag, crest and an anthem.[...]

Mark Sensen, 17 August 2005
BBC News reported today on its website (http://news.bbc.co.uk/2/hi/asia-pacific/7664818.stm) a parade welcoming the founder of this movement, Muhammad Hassan di Tiro. During this parade, flag is seen hanging on the front of a truck, showing the same color pattern as the Aceh independentist movement flag, but instead of the crescent moon and star, it has the word ACEH in white capitals in the middle.
Esteban Rivera, 11 October 2008
I came across a few news articles which report that State Assembly Council of Aceh has adopted the Free Aceh Movement Flag as the province flag. Obviously, the central government in Jakarta is not very happy about it. Indonesia has laws which prohibit flying separatist movement flags, and there are (and have been) many separatist movements in Indonesia, in places like Aceh, and West Papua.

Links to articles:
http://www.bbc.co.uk/news/world-asia-21993299
http://www.aljazeera.com/video/asia-pacific/2013/04/201342182638230611.html
http://www.worldbulletin.net/?aType=haber&ArticleID=105754
http://www.straitstimes.com/breaking-news/se-asia/story/acehnese-public-seek-approval-separatist-flag-20130401
http://www.thejakartaglobe.com/home/yudhoyono-not-a-fan-of-aceh-flag/583120
Andy S, 3 April 2013
---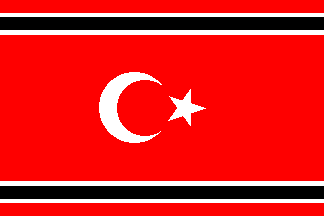 2:3 by James Dignan
Photos at the Aceh / Sumatra National Liberation Front web page show the flag as 1:2 in use, but a construction sheet on the same site shows it as 2:3.
Nozomi Kariyasu, 27 January 2005
The flag regulation which was adopted by the parliament of the Indonesian province of Aceh can be found at http://534628764.r.cdn77.net/atjehpost/files/Qanun_Aceh_Nomor_3_Tahun_2013_-_Bendera_dan_Lambang_Aceh_Final.pdf (in local language) contains information about this flag also.
Jos Poels, 13 June 2013
---
Supposed age of the flag
This flag of the State of Aceh is over one-thousand years old. It has been continuously flown all over our country since the time of Sultans Ali Mughayat Shah, Iskandar Muda, Mahmud Shah, Tengku Tjhik di Tiro Muhammad Saman until today. However the two black stripes were added in 1976 by the present Head of State, Tengku Hasan di Tiro, to commemorate all the Acehnese war dead in defending this flag in the past.
Syahbuddin Abdurrauf, 29 September 1999

The claim that the flag is over 1000 years old seems to be a common claim by the Acehnese, although it seems hard to substantiate. The current flag of Aceh may based on a similar design used in past. The design before 1976 was without both the black stripes and the white fimbriation, making it similar to the Ottoman flag, although the precise placement of the crescent and star are unknown.
Abstracted from comments by Santiago Dotor, Željko Heimer, António Martins, Mark Sensen, 29-30 September 1999
---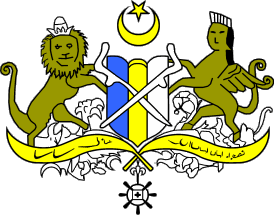 by Eugene Ipavec, 11 January 2008
The Arabic text on the yellow ribbons was too blurry to redraw; I've tried to reproduce the inscription by hand, but there are likely errors. If anyone can make it out, it would be appreciated.
Eugene Ipavec, 11 January 2008
http://en.wikipedia.org/wiki/Free_Aceh_Movement notes that the Free Aceh Movement (Gerakan Aceh Merdeka (GAM)), also known as the Aceh Sumatra National Liberation Front (ASNLF), is an armed Islamic group seeking independence for Aceh (sometimes given as Acheh, Achin or Atjeh) on Sumatra from the rest of Indonesia. The Indonesian government calls the group the Aceh Security Disturbance Movement.
Esteban Rivera, 8 May 2005
---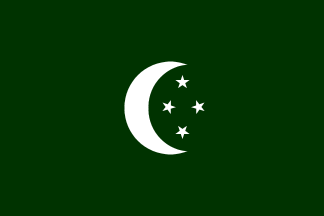 image by Eugene Ipavec, 20 August 2007
In the Indonesian Army Museum in Jakarta (July 2007) was a flag display (showing the real flag and a painted picture). The Aceh independence flag is from Sep 21st 1953 when Aceh self-proclaimed independence. It has a 2:3 flag proportion, green field charged with white crescent and four 5-pointed stars in the center which is totally different from old sword Aceh flag nor the current red GAM flag.
Nozomi Kariyasu, 19 August 2007