This page is part of © FOTW Flags Of The World website
United Kingdom: diplomatic and consular flags
Last modified: 2011-07-02 by rob raeside
Keywords: united kingdom | union jack | blue ensign | consular service | wreath | ambassador |
Links: FOTW homepage | search | disclaimer and copyright | write us | mirrors

---
See also:
---
In the mid-19th century the distinguishing flag of a British official abroad was a plain Union Jack. In some cases it was flown on a boat or ship, which upset the Admiralty because the Union Jack was the distinguishing flag of the Admiral of the Fleet. To solve the problem a system was instituted in 1869 whereby Governors of Colonies, Military Authorities, Diplomatic Officers and Consular Agents were assigned a defaced Union Jack for use when they embarked in a vessel. Their flag on land was still a plain Union Jack.

In colonies the Union Jack was flown on Government House from sunrise to sunset when the governor was in residence. This lead to a widespread, but incorrect belief, that the Union Jack was the governor's personal flag, and could not be flown by anyone else. "In certain territories the Union Flag is seldom if ever flown by members of the general public. The Union Flag is perceived as the Governors' flag, as they rarely embark and use the defaced Union Flag." At this time colonial ensigns were, in general, used only at sea and not on land.

However a problem was foreseen when an Anglo-American defence agreement was signed in September 1940. Under it the United States obtained leases to establish naval and air bases in Newfoundland, Bermuda, the Bahamas, Jamaica, Antigua, St Lucia, Trinidad and British Guiana. "Anticipating extensive displays of the Stars and Stripes in and around the American bases the Colonial Office sought to encourage wider use of the Union Flag." It was decided that this should be done by changing Colonial Regulation No.125 concerning the flag flown by the governor from; "Union Flag with no badge shall be flown at Government House from sunrise to sunset. The defaced Union Flag shall be flown by the Governor, Lt-Governor, Officer Administering Colony or Dependency when embarked in boats or other vessels."
to
"Union Flag with approved arms or badge of the colony, emblazoned in the centre thereof on a white ground surrounded by a green garland will be flown on Government House from sunrise to sunset and will be used by a Governor or other Officer Administering a Government when embarked in a boat or other vessel."
Use of the defaced Union Jack ashore was approved by King George VI on 18 June 1941, and Colonial Regulation No.125 was changed by Amendment No.9 in December 1942. The Army Council agreed to this procedure in those cases where Government House was also a Flag Station and amended King's Regulations.
I do not know when the Foreign Office instituted defaced Union Jacks on land, but perhaps at roughly the same time ?
Source: National Archives (PRO) ADM 1/11839, CO 323/1731/9, CO 323/1830/20,
CO 323/1830/21, CO 323/1830/22.
David Prothero, 30 January 2006
---
FOREIGN COUNTRIES
Ambassador / Ambassador's residence - Union defaced with royal arms.
Consul-General / Consulate-General - Union defaced with consular crown.
Hon. Consul / Hon. Consulate - No flag or plain Union.
Embassy - Union defaced with royal arms
Cars - Union defaced with royal arms (I assume).
COMMONWEALTH COUNTRIES (be they realms or otherwise)
All officers, posts and premises - Plain Union.
Cars - Union defaced with UKHC in certain countries (possibly no longer used), undefaced Union in others.

OVERSEAS TERRITORIES (or Overseas Dependent Territories)
Governor / Government House - Union defaced with arms/badge of territory.
Government Buildings - Plain Union (or more likely the Blue or Red Ensign of the Territory). In Hong Kong before 1997, Police and Fire Stations flew an undefaced Union, as did some local government market places.
Government Vessels - Colonial Blue Ensign.

Peter Johnson, 1, 4 February 2006 and David Prothero, 2 February 2006
---
Ambassadors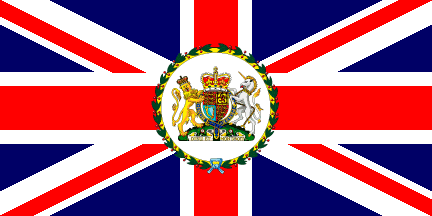 by Graham Bartram
The above drawing of the flag of an ambassador or high commissioner shows the larger wreath and the gold band that now surrounds all 'wreathed' badges.
Graham Bartram, 11 December 1999
The British Embassy in Washington flies this flag whether or not the ambassador is in residence. The British Consulate General in New York City daily flies the Union Jack defaced with the emblem for Consular officials. So while the defaced Union Jacks for Ambassadorial rank and for Consular rank may be described as personal flags, it appears that the actual usage may be a bit broader than that.
Ned Smith, 25 January 2006
Various correspondents reported identical usage in embassies in Moscow, San Salvador, Bratislava, Budapest, Berlin, and Madrid, and the high commission in Kuala Lumpur, although some use the old coat of arms with helmet and crest.
Old stock shows the hideous Victorian version of the Royal Arms. Newer flags use the modern State Arms and have a gold ring within the garland. Following the British tradition of canniness the old stock is being used up. As far as I know British Embassies always fly the Ambassador's flag rather than a plain Union. It helps to differentiate the Embassy from other British organizations. The flag is indeed a personal flag for the Ambassador, but it also doubles as the flag of a British Embassy. I suppose if the Ambassador was recalled, died, etc. the Embassy might fly a plain flag until a new Ambassador took up the post, but I would have to investigate to see if this is the case. The same usage applies to the Consul's flag at Consulates.
Graham Bartram, 26 January 2006
I think undefaced Union Jacks fly over "high commissions" in commonwealth countries while defaced Union Jacks, consular flags/ambassador's flags fly over "embassies" in non-commonwealth countries. The British consulate in Penang flies an undefaced Union Jack.
Clay Moss, 26 January 2006
---
Consular officers
Tudor Crown version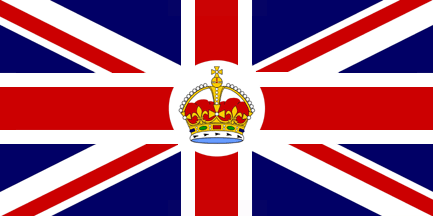 by Clay Moss, 16 February 2005
St. Edwards Crown version (1953-1999)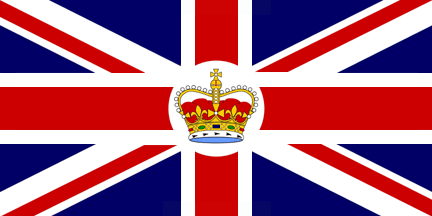 by Clay Moss, 17 February 2005
St. Edwards Crown version (after 1999)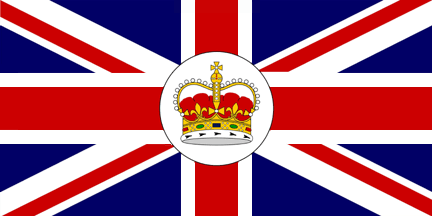 by Clay Moss, 12 February 2005
On the two consular flags that I have personally seen, there was no holding line for the disk. One flag was fully printed while the other was a printed Union flag with the Consular badges, (crown on circle) appliquéd onto the flag on both sides. The thread used in the appliqué was white. The circles on the two badges actually appeared to be more white than the white parts of the Union flag.
Clay Moss, 5 February 2006
The St. Edwards crown (pre-1999 version) mimics the crown I saw on the two pre-1999 Consular flags that I have personally inspected.
Clay Moss, 17 February 2005
Taken from E.M.C. Barraclough, Flags of the World:
Two flags are used by the Consular Service. When ashore, Consuls-General, Consuls, Vice-Consuls etc. are distinguished by the Union Flag, with in the centre a Royal Crown on a plain white circular background. When on duty afloat, the Blue Ensign is flown, with the full Royal Arms in colour in the fly and without any white background. The Consular Blue Ensign, being a personal distinguishing flag, must be flown at the bow, and not at the stern, which is the accepted position for the national colours. No further flag is necessary, but if, for some special reason it is desired to wear a flag at the stern, then this should be the Red Ensign ... Her Majesty's Ambassadors and Ministers (and in their absence, Chargé-d'Affaires) fly the Union Flag with the Royal Arms on a white circular background, surrounded by a garland, in the centre. This flag is flown over our Embassies and Legations on certain prescribed days in the year, and it is also used when the holders are afloat.
Pascal Vagnat, 27 March 1997
Since 1869 the British consular flag afloat has been the royal arms applied directly (no white disc as used for diplomatic officers on the Union Flag) to the field of a Blue Ensign. One peculiarity; consular officials are permitted to hoist their defaced Blue Ensign, only in boats. It is never hoisted in a ship, unless that ship is firing a salute to a consular official. No, I don't know when a boat gets big enough to be called a ship.
David Prothero, 9 April 1997
The following flags are in current use:
Diplomatic officers both on shore and afloat:
royal arms on a white disc surrounded by a laurel garland on a Union Flag.
Consular officers on shore:
royal crown on a white disc, with no garland, on a Union Flag.
Consular officers afloat:
royal arms applied directly to the field of a Blue Ensign.
David Prothero, 12 July 1997
---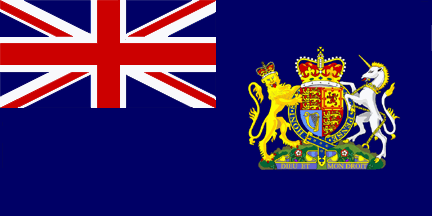 image by Martin Grieve, 10 October 2007
Detail of arms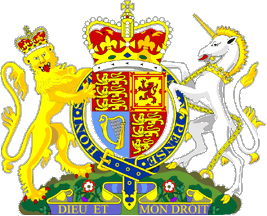 image by Martin Grieve, 10 October 2007
The consular flag afloat has been a Blue Ensign with the royal arms in the fly since the flag was introduced: "that the Union Jack to be used by your Majesty's Diplomatic Servants, Ministers Plenipotentiary, Charges d'Affaires, &c., shall bear the Royal Arms in the centre thereof on a White Shield,--whilst Consuls and Consular Agents, &c., shall be limited to the use of the Blue Ensign with the Royal Arms in the fly thereof."
Extract from the Order in Council of 7 August, 1869.
David Prothero, 20 March 2007
The Blue Ensign defaced with The Royal Arms as used by HM Government. The defacement should not be confused with the full achievement which includes mantling, helmet and ensigned by the Royal crest. There are a few peculiarities on the heraldic side here, the most notable being that the 3rd quarter of the royal shield displays a pale blue background, but the Royal Standard, which we suspect to be a banner of the Arms has a darker tincture. Could this be something to do with "standardising" Union flag blue perhaps? The Edwardian crown also resembles its (much earlier) Victorian cousin in silhouette.
Martin Grieve, 10 October 2007
This flag is neither a jack nor an ensign, but a distinguishing flag, like that of an admiral. Its use as an ensign is specifically forbidden. Its use as a jack is not forbidden and if the bow is the only place to fly it (e.g. in a small motor launch with no central mast) then that is where it would go, with the appropriate ensign (usually an undefaced blue ensign) at the stern. There are several other distinguishing flags that look like ensigns, e.g. the joint service command flags.
The blue is paler because that particular painting of the Royal Arms use a mid-blue rather than the Union blue in the Royal Standard. It also uses a plain harp instead of the Maid of Erin harp used on the Royal Standard.
Graham Bartram, 10 October 2007
An unusual combination of flags is possible on a boat carrying a British Consular Official. His distinguishing flag is a blue flag with a Union canton and the Royal Arms in the fly, but it is not an ensign.

"The Consular Blue Ensign being a personal distinguishing flag must be flown at the bows not at the stern which is the accepted position for the National Colours. No further flag is necessary, but if for some special reason it is desired to fly a flag at the stern, this should be the Red Ensign."
[Note beneath an illustration of the flag in the Foreign Office List, 1909]
I think that the Consular Flag is for use only on the Consul's own launch. One peculiarity; consular officials are permitted to hoist their defaced Blue Ensign, only in boats. It is never hoisted in a ship, unless that ship is firing a salute to a consular official.
David Prothero, 5 May 2005
That raises another interesting point - if it is for use in his official launch, then presumably that launch belongs to the Foreign Office, and if registered in the UK (as it would need to be to fly a Red Ensign) it would therefore be classed as a vessel in government service, and therefore should wear some form of Blue Ensign! Given the lack of an FCO Defaced Ensign this would probably have to be either a plain ensign or a Government Service Ensign (horizontal gold anchor). Hmm - something for me to look into methinks...
Graham Bartram, 6 May 2005
I am open to correction here, but I don't think that a launch that is used only in National or Territorial Waters, even if foreign, would need to be registered in the UK before it could fly the Red Ensign. Registration would be necessary only if it were going into International Waters. Correspondence in the Daily Telegraph a few years ago included the following:-
"It was not only ships authorised by the Ministry of Defence that flew the Blue Ensign. A small group of vessels under the Foreign Office was similarly entitled. I was Her Majesty's Consul in Venice until 1979, and my launch, moored on the Grand Canal, flew the Blue Ensign whenever I went about the city in it."

I cannot remember where I found that consular officials are permitted to hoist their defaced Blue Ensign only in boats, and the original posting was from a 1909 Foreign Office List, so it would be interesting to know the current regulations.
David Prothero, 6 May 2005
---
As far as I know Honorary Consuls are not professional diplomats, but local residents of any nationality who act as a contact for nationals of the country they represent. I think it very unlikely that they are entitled to a special distinguishing flag. A British High Commissioner in a Commonwealth country is equivalent to a British Ambassador in a non-Commonwealth country, but his flag is, (or was in the first half of the 20th century), a plain Union Jack. A possible reason for the difference is that a British Ambassador represents the Queen but a British HC represents the British Government. This makes sense in those countries where the Queen is Head of State and represented by a Governor-General, but apparently the same situation is considered to exist even in those Commonwealth countries of which she is not Head of State.

One exception was (is?) the car flag of a British HC. In 1935 a problem arose in Australia where State Governors (apart from Victoria) also used a plain Union Jack as a car flag. To avoid any confusion, a United Kingdom High Commissioner's car flag was approved by King George V. The black letters UK above HC on a 2 inch diameter white circle, on a nine by four and a half inch Union Jack. However it is rarely safe to assume that British flags will be used in any consistent way. In 1955 the UKHC car flag was used by the HC in Australia, New Zealand, Rhodesia-Nyasaland, and by the Deputy HC in India. A plain Union Jack was used by the HC in South Africa, Pakistan and Ceylon. The HC in Canada did not use a car flag.

If the Admiralty had been reasonable in 1869 they could have devised a special flag for the Admiral of the Fleet and then all other defaced Union Jacks would have been unnecessary. Their decision not to do so, may have been influenced by an earlier decision concerning the Lord-Lieutenant of Ireland who used to cross the Irish Sea flying the Union Jack. He was given a one-off defaced Union Jack in 1821.
David Prothero, 31 January 2006