.

The epithet Paris-Plage was coined in 1882 by Hippolyte de Villemessant, director-refounder of the daily Le Figaro. The resort's foundation and development is credited to the French Alphonse Daloz and the British John Whitley.
Housing was developed into two stages. From 1882, the surveyor Raymond Lens divided the lots between the seaside and boulevard Daloz. The streets follow a tight grid, framing houses built in height on sometimes very small grounds.
Then, from 1902, the surveyor Joseph-Louis Sanguet did the same work, for John Whitley and the Touquet Syndicate Ltd., for the land located east of boulevard Daloz, towards the forest. The regulations of the Touquet Syndicate Ltd. prohibited fences at the boundaries between properties, and with the public domain. The grounds are still fairly narrow near the first subdivision, then increasingly larger towards the forest. The traffic lanes and sidewalks are covered with black or red coating depending on the location.
After World War II, some estates, very damaged for the most part, were rebuilt, well aligned behind their garden and their fences, all identical, as imposed by the municipality, in a regulation issued in 1921, on a plan designed by architects Bical, Buisset and Quételart. The great variety made them charming, but, under market pressure, they were replaced, one by one, by tall buildings offering numerous apartments with view on the sea. In 1961, the first residence, called Dolce Vita and comprising 9 levels and 20 apartments, was built. The land use plan, modified in 1991, wants to preserve the traces of the past by prohibiting the construction of large buildings.
Inland from the beach, hotels, a casino and a horse racing course, a wide range of sports, particularly golf are offered.

Olivier Touzeau, 24 May 2020
---
Flag of Le Touquet-Paris-Plage
The flag hoisted on the Town Hall of Le Touquet-Paris-Plage (photo) is white with the municipal logo. The flag is also used with swapped colors (white logo on dark blue; photo).
The emblem of Le Touquet, locally known as "caddie", is rooted in the resort's history, its original version dating back to 1925. This year, the town's syndicat d'initiative organized a contest for a poster advertising the resort. Some 75 illustrators, poster designers, caricaturists, architects and painters entered the competition, including Pierre Commarmond (1897-1983), who contributed several posters for railway companies. The painter Jan Lavezzari (1876-1947), from Berck, who decorated the entrance hall of the casino of Le Touquet with Francis Tattegrain (1852-1915), was member of the jury.
The winning design was submitted by Édouard-Abel Courchinoux (1891-1968), who portrayed his son as the caddie. The boy did not hold a flag in his left hand but a tennis racket, to emphasize Le Touquet as a sports resort. The syndicat d'initiative subsequently changed the racket for a flag.
The emblem became famous when the Compagnie des chemins de Fer du Nord, the railway company founded in 1845 by James de Rothschild and merged into the SNCF in 1938 - used it, all red, on a poster (image)advertising Le Touquet - presented as housing "Europe's most beautiful swimming pool - 66.66 m in length on 23 m in width - warmed seawater".
In 1927, Garage Charlot and Agence des Baigneurs produced a silver bronze copy of the caddie, to be used as a car mascot or as a paperweight.
Édouard-Abel Courchinoux won in 1928 a new poster contest organized by the syndicat d'initiative that attracted no less than 265 competitors.
[La Voix du Nord, 9 September 2017]
Olivier Touzeau & Ivan Sache, 18 June 2020
---
Cercle Nautique du Touquet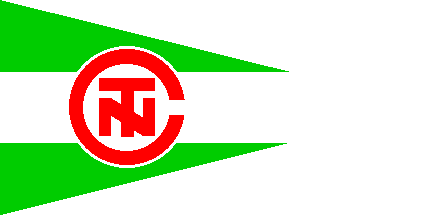 Burgee of CNT - Image by Ivan Sache, 14 February 2003
The burgee of CNT (website) is horizontally divided green-white-green with the club logo in the middle, an arrangement of the red letters "C", "N" and "T".
Ivan Sache, 14 February 2003
---
OJEM beach cluns

Flag of OJEM - Image by Ivan Sache, 16 June 2006
The OJEM beach clubs (website
Ivan Sache, 23 May 2006