This page is part of © FOTW Flags Of The World website
Isère (Department, France): Intermunicipal Authorities
Last modified: 2019-04-28 by ivan sache
Keywords: isère |
Links: FOTW homepage | search | disclaimer and copyright | write us | mirrors

---
See also:
---
Index of the Intermunicipal Authorities
Métropole (1)
Communautés d'agglomération (3)

Pays voironnais
Porte de l'Isère
Vienne Condrieu Agglomération

Communautés de communes (15)

Balcons du Dauphiné
Bièvre Est
Bièvre Isère
Cœur de Chartreuse
Collines du Nord Dauphiné
Grésivaudan
Lyon Saint-Exupéry en Dauphiné
Massif du Vercors
Matheysine
Oisans
Pays Roussillonnais
Saint-Marcellin Vercors Isère Communauté
Territoire de Beaurepaire
Trièves
Vals du Dauphiné
---
Grenoble-Alpes Métropole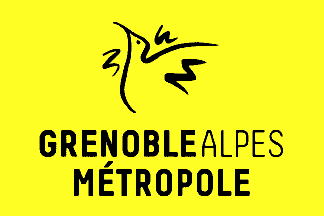 Flag of Grenoble-Alpes Métropole - Image by Olivier Touzeau, 10 January 2019
Grenoble-Alpes Métropole (445,516 inhabitants in 2015; 54,450 ha) was created in January 2015. It is composed of 49 municipalities: Grenoble, Bresson, Brié-et-Angonnes, Champagnier, Champ-sur-Drac, Claix, Corenc, Dom&egrve;ne, Échirolles, Eybens, Fontaine, Fontanil-Cornillon, Gières, Herbeys, Jarrie, La Tronche, Le Gua, Le Pont-de-Claix, Le Sappey-en-Chartreuse, Meylan, Miribel-Lanchâtre, Montchaboud, Mont-Saint-Martin, Murianette, Notre-Dame-de-Commiers, Notre-Dame-de-Mésage, Noyarey, Poisat, Proveysieux, Quaix-en-Chartreuse, Saint-Barthélemy-de-Séchilienne, Saint-Égrève, Saint-Georges-de-Commiers, A HREF="fr-38-sm.html">Saint-Martin-d'Hères, Saint-Martin-le-Vinoux, Saint-Paul-de-Varces, Saint-Pierre-de-Mésage, Sarcenas, Sassenage, Séchilienne, Seyssinet-Pariset, Seyssins, Varces-Allières-et-Risset, Vaulnaveys-le-Bas, Vaulnaveys-le-Haut, Venon, Veurey-Voroize, Vif, and Vizille.
In 1966, the first intermunicipal structure was created, as SIEPURG (Syndicat Intercommunal d'Études des Problèmes d'Urbanisme de la Région Grenobloise), by 21 municipalities. In 1973, a new structure was created as SIEPARG (Syndicat Intercommunal d'Étude et de Programmation pour l'Aménagement de la Région Grenobloise), transformed in 1994 into a Communauté de communes, to be renamed to Grenoble-Alpes Métropole in 1996.
In 2000, Grenoble-Alpes Métropole became a Communauté d'agglomération, bringing together 23 municipalities, joined in 2004 by the four municipalities of the former Communauté de communes du Pays de Vif. In 2005, Bresson left Grenoble-Alpes Métropole to join the Communauté de communes du Sud Grenoblois. In 2009 and 2012, another two municipalities joined Grenoble-Alpes Métropole, which then gathered 28 municipalities. In 2014, the Communauté de communes du Sud Grenoblois and the Communauté de communes du Balcon Sud de la Chartreuse merged with Grenoble Alpes Métropole.
The flag of Grenoble-Alpes Métropole (photo) is yellow with the authority's logo.
The logo is composed of two elements:
- the name "Grenoble Alpes Métropole";
- the bird, which is composed of:
* the two rivers, Drac (west) and Isère, which form the bird's body;
* the three massifs surrounding the metropolis, Chartreuse (north-east), Belledone (south-est) and Vercors (west), forming the bird's wings;
* the synchrotron, which forms the bird's eye.
Yellow, the metropolis' color, is specified as:
Pantone: Yellow C
CMYK: 0 0 100 0
Web: #FFEC44
RAL: 1016 The main font type is Decima while the secondary font type is The Serif.
[Graphic charter (2018)]
The Presqu'île new borough (websote) is being established on a 256-ha area located at the confluence of the Drac and the Isère; initiated in 2016, the project is expected to be completed in 2034. The borough is built around the GIANT (Grenoble Innovation for Advanced Technology) campus (ebsite), which includes 230,000 m2 of research and development labs and 50,000 m2 of facilities for superior education. The campus already houses three research infrastructures of European level: the European Molecular Biology Laboratory (EBL), Institut Laue-Langevin (ILL), and the European Synchrotron Radiation Facility (ESRF).
The ESRF (website) was conceived as a true European collaboration for the advancement of X-ray science. In 1988, eleven European countries joined forces to build the world's most performing and bright "third-generation" light source. This visionary project has made an outstanding contribution to the excellence of European science. Almost thirty years later, the ESRF is a world reference, developing innovative technologies which also benefit other national synchrotrons. Today, the ESRF continues to lead the way in pushing back the boundaries of scientific exploration of matter, by constructing the first in a new generation of synchrotrons.
Olivier Touzeau & Ivan Sache, 20 January 2019