This page is part of © FOTW Flags Of The World website
Jebsen (German Shipping Companies)
Last modified: 2017-11-11 by klaus-michael schneider
Keywords: jebsen | mackerel(3) | lozenge |
Links: FOTW homepage | search | disclaimer and copyright | write us | mirrors

---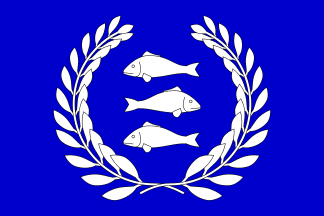 image by Jorge Candeias, 13 May 2004
flag of M.Jebsen, Apenrade See also:
---
Introduction
As suggested by Klaus-Michael Schneider there is no connection between Ahrenkiel and Michael Jebsen apart from being born in Apenrade. That they have both used a variation of the town Coat of Arms on their flag is just another coincidence and perhaps they were not the only ones to do so. According to the Jebsen & Jessen website, the Arms dating from 1421 had the fish changing direction several times, sometimes just one, other times all three. However in 1920 the Åbenrå Council decided to have all their fish swimming to the left [hoist] and, according to another source, prohibited that version being used by anyone else.
Presumably before that it was open season for anyone to use.
Thus the flag by Jorge Candeias of blue with the 3 fish within a wreath all white is Michael Jebsen, shown as M. Jebsen, by Lloyds 1904 and 1912 and the Massary cigarette cards of 1930 as well as 2 German flag cards – Carly's which is about 1898 I presume and shows all 3 fish pointing to hoist [an error I would think], and Enochs [1921-1933 German flags shown]. As I understand it Apenrade was part of Germany until 1920 when it became part of Denmark
as Åbenrå although this is not clear as I read that the majority of the town voted against the transfer in the 1920 Schleswig Plebiscite and Massary 1930 still show the company as being German. The company, which was a shipowner from at least 1882, sold their last vessels in 1978 and is recorded post WW2 by Lloyds as Rhederi M. Jebsen A/S with the flag being shown in Stewart 1963 and Brown 1982 as well as a table flag being shown on the Josef Nüsse's website under Denmark.
The comment that the current Jebsen & Jessen had nothing to do with either Michael Jebsen or Ahrenkiel is only correct regarding the latter as Jebsen & Jessen was formed by Jacob Jebsen, son of Michael, who together with Heinrich Jessen went to Hong Kong in 1895 and started up as agents as Jebsen & Co. but in 1909 were also setting up a Hamburg office as Jebsen & Jessen. They acted as agents for the elder Jebsen's company and adopted the "family" crest which is still used by the modern company which spreads over the Far East but unlike the shipping company which used a white design on blue, this Far East logo is a blue outline on white. There has been no indication found of it being used as a flag.
The flag by Klaus-Michael Schneider with yellow charges, does not fit with any other source and the dates from his source of 1898-1901 do not fit in. Kludas has a good reputation for knowledge so perhaps this is a reference to passenger shipping only.
The flag of blue with a red "E" on a white diamond throughout for M. Jebsen of Hamburg is shown by both Lloyds 1904 and 1912 in addition to M. Jebsen of Apenrade i.e. two companies unrelated. This one operated from at least 1887 with its last ship [traced] sold in 1915.
The "E" is a mystery.
The three companies using the mackerels and wreath all give similar "romantic" reasons for the middle fish facing the opposite way. My guess is that they all used the prevailing version used by the council of the time.
Neale Rosanoski, 6 Jul 2009
During the period 1898-1901 [i.e. date of flag charts] the Danish port of Åbenrå was actually the German port of Apenrade; it did not revert to Danish rule until after the Schleswigh plebiscite of 1919.
, 15 Mar 2008
M.Jebsen
This flag is a blue field with a rather complex symbol consisting of a trio of fish surrounded by a pair of branches. The source is not clear enough to get into more detail than this - there's no way we could get species information, on the plant or on the fish.
Now, this flag is very similar to the flag Joseph Nüsse's webpage shows for a company called "Chr. F. Ahrenkiel Hamburg". The main difference is
that the flag on my source has no canton.
The other main difference is in the caption. It is not readable, but I don't think the initials have anything in common with the initials of "Chr. F. Ahrenkiel Hamburg". The first initial, the "stand-alone" initial, so to speak, looks suspiciously as an M (or, perhaps, an H), the second one, the one in the first word is very probably a Z, and the last one just has to be an A, which is the only similarity with the above.
Jorge Candeias, 13 May 2004
In Wolter's "See und Seefahrt", 1968, the flag is shown with the canton for Christian F. Ahrenkiel - Ahrenkiel & Bena, Hamburg.
Jarig Bakker, 13 May 2004
The flag of Ahrenkiel Group consists of elements of the CoA of the Danish city of Aabenraa (oak-garland surrounding three mackerels) and of Hamburg (castle in the canton). Christian F. AHRENKIEL was born in Åbenrå. The Reedereiholding Christian F. AHRENKIEL GmbH & Co. KG is located in Hamburg.
You will also find the elements of Åbenrå at the company Jebsen & Jessen, which according to the web has nothing to do with Michael Jebsen and also nothing with Ahrenkiel. Obviously the only thing in common of all the three founders is, that they have all been born in Apenrade (=Åbenrå).
Unternehmenskommunikation Christian F. Ahrenkiel.
Klaus-Michael Schneider, 19 Aug 2008

---
Michael Jebsen
image by Klaus-Michael Schneider, 1 June 2007

Michael Jebsen: I was very surprised to see a flag like that of Ahrenkiel but with another name. The version depicted in chapter 16 of source has however golden objects on a blue sheet (three mackerels and wreath). The company was located in Apenrade (today: Åbenrå), existed from 1898 to 1901 and was running a passenger- and cargo-line to Tsingtau, in those days being the harbour of German protectorate Kiautschou. The company's history you can read according to source in Ernst HIEKE: "Die Reederei M.Jebsen A.G. Apenrade", 1953.
On the flagchart of source the depicted flag is totally the same like that one of Ahrenkiel. There is also depicted a completely black funnel. So I think, the version, described by Jorge Candeias on 13 May 2004 might be a Jebsen flag instead of an Ahrenkiel variant.
Source: Arnold Kludas: "Die Geschichte der deutschen Passagierschiffahrt" (5 Bde.), Hamburg 1986; Reprint Laibach Slovenia-Buch Nr. 03617-8, p.223
Klaus-Michael Schneider, 1 June 2007

Klaus-Michael very kindly sent me a copy of the source image for the Michael Jebsen blue flag with yellow emblem version and I fully agree that there is no question - his rendering is spot on.
The only conclusion I can come to at this stage is that as it comes from an article dealing with their Chinese operations between 1898 and 1901 and the mail contract that they held with Government, is that this flag version relates to this activity.
That the white version did apply to their ships in general can be confirmed, for the end stages anyway, by a photo here.
Neale Rosanoski, 7 Jul 2009
---
Michael Jebsen other flag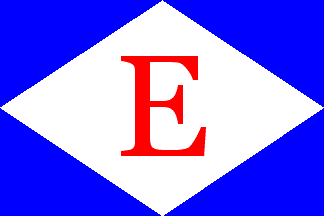 image by Ivan Sache, 15 Mar 2008

The house flag of "Michael Jebsen" is shown above, as blue with three yellow fish surrounded by a golden wreath of leaves.
Lloyd's Book of House Flags and Funnels (1912) shows the house flag of "M. Jebsen" (#32, p. 38), a company based in Hamburg, as blue with a white diamond charged with a red letter "E".
"M. Jebsen" is not necessarily "Michael Jebsen". which is said on the FOTW website to have existed only from 1898 to 1901. A website dedicated to the Danish port of Åbenrå mentions Jebsen as the main local shipowners' dynasty:
"Only one of the well known ship owners,- Michael Jebsen-, saw the great potential in the steam ship, and he tried in vain to persuade the local investors and shipbuilders to hire technical people, who could rivet steel plates together, and install machines, boilers and pipe systems , but all in vain. Nobody was interested. Eventually he had to go to Germany to find a ship builder who was willing to built his steam ship, and since then Jebsen never again contracted a sailing ship for his fleet!
As a result of his foresight, his company is now the only surviving of the once so powerful ship owning community in Åbenrå.
But today Jebsen & Co. does not any longer operate their own fleet of ships! It stopped in the seventies, but if you go to Hong Kong,- or for that matter the whole Far East region -, the company has grown very big out there with about 4 - 5000 people employed in offices all over Asia!"
However, another page of the Åbenrå website, dedicated to the ship EMMA JEBSEN, shows the funnel emblem of Jebsen as blue with the "three mackerels" surrounded by two branches, here white.
"The Three Mackerels" is the office flag of Jebsen & Co., and this logo was painted on all ships funnels in the Jebsen fleet.
"The Three Mackerels" are inspired on the city of Åbenrå's coat of arms , which also displays three mackerels , but all swimming in the same direction, while one of them in the Jebsen logo swims in the opposite direction.
For fun we used to say, that the symbolism behind that was, that two of the mackerels were on their way out in the big world to make money, while the third one was returning with the profit! Therefore different directions."
The "hree Mackerels emblem" is carved on the tombstone of Hans Jacob Jensen (1921-1979) in the cemetary of Åbenrå.
Ivan Sache, 15 Mar 2008
Michael Jebsen #3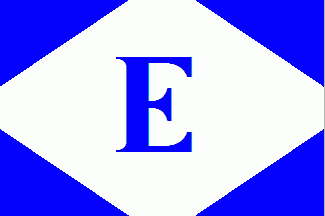 image by Klaus-Michael Schneider, 10 Jul 2012

The white flag has rectangular blue triangles in each corner and a blue initial "E" in the centre.
Source: Otto Mathies: "Hamburgs Reederei 1814 - 1914", Hamburg 1924, p.177
Klaus-Michael Schneider, 10 Jul 2012
---
back to J-companies main page click here