This page is part of © FOTW Flags Of The World website
Iquique commune (Chile)
Comuna de Iquique
Last modified: 2018-09-03 by randy young
Keywords: iquique | crown: naval | coat of arms: per fess | flag | chile |
Links: FOTW homepage | search | disclaimer and copyright | write us | mirrors

---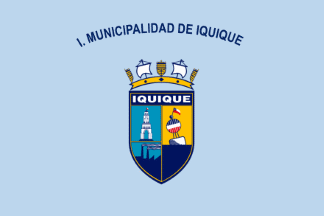 image by Olivier Touzeau, 2 September 2018

---
See also:
External links:
---
At the official website, you can see a flag behind the mayor, light blue with what looks like the top of the coat-of-arms. No clue about the presence or not of letters on the flag. We may suppose or hope not, since Iquique is already written on the shield. From this image I concluded Iquique has a flag, although it is hard to tell if its accurate enough.
Olivier Touzeau, 9 August 2006

The photograph online at https://upload.wikimedia.org/wikipedia/commons/b/be/Universidad_Arturo_Prat_de_Iquique.jpg shows two flags flying atop a building at Arturo Prat University in Iquique. The flag on the right appears to be the flag of Iquique commune, showing the municipal coat of arms at the cente r of a white cross on a light blue field. The dark flag on the left, I honestly have no idea what that one is. This photograph appears to confirm the graphic that Wikimedia user B1mbo posted to that site on 16 April 2009 (see https://commons.wikimedia.org/wiki/File:Bandera_de_Iquique.svg).
Randy Young, 31 August 2018

About flag of Iquique I'm not sure. My correspondent in Chile, Francisco Labra, is from Santiago; he was in Iquique some time ago and see a light blue flag with arms and a white standard with arms. No proof of any official change is located until now. In March 2018, the alcalde of the city was using still the light blue (or white) flag. See: http://www.tuverdad.cl/2018/03/concejo-municipal-aprueba-participacion-ediles-asociacion-nacional-ciudades-puerto/.

Then I suspect that the flag in the university it don't must be from Iquique City.
Jaume Ollé, 31 August 2018

I could not find any other example online of the flag with a white cross for the municipality of Iquique.

I found several examples ot a plain light blue flag with the coat of arms and with the text "Ilustre Municipalidad de Iquique." The coat of arms on the flags is not the same as the one drawn on Wikipedia but is the official drawing of the municipal logotype (from http://www.municipioiquique.cl/estatutos-tipo/).

Three variants for the municipal flag:


the official flag of Iquique is plain light blue with the coat of arms in the center and the name of the municipality. It has been observed only in official use with the mayor and the municipality.
a variant with a white cross has been spotted on the university building. Maybe this design has been prescribed for other uses.
Olivier Touzeau, 2 September 2018
Sources:
1: http://www.soychile.cl/Iquique/Politica/2016/12/06/433994/Mauricio-Soria-tras-asumir-la-alcaldia-de-Iquique-Trataremos-de-hacer-una-ciudad-mas-segura.aspx
2: https://diarioelnortino.cl/con-ambiciosos-proyectos-para-la-ciudad-mauricio-soria-asume-alcaldia-de-iquique/
3: https://www.facebook.com/IMIIQQ/photos/a.541938089196589/1841544142569304/?type=3&theater
4: https://www.facebook.com/IMIIQQ/photos/a.905860046137723/1830535840336801/?type=3
5: https://www.24horas.cl/internacional/alcalde-de-iquique-pide-salida-al-mar-con-soberania-para-bolivia-1565581
6: https://www.noticiasfides.com/nacional/politica/alcalde-de-iquique-visitara-bolivia-en-marzo-para-inspeccionar-corredor-bioceanico-327826-327813
7: https://www.facebook.com/IMIIQQ/photos/a.541938089196589/1868266339897084/?type=3&theater
8: https://www.facebook.com/IMIIQQ/photos/a.541938089196589/1822658324457886/?type=3&theater

---
Iquique is the capital city of Taracapá region, has 216,000 inhabitants on 2.242 km².
Olivier Touzeau, 9 August 2006

---
At least three variants of the Iquique municipal flag have been found online.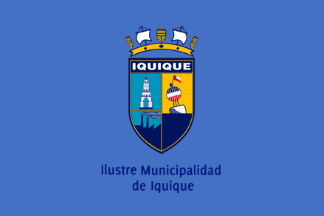 image by Olivier Touzeau, 2 September 2018

One variant of the municipal flag is medium blue with the text below the arms in two straight lines and with lowercase letters.1,2
Olivier Touzeau, 2 September 2018
Sources:
1: https://www.24horas.cl/internacional/alcalde-de-iquique-pide-salida-al-mar-con-soberania-para-bolivia-1565581
2: https://www.noticiasfides.com/nacional/politica/alcalde-de-iquique-visitara-bolivia-en-marzo-para-inspeccionar-corredor-bioceanico-327826-327813

---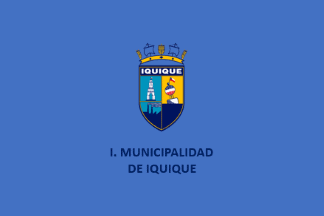 image by Olivier Touzeau, 2 September 2018

Another variant of the Iquique municipal flag is medium blue with smaller coat of arms, erroneous rendition with the sails of the crest in blue, and with the text below the arms in capital letters and with "I." for "ILUSTRE."1,2
Olivier Touzeau, 2 September 2018
Sources:
1: https://www.facebook.com/IMIIQQ/photos/a.541938089196589/1868266339897084/?type=3&theater
2: https://www.facebook.com/IMIIQQ/photos/a.541938089196589/1822658324457886/?type=3&theater

---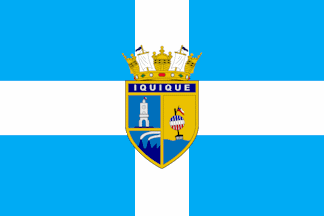 image by Randy Young, 31 August 2018
based on an original image by Wikimedia user B1mbo, posted 16 April 2009

The photograph online at https://upload.wikimedia.org/wikipedia/commons/b/be/Universidad_Arturo_Prat_de_Iquique.jpg shows two flags flying atop a building at Arturo Prat University in Iquique. The flag on the right appears to be the flag of Iquique commune, showing the municipal coat of arms at the cente r of a white cross on a light blue field. The dark flag on the left, I honestly have no idea what that one is. This photograph appears to confirm the graphic that Wikimedia user B1mbo posted to that site on 16 April 2009 (see https://commons.wikimedia.org/wiki/File:Bandera_de_Iquique.svg).
Randy Young, 31 August 2018

From what we find online we may conclude that:

the official flag of Iquique is plain light blue with the coat of arms in the center and the name of the municipality. It has been observed only in official use with the mayor and the municipality.
a variant with a white cross has been spotted on the university building. Maybe this design has been prescribed for other uses.
Olivier Touzeau, 2 September 2018

---