This page is part of © FOTW Flags Of The World website
Party of Nationally Oriented Swiss
Last modified: 2017-10-04 by rob raeside
Keywords: party of nationally oriented swiss | pnos | morning star |
Links: FOTW homepage | search | disclaimer and copyright | write us | mirrors

---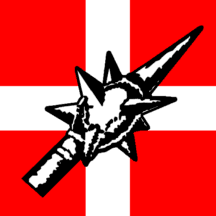 image by M. Schmöger, 10 January 2016
---
See also:
---
PNOS (Partei National Orientierter Schweizer)
PSN (Parti des Suisses Nationalistes)
(Party of Nationally Oriented Suiss)

The PNOS is a right-extremist party mainly in the German-speaking parts of Switzerland, founded in 2000. It has no parliamentary representation. Its links to the fascist National Front (Nationale Front) of the 1930s can be seen in its use of the so-called Old-Swiss Cross, a white cross throughout on a red field. [1]
The party flag proper adds a morning star to this flag. [2]

Sources:
[1] http://www.pnos.ch/media/2005-08-02_ruetli01.jpg
http://www.tagesanzeiger.ch/images/dynamic/news/artikel/243149.jpg

[2] http://www.pnos.ch/media/logo_pnos.gif
http://www.weltnetzladen.pnos.ch/artikelbilder/gross/000004.jpg
http://www.pnos.ch/media/2005-04-16_stand-guensberg.jpg
http://www.pnos.ch/media/2006-03-18_stand-herzogenbuchsee.jpg
http://www.pnos.ch/media/2006-03-31_stand-burgdorf.jpg
M. Schmöger, 6 December 2006
Flag of the Swiss Nationalist Party (Partei der National Orientierter Schweizer, PNOS).
Website: http://www.pnos.ch/
The PNOS is a "far-right" nationalist party. They use the Swiss national flag but the white cross is fimbriated in black, with the letters P,N,O and S in the extremes of the cross and a medieval war mace in the center. The flag uses same colours and style than other extreme right and neo-nazi parties. The PNOS was formed in 2000 and only recently they obtain some representative in local elections at Langenthal (Berne) and now in Günsberg (Solothurn).
Santiago Tazón, 7 May 2005
---


images by M. Schmöger, 10 January 2016
All the flags are based on the so-called Old Swiss Cross, a white cross throughout (instead of couped) on red. The party uses this flag without any other additions, however these come in two slightly different versions: the one with a thinner cross (about 1/7) [1,2,3,4,5,6], the other one with a slightly thicker cross (about 1/5) [7,8,9].

The main party flag however shows the morning star on the "Old Swiss Cross" flag [1,5,7,9,10,11,12,13,14,15,16].
M. Schmöger, 10 January 2016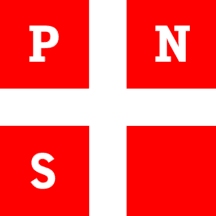 image by M. Schmöger, 10 January 2016 and Tomislav Todorovic, 2 September 2017
Another version shows the letters of the party abbreviation in the corners of the "Old Swiss Cross" flag [17,18,19].
M. Schmöger, 10 January 2016
Sources:
[1] http://f.blick.ch/img/aktuell/origs1204558/6100148838-w980-h653/PNOS-Freiburg.jpg
[2] http://hans-stutz.ch/blog/wp-content/uploads/2013/05/AufmarschKranzniederlegungSempach2008.jpg
[3] http://www.luzernerzeitung.ch/storage/org/0/1/0/83010_0_01897709.jpg
[4] http://pnos.ch/media/2008-06-28_sempach02.jpg
[5] http://pnos.ch/media/2008-05-01_1.maidemo01.jpg
[6] http://pnos.ch/media/2007-09-28-sempach2.jpg
[7] https://i.ytimg.com/vi/qG-RBQ2qS9E/maxresdefault.jpg
[8] http://info.antifa.ch/wp-content/uploads/2014/06/pns_romandie.jpg
[9] http://pnos.ch/media/2003-08-09_parteitag03-saal.jpg
[10] http://pnos.ch/media/2008-10-27_wahlerfolg_langenthal.jpg
[11] http://bt.static-redmouse.ch/sites/bielertagblatt.ch/files/styles/bt_article_showroom_landscape/hash/f9/1c/f91c937655891e63ad3439c0efedfa96.jpg?itok=Zs6mTEEo
[12] http://www.20min.ch/dyim/a22c57/M600,1000/images/content/2/0/5/20507718/7/topelement.jpg
[13] http://pnos.ch/media/2005-03-06_gruendung-so.jpg
[14] http://www.buendnis-gegen-rechts.ch/Communiques/2007/stefanwuethrich_1.jpg
[15] http://info.antifa.ch/wp-content/uploads/2014/06/pnos_schwyz.jpg
[16] http://pnos.ch/media/2003-06-28_sempach03_besammlung.jpg
[17] http://pnos.ch/media//2014-12-29_pns.JPG
[18] http://test.20min.ch/diashow/104766/104766-yB9jIPrqxmMDHb7sfdCuqw.gif
[19] http://www.dortmundecho.org/wp-content/uploads/2014/08/r%C3%BCtli1.jpeg
M. Schmöger, 10 January 2016
The flag bears the letters PNS only, since the abbreviation is actually that of the French-language name of the party - Parti
Nationaliste Suisse (Swiss Nationalist Party).

Sources:
[1] PNOS website - Presentation of West Switzerland section: http://www.pnos.ch/?pid=107
[2] PNS at Facebook: https://www.facebook.com/Parti.Nationaliste.Suisse (photo)
[3] Antifa.ch website: https://www.antifa.ch/pns-romandie/ (Photo)
[4] Antifa.ch website: https://www.antifa.ch/pnos-schweiz/ (Photo)
Tomislav Todorovic, 2 September 2017